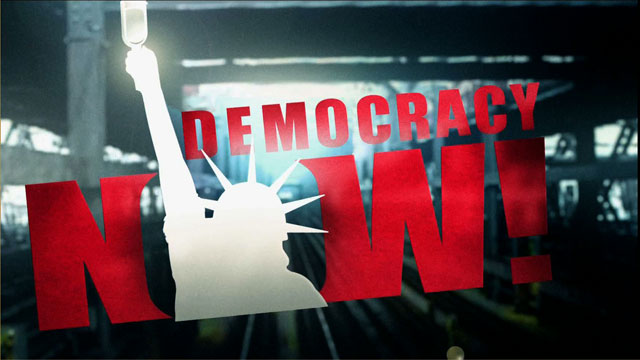 Media Options
Activists are gearing up for the resumption of U.S. Navy bombing exercises today on the Puerto Rican island ofVieques. They say that about 40 protesters are still on the bombing range. The Navy plans to resume bombingpractice that began on Friday but was halted yesterday for a religious ceremony.
The bombing of Vieques began in 1941 and has enraged many Puerto Ricans for years. The fury intensified after acivilian was killed in April 1999 by an errant shell that wounded four others. Since then, more than 600 people havebeen arrested for breaching the fence which surrounds the area, including 200 people who spent months camped out inthe restricted area.
The Pentagon claims that the bombing range is essential to military readiness. But many Puerto Ricans are angry thatthe Pentagon seems more concerned with military readiness than the health of the island's 9,400 residents. PuertoRican officials say that Vieques has the commonwealth's highest rate of cancer. And one government study found alarge number of people with symptoms of a rare heart disease that has been associated with exposure to loud noises.
The governor of Puerto Rico, Sila Calderon, won election last November after taking a strong stance against theexercises.
Hundreds of Puerto Ricans protested the bombing over the weekend. Many of them entered through holes cut in parts ofthe fence surrounding the bombing range, forcing the Navy briefly to call off the maneuvers. A total of 136protesters have been arrested since Thursday night.
Among those protesting are environmental lawyer Robert Kennedy, powerful labor leader Dennis Rivera, head of the150,000 member National Health and Human Service Employees Union (local 1199), and Congressman Luis Gutierrez (D-IL).According to reports, Gutierrez was beaten by police while in their custody.
Guests:
Roberto Rabin, Committee for the Rescue and Development of Vieques
Manuel Rodriguez Orellana, advisor on North American Affairs to the Puerto Rican Independence Party,former senator.
Carlos Rovira, co-coordinator of the Vieques support campaign in New York.
Related link:
---