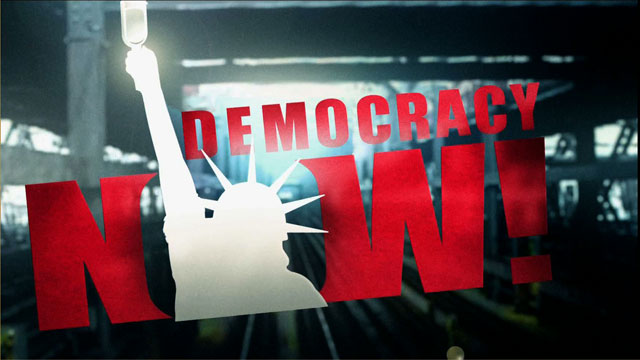 Media Options
56 years ago this week, the U.S. dropped the first two atomic bombs and the nuclear age was born. Now, we arewitnessing the birth of the militarization of space, the military's space age.
On Monday, the anniversary of the bombing of Hiroshima, Democracy Now! began a series on the nuclear and space agewhich culminates tomorrow with the anniversary of Nagasaki. So far, we have heard from a survivor of the atomicattack on Hiroshima, a Native American woman whose mother died of cancer after working in the uranium mines in NewMexico, a prominent MIT physicist who says the Pentagon is trying to silence him for arguing that the missile defensesystem doesn't work, and Professor Noam Chomsky, who argued that what supporters call "national missile defense" isactually an offensive weapon that could lead to a new global arms race.
Today, we go to the top of the world, to the Arctic, to the Thule Air Base on the Northwestern Coast of Greenland.
The base is a United States 1500-person military space command station. If President Bush has his way, it willbecome one of two bases outside the US–the other is in Yorkshire, England–that will play a key role in his "Sonof Star Wars" scheme.
But the military personnel aren't the only ones living in the area. The Inuit people–who we know better as theEskimos — lived in Greenland long before the Americans ever arrived.
In the 1950s, a group of Inuit were forcibly evicted to make room for the base.
In the 1960s, a U.S. B-52 bomber carrying four hydrogen bombs crashed on the ice, spewing radioactive debris acrossthe snow. Despite clean-up attempts, the Americans and Danes have admitted that enough plutonium for a whole bombwas never recovered.
Now, the Inuit are demanding that the Americans and the Danes clean up the land, and are suing the Danish governmentto reclaim their sacred hunting grounds.
We will speak with one of the Inuit leaders in a few moments. But we start now with Dan Hindsgaul, who is adisarmament campaigner for Greenpeace, and Steve Boggan, the chief reporter for the Independent. They arespeaking to us from the Greenpeace ship, Arctic Sunrise, which is anchored just off the coast of Greenland, acrossfrom Thule. Currently, three Greenpeace activists are trying to break into the base.
Guests:
Steve Boggan, chief reporter for the The Independent.
Dan Hindsgaul, disarmament campaigner for Greenpeace.
Related links:
---