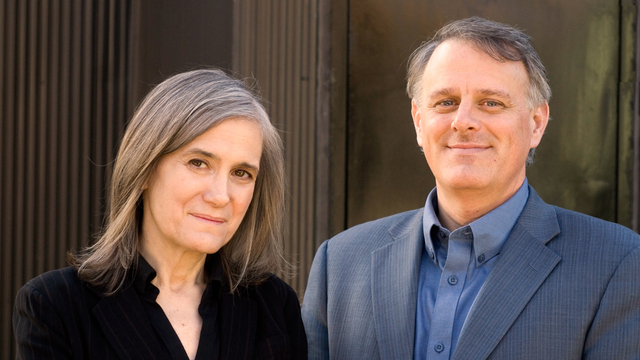 By Amy Goodman
Monday was a strange day in Albany. New York Gov. Eliot Spitzer was scheduled to give a major address to close to 1,000 people, most of whom were women or teens. They were gathered to support and lobby for a reproductive rights bill in the Empire State Plaza's strange, iconic building known as The Egg. It is said to be the most progressive such bill introduced by a governor, guaranteeing a woman's right to an abortion, among other protections.
New York was one of only three states to legalize abortion before Roe v. Wade. JoAnn Smith, CEO and president of Family Planning Advocates of New York State, organized Monday's event. She talked about the pre-Roe days: "Women were dying—doctors saw it in the hospitals, clergy saw it in the families they were serving, in real people's lives. So it was really the clergy and the doctors who were doing the early organizing. They made New York safe for women as they made their choices on reproductive health care." In fact, the first abortion clinic was run by clergy in New York City, called Clergy Consultation Service. Now, nearly 40 years later, with a U.S. Supreme Court ever closer to overturning Roe v. Wade, Spitzer was working with women's rights activists from around the state to update New York state's law.
The New York state Assembly was also slated to vote Monday on the Healthy Teens Act. Rabbi Dennis Ross, in Albany to push the bill, said: "The Healthy Teens Act … would provide comprehensive, age-appropriate, medically accurate and 100 percent truthful information about sex to teens. We believe in knowledge. We believe in people knowing about themselves and about their world. And the Healthy Teens Act would give teens that information and capacity that they urgently need." Urgently, indeed: The U.S. Centers for Disease Control and Prevention just released a report that one in four girls and young women between the ages of 14 and 19 has a sexually transmitted disease. One in four.
Spitzer turned down $2.6 million of federal abstinence-only education funding, deciding instead to push genuine, empowering information for young people. There was, however, a matching amount of money at the state level that could fund the Healthy Teens Act. The Democratic-controlled Assembly was scheduled to pass the bill that day. The Republican-controlled Senate was holding it up, so the teens who had traveled to Albany planned on rallying, with signs.
People had come in from all over the state. A number of young people, teen peer counselors, had driven in from Buffalo, hours away, where, 10 years ago, Dr. Barnett Slepian, an obstetrician-gynecologist who performed abortions, was assassinated in his home, in front of his wife and kids. The assassin, James Charles Kopp, captured in 2001, was affiliated with the anti-abortion group the Lambs of Christ.
Back at Monday's events, amid red, white and blue balloons above every table, from which people would soon head out to lobby their legislators, it was announced that Spitzer had canceled, with rumors that he was sick. Lt. Gov. David Paterson took the podium. In his typical, casual, folksy style—he doesn't read from a teleprompter, as he is legally blind—he lauded the citizen activists, the young people especially, for coming to their state capital to take an active role in their government. After his talk, he held an impromptu press conference. The local Fox TV affiliate was dogging him, asking him how he would respond to critics of the bill who claimed that it would force Catholic hospitals and individual health-care professionals to perform abortions against their will. He didn't flinch, responding immediately: "That's not true. There is a conscience clause."
When asked if he, as a Catholic, had discussed this reproductive rights bill with his cardinal, he said he had, several times. Paterson said he had told the cardinal: "I am pro-choice. I go to bed at night, I wake up in the morning, with a clean conscience." He spoke with the same forcefulness he brings to other issues like gay rights and police brutality. Nine years ago, in March 1999, after African immigrant Amadou Diallo died in a hail of 41 police bullets, then-Sen. Paterson was arrested at New York City Police Headquarters as he protested police brutality.
He wrapped up the news conference just before noon Monday. New York's progressive, blind, Catholic, African-American lieutenant governor, David Paterson, might not have known it then, but he was mere minutes away from receiving the call with the news that Spitzer's alleged use of prostitutes was about to go public.
Soon the storm of the Spitzer Sex Scandal enveloped Albany. The teens did not go out to hold their signs supporting the Healthy Teens Act, and the state Assembly did not pass the act as scheduled. Those 1,000 citizens who came to lobby found their legislators unavailable, the capital overwhelmed with the news. The 6 p.m. cocktail reception hosted by the family planning advocates was well attended, though, but only because it served as a form of group therapy.
The governor has resigned in disgrace, he has let down his wife and his daughters, he is bringing unknown consequences to the prostitutes he hired, and he let down millions in New York state whose causes he championed. But it is not about one leader, or one body, but about the body politic. It is about grass-roots movements, the only sure way to protect the rights of women and girls.
---