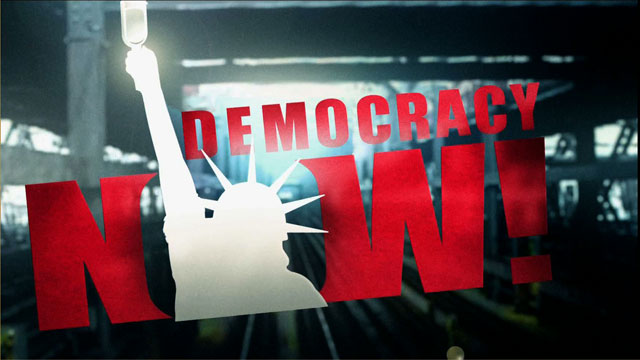 Media Options
Israeli forces have attacked a flotilla of ships carrying humanitarian aid to the besieged Gaza strip. Dubbed the Freedom Flotilla, the ships were aiming to break Israel's 3-year blockade of Gaza. At least 15 people were killed and dozens injured when Israeli troops attacked the lead ship in the convoy–the Turkish "Mavi Marmara"–early Monday morning. The attack happened in international waters, 75 miles off the coast of Israel and Gaza. We reached Adam Shapiro in New York a few hours after the attack. He's a board member of the Free Gaza movement, one of the groups that coordinated the Freedom Flotilla. His wife Huwaida Arraf is the chairperson of the Free Gaza movement and is on the flotilla.
Just before being kidnapped by Israel, Huwaida Arraf, Free Gaza Movement chairperson and delegation co-coordinator on this voyage, stated that: "No one could possibly believe that our small boat constitutes any sort of threat to Israel. We carry medical and reconstruction supplies, and children's toys. Our passengers include a Nobel peace prize laureate and a former U.S. congressperson. Our boat was searched and received a security clearance by Cypriot Port Authorities before we departed, and at no time did we ever approach Israeli waters."
More information on the Israeli attack:
Live coverage from Al Jazeera English
Follow #flotilla, @JamalDajani, @avinunu on Twitter for the latest updates.
TRANSCRIPT
Amy Goodman: This is Democracy Now!, I'm Amy Goodman. We have on the line with us Adam Shapiro. He is a board member of the Free Gaza Movement. Adam, we got word several hours ago that the Israeli military had attacked the Free Gaza Flotilla. We are speaking to you at about 3:30 AM Eastern Standard Time. Can you tell us what you understand has happened?
Adam Shapiro: The Israelis launched a military operation involving about a thousand soldiers, using ships, using helicopters, and using airplanes to attack the flotilla of six ships–three passenger and three cargo ships, at approximately between 8 and 9 pm Eastern Standard Time. All the ships have been captured. One of the ships that we know for sure, which had a satellite communication ability, the large Turkish ship with about 600 passengers including members of Parliament from different countries, was attacked by Israeli soldiers using live ammunition. We now know that at least 14 people have been confirmed killed, and perhaps as many as 20 killed, with over 60 injured, and currently all the ships are being brought into the Israeli port of Haifa.
Amy Goodman: We are reading Israeli military reports that say when they boarded the Turkish ship, that they were attacked by sticks and knives. What do you understand has happened?
Adam Shapiro: Our people on the ship reported live as the soldiers came onto the ship, and reported that soldiers were opening fire as they were coming onto the ship, and they were descending from helicopters. So, our understanding is that the Israeli soldiers opened fire first. I have not seen or heard any thing else about–and there are many journalists on board that ship–anything else about our people, the passengers on that ship, posing any kind of threat. There was a live feed coming from the ship using satellite, video satellite, on satellite, that has been rebroadcast on CNN, on CNN Turk, on Al Jazeera, on Press TV, on numerous media outlets, not one image from this entire footage shows any of the passengers holding any kind of object that could be construed as a weapon. So, I mean, I am sure that the Israelis would like the world to believe that they were the ones being attacked as they assaulted these ships, but this is just Israeli spin.
Amy Goodman: Adam Shapiro, what is the purpose of the Free Gaza Flotilla?
Adam Shapiro: The purpose of the Free Gaza Freedom Flotilla was to literally break the Israeli blockade that it is imposing on Gaza, a form of collective punishment of 1.5 million Palestinians who are trying to survive at this point, basically, especially after the Israeli attacks in December, 2008-January, 2009, in which much of Gaza was reduced to rubble, and has not been able to have been rebuilt, where Palestinians can't get basic food and medicine in, to just survive with. And so, this effort was, yes, to deliver the goods and materials that Gaza, the Palestinians in Gaza need, but also to awaken the international community to the abuse that the Palestinians are suffering that has been regarded by the Goldstone Report, by many other reports and by human rights organizations, including the E.U. and other groups, calling this blockade and this siege criminal, as well as cruel and inhuman.
Amy Goodman: What is your response to what has happened in these last hours, to the Israeli military assault on the Free Gaza Flotilla?
Adam Shapiro: We have always been prepared that the Israelis might attack the ships and try, obviously, try to take control of them, and prevent us from reaching Gaza, but the opening of fire against unarmed civilians who pose no threat to Israel, is something, I think, it is absurd in a way that can't even be described. We all remember what happened to Rachel Corrie in Gaza, standing in front of a home to protect it and being crushed and run over by a bulldozer driver. In this case, I think in a way, it is almost even worse, because Israel said that they were sending their best commandos on this mission, that they were sending their most professional soldiers, and so if these are their professional soldiers, and they opened fire, then we must assume, then, and I don't think we are incorrect to assume, that they had orders to open fire, because I don't think that soldiers operating in this way, if they were truly professional, and they were truly the best, well-trained commandos that Israel had, they would have no reason to shoot, unless they were ordered to do so.
And I really hope that the United States, the Europeans, and Turkey, and the other governments who had citizens on board press for an independent investigation, not an Israeli investigation, an independent investigation. This attack took place in international waters, not in Israeli waters.
Amy Goodman: Who was on the Turkish ship?
Adam Shapiro: On board the Turkish ship were over, approximately about 600 passengers. We had quite a large number of Turkish activists. Of course, the boat was secured in Turkey, and purchased by a Turkish organization, so many of their people were on board. We also had members of the European Parliament on board, we had members of Arab parliaments on board, including Egypt and Jordan, we had others activists who have been active in trying to raise the awareness of what's happening to Palestinians in general and specifically in Gaza, and we had media. We had Al Jazeera on board, we had a couple of Turkish broadcasting channels on board, as well as other print and other forms of media on board.
Amy Goodman: Adam Shapiro, thank you for taking the time to talk to us.
Adam Shapiro: Thank you very much.
Amy Goodman: Adam Shapiro is a board member of the Free Gaza Movement.
---