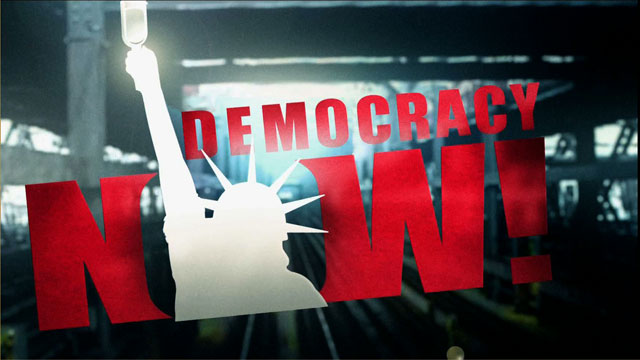 Media Options
Democracy Now! senior producer Sharif Abdel Kouddous is in Tahrir Square amid thousands of people expecting an address from President Hosni Mubarak in less than half an hour, at 9:00 p.m. local time. Renée Feltz and Amy Goodman reached him on his cell phone for an update. "If he steps down, there will be absolute jubilation here in the crowd," he says. "It will be one of the greatest moments in the country's history."
SHARIF ABDEL KOUDDOUS: We thought tonight there would be a lull before tomorrow's massive protest, but it is as packed as I've ever seen it. I am literally squashed between four people right now. Everyone is eagerly awaiting and anticipating Murabak to leave. They think tonight might be the night. There's many rumors going around. People are expecting a speech at 9:00 p.m., which is just under an hour from now. But everyone is here in Tahrir, and they say if he doesn't leave, then they're going to spend the night and hope for a massive turnout tomorrow.
RENÉE FELTZ: Sharif, is there a screen set up in the square where people can watch Mubarak's speech?
SHARIF ABDEL KOUDDOUS: In Tahrir, there is a massive sheet that they have hung where they show — which is working as a screen. But that's only on one side of the square, which is just absolutely packed with people. But there are loudspeakers all around the square in different areas. And that's where they play any kind of speech or announcement. So, I'm standing in front of one right now. A man is rallying the crowd
AMY GOODMAN: Sharif, it's Amy, joining Renée. I wanted to ask you what the word is? If Mubarak stepped down and it went to Omar Suleiman, your thoughts? Or to a military council, what people are saying in Tahrir?
SHARIF ABDEL KOUDDOUS: The slogan of this uprising has always been "The people demand the fall of the regime." And so, that regime includes Omar Suleiman. However, right now Mubarak is the symbol of 30 years of dictatorship. Mubarak is the symbol of 30 years of corruption. Mubarak is the symbol of 30 years of tyranny. If he steps down, there will be absolute jubilation here in the crowd. And, you know, the next motto will be "After Mubarak, it'll be Omar Suleiman." But I can tell you that people won't equivocate: if he steps down, it will be one of the greatest moments in the country's history.
AMY GOODMAN: Did you expect this would happen?
SHARIF ABDEL KOUDDOUS: Honestly, I didn't think this would happen tonight. Tomorrow was expected to be a massive day, a day where untold numbers of Egyptians would fill the streets of Tahrir, but also across Cairo and across Egypt. And I think the regime [inaudible] that would be trying to anticipate this massive turnout, where they are really going to think, and it's not only the [inaudible] of Cairo, that they're going to try and [inaudible] that the only speculation they can give us today, a reason why Mubarak would leave tonight. Everything is coming apart for him, and everything is coming together for the people of Egypt — laborers, the professional class, the poor, the rich. Everyone is here, and Tahrir is absolutely packed. The air is electric. And everyone is just waiting for any kind of news.
AMY GOODMAN: Nawal El Saadawi said that Mubarak must not leave, so he can be tried. What is the sentiment of people in Tahrir?
SHARIF ABDEL KOUDDOUS: Well, it's mixed. Many just want him to step down, and that will be the end of it. But many, many want him to be tried, as well. Many say, "Let him step down, and then we'll get him later with Interpol. We have judges that can get him." There's no question that he has committed crimes of humanity, and people want him tried. But right now, again, the number one demand of this uprising has been the removal of Mubarak. And if he leaves, the number one demand will have been met, and they can move on to their following demand, which they believe will end soon, in quick succession. But right now, Mubarak is still in power, and so that is the obstacle they are hoping to overcome to achieve their further demands.
AMY GOODMAN: Will people stay all night?
SHARIF ABDEL KOUDDOUS: Absolutely, Amy. People are just coming to spend the night. They've said, you know, if Mubarak doesn't leave tonight, then they'll stay the night here, and they will turn up in massive numbers tomorrow. I don't know how everyone can even spend the night here right now. It's just so packed, there's not any room to stand. But people are determined, and the turnout just keeps growing and growing. But everyone just feels that tonight could be it.
---