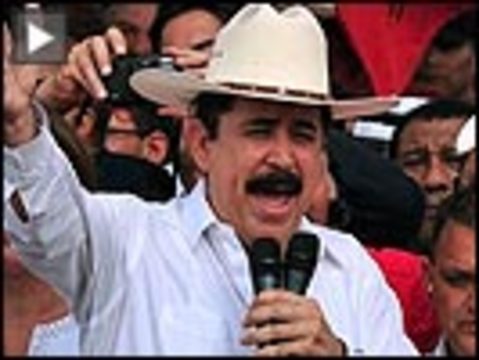 *PRESS ADVISORY*
Contact: Denis Moynihan
t: 001-917-549-5000
e: denis@democracynow.org
EXCLUSIVE: Democracy Now! Host Amy Goodman reports from airplane returning ex-President of Honduras Manuel Zelaya
*Goodman is ONLY U.S. journalist on the plane with Zelaya*
Zelaya's return is a precondition for restoration of Honduras's OAS Membership
NEW YORK, NY: Saturday, May 28, 2011—Amy Goodman, the award-winning journalist and host of Democracy Now!, will report from the flight of the ousted former president, Manuel Zelaya, as he returns to Honduras after a 23-month exile following the coup d'etat that began June 28, 2009.
Zelaya is expected to return to Honduras on Saturday, May 28, 2011. In the first military coup in Central America in a quarter century, General Romeo Vasquez led the military coup in Honduras against the democratically-elected President Zelaya. On September 21, 2009, Mr. Zelaya returned to Honduras and entered the Embassy of Brazil in Tegucigalpa, hoping a popular rebellion would restore him to office. Democracy Now! reported from inside the Embassy of Brazil for the 129 days Zelaya remained there before departing Honduras January 27, 2010. (For video and transcripts of Democracy Now! reports, including an exclusive interviews with Zelaya, please see links below.)
Goodman, the only U.S. journalist on the plane with Mr. Zelaya during his historic return, will be available for interviews in Honduras.
Mr. Zelaya is expected to land at the Toncontín airport in Tegucigalpa, Honduras, on Saturday, May 28, 2011 at 11:00 AM local time.
Democracy Now! will report on Mr. Zelaya's return to Honduras from Saturday, May 28th through Monday, May 31, 2011 and will post reports and updates on its website and Tumblr page. High resolution photographs and audio will be available for download on the Tumblr page.
(CREDIT: DEMOCRACYNOW.ORG)
Democracy Now!
Democracy Now! on Tumblr
Reports in Spanish will be available on the Democracy Now! en Español website
ABOUT DEMOCRACY NOW!
An independent, global, daily news hour, Democracy Now! is hosted by award-winning journalists Amy Goodman and Juan Gonzalez. Democracy Now! is broadcast in English and in Spanish on more than 900 public television and radio stations around the world.
ABOUT AMY GOODMAN:
Amy Goodman is an award-winning investigative journalist, syndicated columnist, author and the host of Democracy Now! Goodman is the first journalist to receive the Right Livelihood Award, widely known as the "Alternative Nobel Prize" for "developing an innovative model of truly independent grassroots political journalism that brings to millions of people the alternative voices that are often excluded by the mainstream media." The Independent of London named Amy Goodman and Democracy Now! "an inspiration"; pulsemedia.org placed Goodman at the top of their 20 Top Global Media Figures. Goodman is the author of four New York Times bestsellers. Her latest book, Breaking the Sound Barrier, proves the power of independent journalism in the struggle for a better world.
SELECTED DEMOCRACY NOW! REPORTS ON HONDURAN COUP
(Includes Video/Audio Podcast & Complete Transcripts)
EXCLUSIVE: Ousted Honduran President Manuel Zelaya Speaks from Nicaraguan Border on Who's Behind the Coup, His Attempts to Return Home, the Role of the United States
Honduran Coup Regime Blocks Ousted President Zelaya's Return; Troops Open Fire on Supporters at Airport, Killing Two
Ousted Honduran President Manuel Zelaya Speaks from the Brazilian Embassy in Tegucigalpa
Report from Honduras: Ousted President Manuel Zelaya Returns to Honduras in Defiance of Coup Government

Zelaya to Leave Honduras as Coup Leaders Cleared

Ousted Honduran President Manuel Zelaya: Talks Are Off with Coup Government After Deal Collapses

Hondurans Divided After Coup Backer Wins Presidential Election Boycotted by Zelaya Supporters

Coup in Honduras: Military Ousts President Manuel Zelaya, Supporters Defy Curfew and Take to the Streets

Click here for more information and reports
###
---