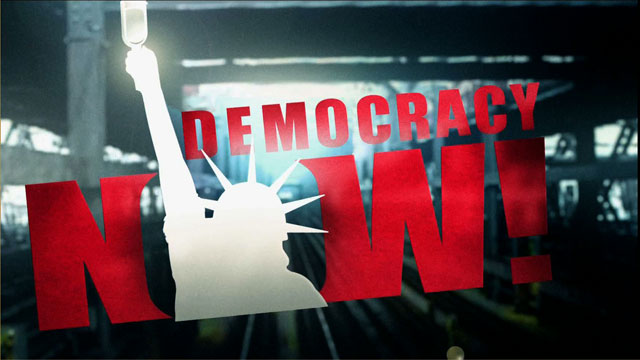 Read the first chapter of "Tropic of Chaos: Climate Change and the New Geography of Violence," by award-winning writer Christian Parenti, who was interviewed today on Democracy Now! In the book he explores how, from Africa to Asia, extreme weather brought on by global warming is unleashing cascades of unrest and violence.
Excerpted with permission from Tropic of Chaos: Climate Change and the New Geography of Violence, by Christian Parenti.  Available from Nation Books, a member of The Perseus Books Group.  Copyright © 2011.
C H A P T E R 1
Who Killed Ekaru Loruman?
What are the roots that clutch, what branches grow
Out of this stony rubbish? Son of man,
You cannot say, or guess, for you know only
A heap of broken images, where the sun beats,
And the dead tree gives no shelter, the cricket no relief,
And the dry stone no sound of water.
—T. S. ELIOT, The Waste Land
EKARU LORUMAN lay beneath a flat-topped acacia tree, its latticework of branches casting a soft mesh of shade upon his body. He wore a silver earring and khaki shorts and lay on his side with his arm twisted awkwardly beneath him. The left side of Ekaru's forehead was gone, blown away by the exit of a bullet. His blood formed a greasy, black slick on the desert floor. His sandals, shawl, and gun had been stolen.
Ekaru had been a pastoralist from the Turkana tribe, who live in northwest Kenya, on the arid savannas of the Rift Valley. He had been killed the day before when a neighboring tribe, the Pokot, launched a massive cattle raid. Ekaru's corpse lay here on the ground, exposed to the elements with goats and sheep browsing nearby, because the Turkana do not bury people killed in raids. They believe doing so is bad luck, that it will only invite more attacks. So they leave their dead to decompose where they fall. But these supernatural precautions will not hold the enemy at bay, for profound social and climatological forces drive them forth.
The group of Turkana I was visiting had been pushed south by severe drought and were now grazing their herds at the edge of their traditional range, very close to their enemies, the Pokot. In the pastoralist corridor of East Africa, a basic pattern is clear: during times of drought, water and grazing become scarce, the herds fall ill, and many cattle die. To replenish stocks, young men raid their neighbors. The onset of anthropogenic climate change means Kenya is seeing rising temperatures and more frequent drought. Yet, overall it is actually receiving greater amounts of precipitation. The problem is, the rain now arrives erratically, in sudden violent bursts, all at once rather than gradually over a season. This means eroding floods, followed by drought. The clockwork rains, upon which Kenyan agriculture and society depends, are increasingly out of sync.
Climate War Forensics
Why did Ekaru Loruman die? What forces compelled his murder? Ekaru, who had been about thirty-five years old—age among the Turkana is usually just estimated—had three wives, eight children, and about fifty head of cattle. He had been an important and powerful man in his community: a warrior in his prime, old enough to have plenty of experience and wisdom but still young and strong enough to run and fight for days on little food or water. And now he was dead.
We could say tradition killed Ekaru, the age-old tradition of "stock theft," cattle raiding among the Nilotic tribes of East Africa. Or we could say he was murdered by a specific man, a Pokot from the Karasuk. Or that Ekaru was killed by the drought. When the drought gets bad, the raiding picks up.
Or perhaps Ekaru was killed by forces yet larger, forces transcending the specifics of this regional drought, this raid, this geography, and the Nilotic cattle cultures. To my mind, while walking through the desert among the Turkana warriors scanning the Karasuk hills for the Pokot war party, it seemed clear that Ekaru's death was caused by the most colossal set of events in human history: the catastrophic convergence of poverty, violence, and climate change. This book is an attempt to understand the death of Ekaru Loruman, and so many others like him, through the lens of this catastrophic convergence.
The Facts
The scientific consensus about the status of the climate takes institutional form in the Intergovernmental Panel on Climate Change (IPCC). The IPCC does not conduct independent research but is, instead, a government and UN-supported international clearinghouse. It collects and summarizes all published scientific literature on climatology and related issues in biology, hydrology, oceanography, forests, glaciology, and other disciplines so that governments may respond to climate issues based on fully vetted
research.
The IPCC has been attacked by climate-change denialists as alarmist and wrong because of several minor errors in its 2007 Fourth Assessment Report. Addressing these did not, however, change the report's overall conclusions. In fact, because the IPCC operates on the basis of consensus, its conclusions are quite conservative, and its reports lag years behind the latest scientific developments. The IPCC represents the lowest common denominator of fully accepted conclusions from the scientific mainstream.
The IPCC has concluded that civilization's dependence on burning fossil fuels has boosted atmospheric concentrations of carbon dioxide (CO2) from around 280 parts per million (ppm) before the Industrial Revolution to 390 ppm today. Analyses of ancient ice cores show 390 ppm to be the highest atmospheric concentration of CO2 during the last 10,000 years.
Atmospheric CO2 functions like the glass in a greenhouse, allowing the sun's heat in but preventing much of it from radiating back out to space. We need atmospheric CO2—without it, Earth would be an ice-cold, lifeless rock. However, over the last 150 years we have been loading the sky with far too much CO2, and the planet is heating up.
As the Pew Center on Global Climate Change explains, "The Earth's average surface temperature has increased by 1.4°F (0.8°C) since the early years of the 20th century. The 11 warmest years on record (since 1850) have all occurred in the past 13 years. The five warmest years to date are 2005, 1998, 2002, 2003, 2007."
Less than 1°C warmer over a hundred years may not sound like much, but scientists believe it is enough to begin disrupting the climate system's equilibrium. The negative-feedback loops that keep Earth's climate stable are increasingly giving way to destabilizing positive-feedback loops, in which departures from the norm build on themselves instead of diminishing over time. The Greenland and Antarctic ice sheets—which reflect large amounts of solar radiation back into space and regulate the flow of ocean currents—are melting at rates much faster than climate scientists had predicted even a few years ago. The loss of reflective ice means more solar radiation is absorbed, and the world heats faster. Polar ice is melting rapidly, disgorging billions of gallons of fresh water, which alters the chemistry and currents of the oceans and, adding volume, threatens to raise sea levels by up to a meter over this century.
---