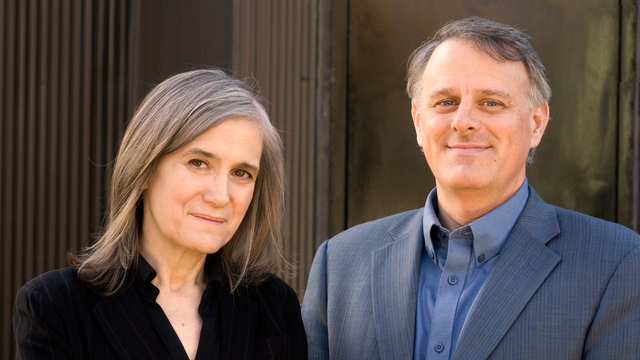 Media Options
By Amy Goodman with Denis Moynihan
"When one lies, one should lie big, and stick to it," wrote Joseph Goebbels, Germany's Reich minister of propaganda, in 1941. Former Vice President Dick Cheney seems to have taken the famous Nazi's advice in his new book, "In My Time." Cheney remains staunch in his convictions on issues from the invasion of Iraq to the use of torture. Telling NBC News in an interview that "there are gonna be heads exploding all over Washington" as a result of the revelations in the book, Cheney's memoir follows one by his colleague and friend Donald Rumsfeld. As each promotes his own version of history, there are people challenging and confronting them.
Rumsfeld's book title, "Known and Unknown," is drawn from a notorious response he gave in one of his Pentagon press briefings as secretary of defense. In Feb. 12, 2002, attempting to explain the lack of evidence linking Iraq to weapons of mass destruction, Rumsfeld said: "[T]here are known knowns; there are things we know we know. We also know there are known unknowns; that is to say we know there are some things we do not know. But there are also unknown unknowns—the ones we don't know we don't know."
Rumsfeld's cryptic statement gained fame, emblematic of his disdain for reporters. It stands as a symbol of the lies and manipulations that propelled the U.S. into the disastrous invasion and occupation of Iraq.
One person convinced by Rumsfeld's rhetoric was Jared August Hagemann.
Hagemann enlisted in the Army to serve his country, to confront the threats repeated by Defense Secretary Rumsfeld. When the U.S. Army Ranger received the call for his most recent deployment (his wife can't recall if it was his seventh or eighth), the pressure became too much. On June 28, 2011, 25-year-old Hagemann shot himself on the Joint Base Lewis-McChord, near Seattle. The Pentagon notes that Hagemann died of a "self-inflicted" gunshot wound, but has not yet called it a suicide.
Hagemann had threatened suicide several times before. He was not alone. Five soldiers reportedly committed suicide at Fort Lewis in July. It has been estimated that more than 300,000 returning troops suffer from PTSD or depression.
Hagemann's widow, Ashley Joppa-Hagemann, found out that Rumsfeld was doing a book signing on the base. On Friday, Aug. 26, she handed Rumsfeld a copy of the program from her late husband's memorial service. She recounted, "I told him that I wanted him to see my husband, and so he would know—he could put a face with at least one of the soldiers that had lost their lives because of his lies from 9/11."
I asked her about Rumsfeld's response: "All I remember is him saying, 'Oh, I heard about that.' And after that, all I remember is being bombarded with security personnel and being pushed out and told not to return." Unfortunately, it's Staff Sgt. Hagemann who will never return to his wife and two little children.
In his NBC interview, Cheney claimed to have played a role in the January 2005 resignation of then-Secretary of State Colin Powell. Powell's former chief of staff, Col. Lawrence Wilkerson, called the claim "utter nonsense." More important, though, is Wilkerson's unflinching call for accountability for those involved in leading the nation to war in Iraq—including punishment for himself. A central pillar of the invasion of Iraq was Powell's Feb. 5, 2003, speech before the United Nations, which laid out the case of weapons of mass destruction. Wilkerson, who takes full responsibility for coordinating Powell's address, told me: "It was probably the biggest mistake of my life. I regret it to this day. I regret not having resigned over it."
The Center for Constitutional Rights and lawyer/blogger Glenn Greenwald are among those who have long called for criminal prosecution of Cheney, Rumsfeld and other Bush administration officials. Said Wilkerson, "I'd be willing to testify, and I'd be willing to take any punishment I'm due."
Wilkerson says Cheney's book is "written out of fear, fear that one day someone will 'Pinochet' Dick Cheney," referring to the former Chilean dictator Augusto Pinochet, who was arrested in Britain and held for a year before being released. A Spanish judge had wanted him extradited to be tried for crimes against humanity.
As we approach the 10th anniversary of 9/11, and the casualties mount on all sides, the books by Rumsfeld and Cheney remind us once again of war's first casualty: truth.
Amy Goodman is the host of "Democracy Now!," a daily international TV/radio news hour airing on more than 950 stations in North America. She is the author of "Breaking the Sound Barrier," recently released in paperback and now a New York Times best-seller.
© 2011 Amy Goodman
---