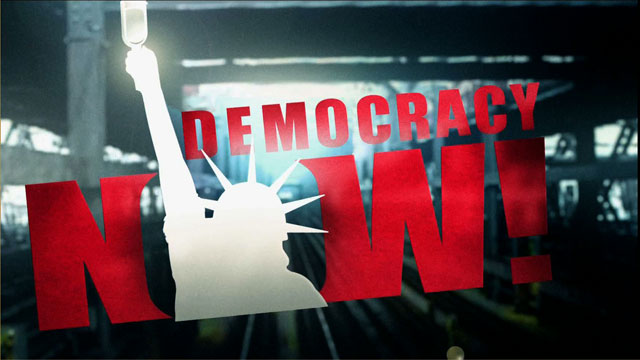 Tune in to Democracy Now! on election night for our special extended broadcast. Mark your calendars! The program will be broadcast by Free Speech TV and Link TV, and will be live streamed at DemocracyNow.org. Urge your local TV and radio stations to air the broadcast.
Tuesday, November 6. 7 p.m–1 a.m. EDT: Election Night Special hosted by Amy Goodman and Juan González. The program will include live coverage of the results as the polls close, on-the-ground reports from across the country, reactions from across the globe, and running in-depth analysis and commentary from a wide range of guests.
Past Events
Friday, October 12. 8–9 a.m. EDT: Our "Expanding the Debate" series continues when we air highlights from the "official" vice presidential debate with Joe Biden and Paul Ryan, then pause to get responses from Green Party vice presidential nominee Cheri Honkala and Justice Party vice presidential nominee Luis Rodriguez.
Tuesday, October 16. 8–11 p.m. EDT: Live broadcast from Hofstra University, the site of the second presidential debate. From 8–9 p.m., we'll host a community roundtable with several guests from Long Island. From 9–10:30 p.m., we will air the full, uninterrupted debate between President Obama and Mitt Romney. From 10:30–11 p.m. We'll air post-debate analysis.
Wednesday, October 17. 8–10 a.m. EDT: Our "Expanding the Debate" series continues with highlights from the second presidential debate. Green Party nominee Jill Stein, Justice Party nominee Rocky Anderson, and Constitution Party nominee Virgil Goode will join us live on the show to offer responses to the same questions asked to President Obama and Mitt Romney. [We have extended an invitation to Libertarian Party presidential nominee Gary Johnson.]
Monday, October 22. 8:30 p.m.–midnight EDT: We continue our "Expanding the Debate" series with a live broadcast during the third presidential debate with real-time responses from Green Party presidential nominee Jill Stein and Justice Party nominee Rocky Anderson. [We extended an invitation to Libertarian Party nominee Gary Johnson.]
---