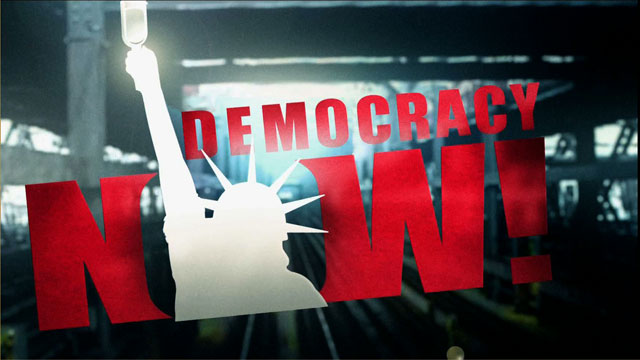 Award-winning investigative journalist Amy Goodman will speak on Sunday, April 22 at 2pm on the Green Festival Main Stage at the Jacob K. Javits Convention Center, 11th Avenue between 39th and 40th Streets, in New York City.
The Huffington Post will be live streaming events on the main stage all weekend, so tune in at 2pm EST to watch Amy Goodman's speech. More info to come. Click here to watch the livestream.
Goodman is the host of Democracy Now!, a daily, independent global news hour, that airs on more than 1,000 public television and radio stations worldwide. She is the first journalist to receive the Right Livelihood Award, widely known as the "Alternative Nobel Prize" for "developing an innovative model of truly independent grassroots political journalism that brings to millions of people the alternative voices that are often excluded by the mainstream media."
From Tahrir Square to Occupy Wall Street; from the front lines of death row prisons to the COP17 Climate Change Summit in South Africa, Democracy Now! brings audiences to the frontlines of the world's most pressing and under-reported issues and events. Democracy Now! reported live from the three recent U.N. Climate Change Conferences in Cancún, Copenhagen, and Durban and the World Peoples' Summit on Climate Change hosted by Bolivia in 2010. We have interviewed many of the world's top scientists, policy makers, activists, indigenous leaders and academics who focus on these issues — including Bill McKibben, Frances Moore Lappé, Van Jones, Vandana Shiva, and Helen Caldicott.
An essential international news source, Democracy Now! is known for its in-depth coverage of grassroots movements — including those organizing to confront the root causes of global warming, advocate for climate justice, and provide sustainable alternatives. Click here to watch Democracy Now!'s reporting on the disaster in Japan following a massive 9.0-magnitude earthquake and tsunami and the resulting nuclear crisis, or watch reports on the environmental and health effects of natural gas and oil drilling.
Each day, the program is broadcast live from a LEED-platinum certified television/radio/internet studio – the first in the United States. The 10,000-square-foot space received the highest level of green building certification thanks to a concentrated effort to use recycled materials, locally sourced materials and energy-saving practices and technology.
Democracy Now! kept exposed concrete flooring and brick walls, reusing of 62 percent of the interior, non-structural components in the space. Original radiators were restored; external windows became interior office partitions. All of the furniture and furnishings were reused or salvaged, including sofas, filing cabinets, work stations, and chairs. New wood purchases, including bookshelves and window ledges, came from sustainably grown and Forest Stewardship Council (FSC)-certified wood. Recycled blue jean insulation used to provide sound installation in the broadcast studio; Tectum, an environmentally neutral material effective for sound absorption was installed in the ceiling. Water efficient, low-flow plumbing fixtures were installed, which resulted in an estimated 33 percent reduction in water usage required by building code.
To find out more about Democracy Now!, its daily news broadcast and its LEED-platinum certified broadcast studios, please visit Booth #802, or visit democracynow.org.
Follow us on Facebook, Twitter, YouTube and SoundCloud. Invite your friends to Amy Goodman's talk at the New York City Green Festival from our Facebook Event Page.
---