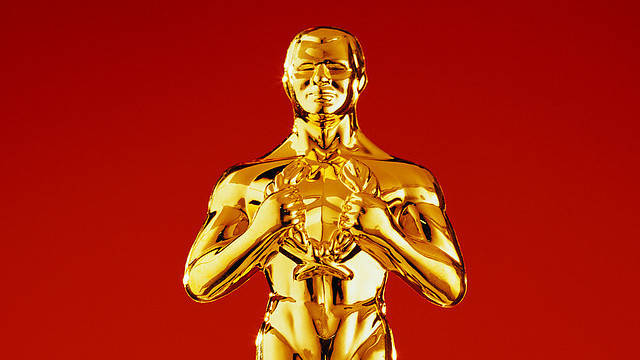 As we reported today, Emad Burnat, the subject of the Oscar-nominated film 5 Broken Cameras and a past guest on Democracy Now!, was detained at Los Angeles International Airport with his family after arriving to attend this weekend's Academy Awards. In a series of Twitter messages, the filmmaker Michael Moore said immigration officers told Burnat he would not be allowed to enter the country even after he showed them his Oscar invitation. Burnat and his family were eventually released after Moore phoned Academy attorneys.
Burnat later told Democracy Now!, "Although this was an unpleasant experience, this is a daily occurrence for Palestinians, every single day, throughout the West Bank. There are more than 500 Israeli checkpoints, roadblocks and other barriers to movement across our land, and not a single one of us has been spared the experience that my family and I experienced yesterday. Ours was a very minor example of what my people face every day."
5 Broken Cameras tells the story of Burnat, a Palestinian farmer who got a video camera to record his son's childhood but ended up documenting the growth of a resistance movement to the Israeli separation wall in the West Bank village of Bil'in.
Burnat co-directed 5 Broken Cameras with Israeli filmmaker Guy Davidi. Focused largely on the experience of Burnat and his family, the film explores the intersection of their lives with Palestinian and Israeli politics. Last June we recorded a two-part interview with Burnat and Davidi.
The Gatekeepers brings together six former heads of Israel's internal security agency, the Shin Bet, collectively speaking out for the first time ever. They detail their methods against Palestinian militants and civilians in the Occupied Territories, including targeted killings, torture, recruiting informants, and the suppression of mass protests during two intifadas. But in doing so, they also criticize the occupation they were assigned with defending and warn that successive Israeli governments have endangered their country's future by refusing to make peace. We interviewed the film's director, Dror Moreh, in January.
How to Survive a Plague documents the remarkable history of early AIDS activism and how it transformed the United States. The film recounts the heart-wrenching yet deeply inspiring story of people organizing, marching and lobbying to curb a plague that vast swaths of society saw as just punishment for allegedly immoral acts. One of the activists featured in the film is Peter Staley, a founding member of ACT UP — the AIDS Coalition to Unleash Power — and one of the longest-surviving people with AIDS. We spoke with Staley and the film's director, David France, at last year's Sundance Film Festival.
The Invisible War examines the epidemic of rape within the U.S. military. It also looks at the institutions that cover up the violence, and the profound consequences it has for its victims. We interviewed director Kirby Dick as well as two of the film's subjects, Kori Cioca and Trina McDonald. Cioca, who served in the Coast Guard, was beaten and raped by a supervisor, and then charged with adultery because her attacker was married. McDonald was drugged and raped by military police on a remote Naval station in Alaska. We recorded the interview at the Sundance Film Festival last year on the heels of a military survey showing the number of reported violent sex crimes jumped 30 percent in 2011, with active-duty female soldiers ages 18 to 21 accounting for more than half of the victims.
The HBO documentary Redemption examines New York City's canners — the largely invisible people who survive by redeeming bottles and cans they collect from curbs, garbage cans and apartment complexes. Many have quietly slipped into poverty after losing their jobs and are now living on the margins of society. The film has been nominated in the documentary shorts category at this year's Academy Awards. We sat down in late January with co-directors Jon Alpert and Matt O'Neill, both of the Downtown Community Television Center, a community media center based in NYC's Chinatown.
---