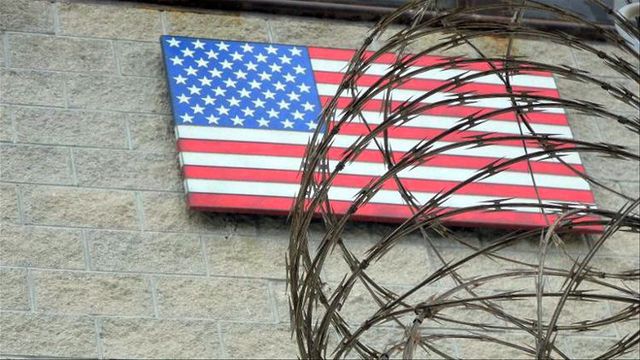 By a nearly unanimous vote, the American Psychological Association's Council of Representatives voted today in Toronto to adopt a new policy barring psychologists from participating in national security interrogations. Retired Col. Larry James, the former top Army intelligence psychologist at Guantánamo, cast the sole dissenting vote.
The vote came at the APA's first convention since the release of a report confirming the APA leadership actively colluded with the Pentagon and the CIA torture programs.
For the past decade, a group of dissident psychologists have protested the use of psychologists to conduct interrogations at CIA black sites and Guantánamo. For years they were ignored and ridiculed. But that changed with the recent release of the "Hoffman Report," a 542-page independent review commissioned by the APA's board of directors. The study undermined the APA's repeated denials that some of its 130,000 members were complicit in torture. Following the release, four top APA officials resigned, announced early retirements or been forced out.
In a special broadcast from Toronto, Democracy Now! aired three segments today on the APA vote.
Lead the Way Out of the Interrogation Room: Will American Psychological Assoc. End Role in Torture?

James Risen: In Sharp Break from Past, APA Set to Vote on Barring Psychologists from Interrogations

Gitmo is a 'Rights-Free Zone': Dissident Psychologists Speak Out on APA Role in CIA-Pentagon Torture

View Democracy Now!'s full archive on the connection between psychologists and torture
---