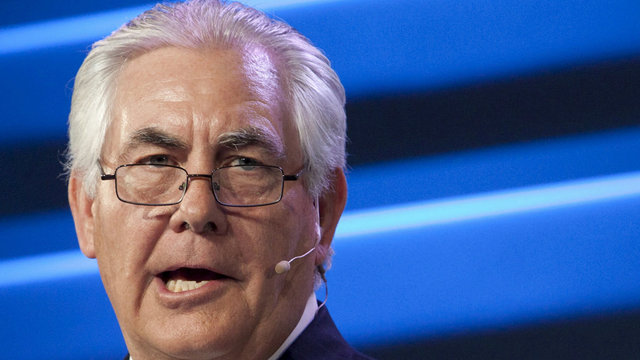 NBC News is reporting U.S. President-elect Donald Trump is expected to name ExxonMobil CEO Rex Tillerson as secretary of state.
Environmental groups widely condemned the selection of Tillerson as secretary of state. Exxon is facing multiple lawsuits over its role in covering up the science behind climate change. In 2015, InsideClimate News revealed how ExxonMobil's own research confirmed the role of fossil fuels in global warming decades ago. By 1977, Exxon's own senior experts had begun to warn the burning of fossil fuels could pose a threat to humanity. At first, Exxon launched an ambitious research program, outfitting a supertanker with instruments to study carbon dioxide in the air and ocean. But toward the end of the 1980s, Exxon changed course and shifted to the forefront of climate change denial. Since the 1990s, it has spent millions of dollars funding efforts to reject the science its own experts knew of decades ago.
Tillerson has served as CEO and chairman of Exxon since 2006 and is known to have close ties to Russian President Vladimir Putin. The Wall Street Journal reports Tillerson has "known Mr. Putin since he represented Exxon's interests in Russia during the regime of Boris Yeltsin." In 2013, Putin awarded Tillerson the country's Order of Friendship decoration.
The news of Tillerson's selection comes a day after President Obama ordered a review of Russia's role influencing the presidential election. The CIA has reportedly already concluded Russia intervened in the election to help Trump win.
350.org Executive Director May Boeve issued the following statement: "This is unfathomable. We can't let Trump put the world's largest oil company in charge of our international climate policy. Tillerson may be a friend of Putin's, but he's no friend of the planet. ExxonMobil is still a leading funder of climate denial and is pursuing a business plan that will destroy our future. Tillerson deserves a federal investigation, not federal office. We'll be pressuring Senators to turn the confirmation process into a hearing on ExxonMobil's history of climate deception. If Exxon is found guilty of working with other oil companies to deceive the public and their shareholders about the threat of climate change, they could be on the hook for fraud and racketeering charges. It would be the largest corporate scandal in history and could not only stop Tillerson's appointment, but take down the entire company."
Greenpeace USA spokesperson Cassady Craighill said: "Just when we thought Trump's Cabinet could not get farther away from the needs of the American people, he sneaks in a Saturday appointment of Exxon CEO Rex Tillerson as secretary of state. In this position, Tillerson will try his hardest to silence global initiatives and the right of state attorney generals to hold fossil fuel companies legally accountable for climate change. We will not be silenced, and we will not allow this cabinet of billionaires to steamroll the people."
See more coverage of Exxon's climate change cover-up from Democracy Now!:
Inside Exxon's Great Climate Cover-Up: From Early Climate Change Researcher to Epic Climate Denier
Exxon's Climate Cover-Up Just Got Bigger: Docs Suggest All Major Oil Giants Have Lied Since 1970s
---