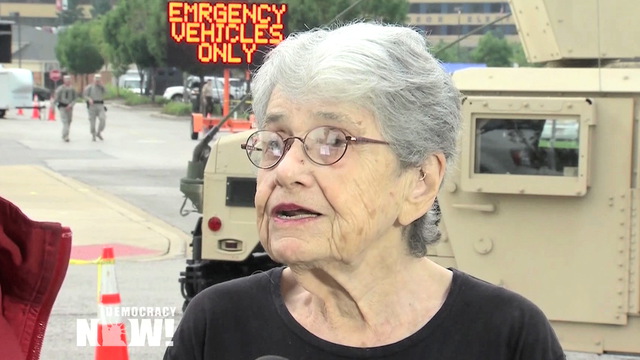 Holocaust survivor and peace activist Hedy Epstein has died at the age of 91. Epstein was born in Germany and left in 1939 on a Kindertransport to England. Her parents died in Auschwitz. She later returned to Germany to work as a research analyst for the prosecution during the Nuremberg trials. She was involved in civil rights and antiwar movements throughout her life. In 2011, she was part of the Gaza Freedom Flotilla and was a passenger on the U.S.-flagged ship, The Audacity of Hope. She was a frequent guest on Democracy Now! She first appeared on the program in 2009, as she and other activists were planning for the Gaza Freedom March.
Three years later, just days after her 90th birthday, Hedy was arrested in St. Louis during a protest outside Missouri Governor Jay Nixon's office over the police killing of unarmed African-American teenager Michael Brown. She spoke about her arrest on Democracy Now!
That was Hedy Epstein speaking on Democracy Now! in 2014. She died of cancer in her home in St. Louis on Thursday at the age of 91.
---