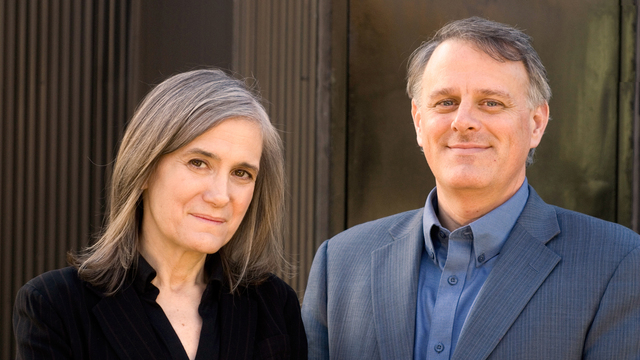 Media Options
By Amy Goodman and Denis Moynihan
The good news is that President Donald Trump opened Black History Month by mentioning the renowned abolitionist Frederick Douglass. The bad news is, he doesn't seem to realize he's dead. "Frederick Douglass is an example of somebody who's done an amazing job and is being recognized more and more, I notice," Trump said at his "African-American History Month Listening Session," which he hosted at the White House. Whether it was a misstatement or genuine ignorance of who Frederick Douglass was, or, perhaps, one of Trump's notorious "alternative facts," is not clear. What is clear is that the spirit of resistance for which Frederick Douglass is best remembered is alive and well, and is directed squarely against the Trump administration.
Frederick Douglass was born in either 1817 or 1818. As he wrote in his bestselling 1845 autobiography, "Narrative of the Life of Frederick Douglass, an American Slave," he wasn't sure which was the year of his birth, since "by far the larger part of the slaves know as little of their ages as horses know of theirs, and it is the wish of most masters within my knowledge to keep their slaves thus ignorant." Despite the uncertainty, the life of Frederick Douglass is well-documented, from the violence he suffered as a slave, to his courageous resistance, to his escape to the North and work as an abolitionist leader and orator. He died on Feb. 20, 1895, at the age of 77.
Protests against Donald Trump have been raging since his inauguration. Outside the ceremony itself, scores of people were arrested. A contingent of Black Lives Matter activists successfully blockaded an inauguration security checkpoint. The next day, one of President Trump's first public acts was to denounce the indisputable fact that crowds at Barack Obama's 2009 inauguration dwarfed attendance at Trump's. Then, later that day, Insult to Trump's ego only worsened, as attendance at the historic Women's March on Washington was at least three times larger than at his inauguration the day before. More than 600 solidarity marches also happened around the world, with massive turnout stunning march organizers everywhere.
Throughout Trump's first week in office, protests continued, with disruptions of the ongoing confirmation hearings for his many controversial cabinet picks, to emergency mobilizations against a flurry of executive orders and memoranda intended to revive and expedite the building of both the Keystone XL and Dakota Access pipelines.
On Friday, Trump issued an executive order, "Protecting The Nation From Foreign Terrorist Entry Into The United States," popularly known as Trump's "Muslim ban." The order prohibits entry to the U.S. of all refugees, and further excludes travelers from seven Muslim-majority countries: Iran, Iraq, Libya, Somalia, Sudan, Syria and Yemen. Customs agents began detaining people at airports almost immediately, provoking demonstrations at airports from coast to coast. By Saturday night, U.S. District Judge Ann Donnelly in Brooklyn issued a nationwide stay against the executive order. Soon after, federal judges in California, Massachusetts, Virginia and Washington followed with similar rulings.
On Monday night, in a stunning development, acting U.S. Attorney General Sally Yates, instructed Justice Department attorneys not to defend the executive order in court. Within hours, Trump fired her. It was the first time since President Richard Nixon, in the midst of the Watergate scandal, that a president fired a U.S. attorney general. In a historic protest, more than 1,000 State Department officials have signed on to a "Dissent Channel" cable, expressing opposition to the order. Continuing protests and a slew of lawsuits have forced the Trump administration to backpedal, specifying that green-card holders are exempt.
The broad resistance to Trump and his policies also has reached the congressional corridors of power. Democratic senators have boycotted key committee votes on several of Trump's cabinet picks, delaying committee approvals for Secretary of Health and Human Services nominee Rep. Tom Price, R-Ga., Secretary of the Treasury nominee Steven Mnuchin and EPA Administrator nominee Scott Pruitt. Even two Republican senators, Lisa Murkowski of Alaska and Susan Collins of Maine, stated that they will vote against Trump's Department of Education nominee, billionaire school privatization activist Betsy DeVos—threatening her confirmation in the narrowly divided Senate.
Despite presidential misconceptions, Frederick Douglass is dead. But he continues to inspire people around the world. Douglass worked on the front lines of resistance against oppression as an early practitioner of intersectional organizing, fighting slavery, but also advocating for women's rights, and for liberation struggles outside the U.S. "If there is no struggle there is no progress," he said in 1857. "Power concedes nothing without a demand. It never did and it never will."
---