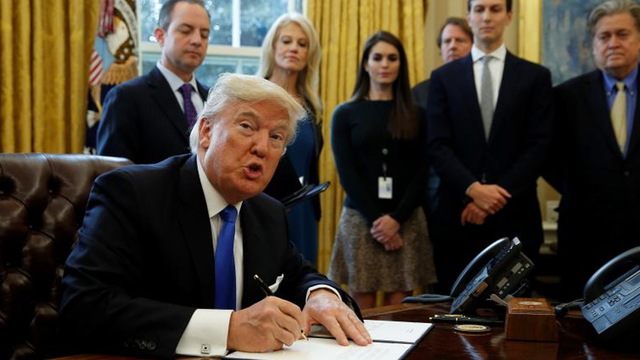 A federal appeals court in San Francisco has unanimously upheld a temporary suspension of President Trump's executive order that restricted travel from seven Muslim-majority countries. The decision is likely to be appealed to the U.S. Supreme Court.
President Trump responded to the ruling on Twitter.
SEE YOU IN COURT, THE SECURITY OF OUR NATION IS AT STAKE!

— Donald J. Trump (@realDonaldTrump) February 9, 2017
Appeals Court ruling makes crystal clear the powers of courts in reviewing Constitutionality of executive orders. https://t.co/UA0ovsaESS pic.twitter.com/JqwIlg8JM9

— Jim Roberts (@nycjim) February 9, 2017
In declining to restore travel ban, 9th Cir. invokes "numerous statements by the President about his intent to implement a 'Muslim ban'" pic.twitter.com/XYHThrVtnB

— Brad Heath (@bradheath) February 9, 2017
The ruling was hailed by civil liberties groups.
Omar Jadwat, director of the ACLU's Immigrants' Rights Project: "The appeals court's refusal to reinstate the Muslim ban is correct. The government's erratic and chaotic attempts to enforce this unconstitutional ban have taken a tremendous toll on innocent individuals, our country's values, and our standing in the world. We will keep fighting this un-American executive order until it is permanently dismantled."
Vince Warren, executive director of the Center for Constitutional Rights: "We applaud the 9th Circuit for standing up to Trump's radical executive overreach and unconstitutional Muslim travel ban. In the chaos loosed by this administration, people with valid green cards and visas were detained for hours in airports around the country without food or access to lawyers, coerced into signing away the entry status they had been given, and forcibly carried onto planes to be deported. The court sent a strong and correct message that our Constitution can under no circumstances abide religious discrimination even when it's cloaked in the politics of fear and false national security narratives."
---