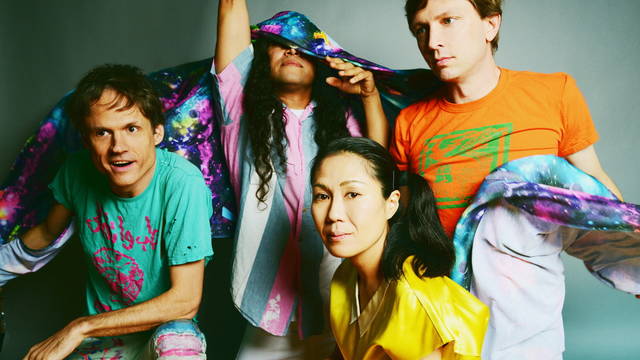 Listen to the new song "I Will Spite Survive" by Deerhoof featuring Jenn Wasner. The song was first aired on today's Democracy Now!
Pitchfork has called Deerhoof "the best band in the world." The New York Times described them as "one of the most original rock bands to have come along in the last decade."
A message from Deerhoof:
In this world of tyrants and CEOs seemingly hellbent on achieving the termination of our species, perhaps the most rebellious thing we could do is not die. Should we survive the global warming, the lack of healthcare, and the bombs, a more humane future may await us. Maligned for shirking their capitalist duty, it is the younger generations we center. Safeguarding our consciences is only part of the daily challenge, since we also need to navigate corporate-owned electronic media which both aids and saps our energies. Fans of Wye Oak will be thrilled (as we were) to hear Jenn Wasner harmonize with Deerhoof singer Satomi Matsuzaki, while fans of Gloria Gaynor, Bee Gees, or The Bobby Fuller Four may detect homage in the lyrics:
"I Will Spite Survive"
You could outlive your executioners but you're on tv.

You're expendable.
Sleep at night, if you can stay alive.
Stay alive, if you can sleep at night.
City breaks, if you can stay awake.
Let her dance, all night long!
The voices of reason and humanity are puzzlingly but systematically iced out of our national conversation by politicians and media bought by large corporations. Whether we're talking about money in politics, trade deals, surveillance, bank bailouts, healthcare, climate change, Middle Eastern wars, or wealth equality, the mainstream popular view is dismissed as unrealistically 'far left,' while the views of a small dissenting minority are advanced as acceptably "conservative," "centrist," or "liberal." That's why news outlets NOT owned by large corporations are so lovable, and Democracy Now! may be the most lovable of them all.
"I Will Spite Survive" will appear on Deerhoof's forthcoming album, Mountain Moves (Joyful Noise).
---