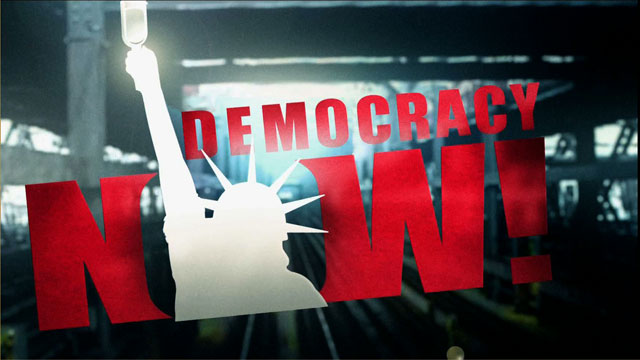 Media Options
Guests
Ralph Nader

consumer activist and Green Party presidential nominee.
Amy is joined by Ralph Nader to discuss issues of suits against tobacco companies, political ties to the tobacco industry, and tobacco advertising to children. Nader advocates going aggressively at the tobacco industry and not allowing for a debate. He believes that the industry wants to make concessions only in return for benefits, but he believes the tobacco industry has lost momentum and should be prosecuted as aggressively as possible.
---
Transcript
This is a rush transcript. Copy may not be in its final form.
AMY GOODMAN: Earlier this week, a Florida jury unanimously rejected arguments that the cigarettes smoked by a Jacksonville woman for 34 years were a defective product that caused her death, and the jury declined to levy punitive damages against tobacco giant R.J. Reynolds. The Florida decision was a rare victory for the embattled tobacco industry. A federal judge recently upheld the Food and Drug Administration's authority to regulate nicotine as a drug, and the Supreme Court declined to hear constitutional challenges to a pair of Baltimore ordinances banning advertisements for cigarettes and liquor on billboards in residential areas.
Meanwhile, the tobacco industry has recently begun negotiating with state attorney generals nationwide to reportedly pay more than $300 billion to cover smoking-related healthcare costs, in return for set limits on the amount of money individuals could win in lawsuits against the industry.
Joining us to talk about the latest battles in the tobacco wars is consumer activist and former Green presidential candidate Ralph Nader.
Welcome to Democracy Now!
RALPH NADER: Good morning, Amy.
AMY GOODMAN: Well, can you tell us about these latest skirmishes in the tobacco wars?
RALPH NADER: Well, the tobacco industry wants a deal, which is defined as giving up something in order to get something else. And what they want, is, of course, a limitation on how much they have to pay in dollars to the state attorney generals, to the private plaintiff lawyers. And they want to limit it in two ways: one, by getting some sort of immunity from future lawsuits, or caps on damages, and, two, by limiting the overall pot of money that the state attorney generals want to reimburse these states for their Medicaid expenses arising out of the sicknesses of past smokers.
The second thing they want is to make sure that there is no impact on their power to sell overseas, all over the world. Increasingly, that is going to be their big market — China, India, Eastern Europe, Russia and South America. And they don't want any arrangement, any agreement, to affect that.
And third is they don't really want the kind of restrictions on indoor cigarette pollution that would cut cigarette smoking. Whenever a company eliminates smoking from all its premises, a good number of the people working for that company end up quitting smoking. So they don't want that.
The other side, of course, wants strong controls on advertising, especially that that is beamed toward children, like sports sponsorship. The second thing they want is a large amount of money to compensate for the horrific diseases that come from tobacco addiction. And the third is a as comprehensive food and drug regulation over the industry as possible through congressional enactment.
Now, my view on this can be summed up basically in one sentence: No deals with drug dealers, only demands, and then worldwide. By that, I mean whatever negotiations should go on should be entirely one way. You don't say to the tobacco companies, "If you give the state attorney generals money and concede FDA regulation by statute" — which is already, by the way, has been recognized by the court decision that you just referred to in North Carolina — "we will give you immunity from lawsuits for future people who come down sick. We will let you addict the rest of the world from your United States base. We won't increase taxes on cigarettes," etc. Should never be that kind of negotiation.
The momentum against the tobacco industry is growing by leaps and bounds. There's more damaging in the documents that are going to be disclosed in future months, more whistleblowers, more losing their power in Congress. This is no time to cut a deal that will be minimally effective in the future and let the tobacco companies continue their addiction strategies.
AMY GOODMAN: Ralph Nader, who is doing this negotiation specifically on all sides?
RALPH NADER: Several state attorney generals, from Mississippi, for example, Connecticut, a number of others, on behalf of 24 state attorney generals. That's number one. Then there are some of the leading plaintiff lawyers who are representing next of kin or victims of tobacco addiction, on the grounds that the tobacco companies lied and deceived their customers. Imagine, the tobacco companies are basically saying in court against these cases, "Oh, you folks knew all along that tobacco was dangerous." Of course, all along, the tobacco companies were telling these folks that tobacco didn't cause cancer, wasn't dangerous, and asked them to believe the tobacco companies. Really brazen hypocrisy that's going on. And then the third party in negotiations, and this is very controversial among health groups, is Matt Myers, who is the head of — the general counsel of the Center for Tobacco-Free Kids. And a new entry is the former head of the American Medical Association, Lonnie Bristow from California.
AMY GOODMAN: And so, why do you believe that Matthew Myers, that the Campaign for Tobacco-Free Kids, is participating in these negotiations?
RALPH NADER: Well, I think, I mean, he would say that he's participating, A, to find out what's going on, be up to date, and, B, to reject any immunity demands by the industry. I don't think it's quite that simple. I think that many of his allies — the American Lung Association has just come out with a statement yesterday, very strong, against any kind of concessions to the tobacco companies. And the other two that he's worked with — the American Cancer Society and the American Heart Association — have got their fingers crossed. They can see some reason for Matt Myers to be at the negotiating table, and they can see some that aren't.
In the meantime, the rest of the public health community is quite against any kind of two-way concessions between the state attorney generals and the public health community and the plaintiff lawyers, on the one side, and the tobacco companies, on the other. The state attorney generals and the plaintiff lawyers do not have the full general interest in mind. I mean, the state attorney generals want to go back and say, "We got all these billions of dollars from the tobacco industry," and these plaintiff lawyers want to get compensation for their clients and a fee.
There are broader health prevention strategies that need to be pushed by authorities in government and the public health community. One of them is higher taxes on tobacco, some curbs, serious curbs, on any kind of promotion, and what I think is a really important priority, and that is to say to the rest of the world that any concessions that the tobacco companies have to give to the United States have to be offered to the rest of the world, a kind of most favored nation treatment. It's immoral for us to let the tobacco companies put this matter as they put it behind them in the United States, and go out and start addicting another 500 million youngsters all over the world.
AMY GOODMAN: We're talking to Ralph Nader, who has long taken on all kinds of corporations, from auto manufacturers to the tobacco industry. I was looking at a piece in The Wall Street Journal the other day, on Tuesday, that talked about the effect of R.J. Reynolds Tobacco scoring a major victory in this Jacksonville case, and talking about it as a bellwether for future litigation against the $45 billion-a-year tobacco industry. Do you think that the verdict that came down this week in Jacksonville could mean that the tobacco industries, overall, are going to take a harder stance, if it's possible?
RALPH NADER: Well, they may want to use that to give the appearance that they're going to take a harder stand, but inside their cloistered offices, they know that these lawsuits turn on the particular facts of the particular addicted plaintiff, and some are good cases factually, and some aren't. In the case in Florida, for example, the woman switched brands, from R.J. Reynolds to Philip Morris. That, of course, weakened the case. And there are other factors in the case that made it less likely that she would prevail.
But I'll tell you, the tobacco companies are less worried about these compensation tort cases, per se, in terms of money they have to give than in the potential punitive damages, which could be much larger — that's why they want to eliminate or cap punitive damages — and about the documents that have to be disclosed. None of this latest momentum against the tobacco industry, from Congress, from the FDA, from the media, would ever occurred without those few people filing suit against the tobacco companies under the product liability laws and getting the internal documents that began this historic reversal of public opposition to the tobacco industry in a much more generic way. They showed that they were lying. They were deceiving. They did everything possible to market their products to kids. And the facts bear it out. Ninety percent of all habitual smokers get hooked before they reach 18 years of age, many of them at 13, 14, 15.
And that's what they're going to try to do increasingly overseas. For example, Philip Morris controls 80% of the tobacco industry in one of the Eastern European countries. I think it's Hungary. And there are much higher smoking rates in places like Japan. And they were using the State Department to break down the, quote, "trade barriers" to their tobacco products in places like Thailand and Japan.
Well, this has got to come to an end. Again, no deals with these tobacco drug dealers, only demands, and then worldwide. We must extend this worldwide, and there should be a good many governments who would like the billions of dollars from the tobacco companies to do something about smoking and to compensate for the ravages of the disease from smoking in their countries.