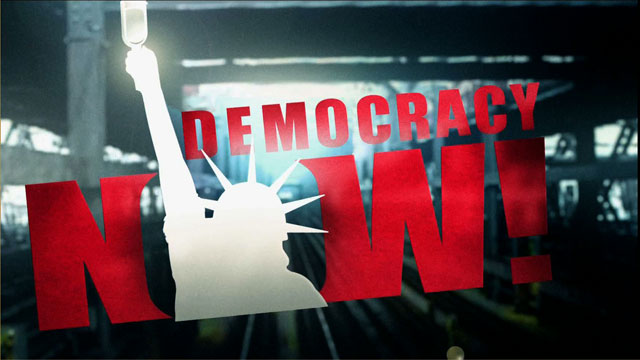 Media Options
The nationwide grassroots movement to democratize and diversify the mass media is gaining steam. These past few weeks, activists have been gathering in towns and cities across the country to discuss ways of freeing their local media from the grip of corporate control. One such meeting was sponsored by the Learning Alliance in New York City, where media activist George Gerbner addressed the growing control of the mass media by fewer and fewer corporations like Disney and Time Warner. George Gerbner is the head of the Cultural Environment Movement, an international coalition made up of thousands of individuals and more than 150 organizations dedicated to increasing gender equity and diversity in the mass media. He is also dean emeritus of the Annenberg School of Communication at the University of Pennsylvania. [includes rush transcript]
---
Transcript
This is a rush transcript. Copy may not be in its final form.
AMY GOODMAN: The nationwide grassroots movement to democratize and diversify the mass media is gaining steam. These past few weeks, activists have been gathering in towns and cities across the country to discuss ways of freeing their local media from the grip of corporate control. One such meeting was sponsored by the Learning Alliance in New York City, where media activist George Gerbner addressed the growing control of the mass media by fewer and fewer corporations, like Disney and Time Warner. George Gerbner is founder of the Cultural Environment Movement, an international coalition movement made up of thousands of people and more than 150 organizations dedicated to increasing gender equity and diversity in the mass media. He's also dean emeritus of the Annenberg School of Communication at the University of Pennsylvania.
GEORGE GERBNER: Human life is different from the life of other species in that we actually live in a world erected by the stories we tell. Unlike all other animals, it's the stories we tell that animate and populate the world in which, for all effective purposes, we learn and we live. And for a long time in human history, those stories were put together, face to face, by the parents, by the school, by the church, by the community, and to some extent that still prevails and continues, largely thanks to storytellers like Larry Johnson, who keep that tradition alive. But for the most part, it has passed into history. Most of the stories, to most of the children, most of the time, are told no longer by the parent and no longer by the school and no longer by the church and no longer by the community, and in many places around the world not even by the native country, but increasingly by a small and shrinking group of global conglomerates who basically have nothing to tell but a great deal to sell. And that influences, that shapes the kind of stories that can be told and the kind of stories that cannot be told, which in turn shapes the world into which our children are born and that conditions and shapes their image of themselves, of the world, of their relationship to other people and the life that we increasingly live.
It means that a six-year-old child today knows more names of brands of beer than names of American presidents, and I'm not sure that names of American presidents is very enlightening, but it may be argued that it's better than brands of beer. Or take another example, a six-year-old child today is as likely to recognize Joe Camel, that has recently been exposed as the leading killer of humankind, responsible—a symbol of an industry that is the—that peddles and legally advertises the only legal product that is guaranteed to kill if used as directed, and that in fact kills about a thousand people a day—as to recognize Mickey Mouse. And I wish somebody would tell me some other example, because Mickey Mouse itself is no longer the harmless creature that it used to be, because it, too, stands for a great global evil empire.
More significantly, it means that in the world into which our children are born and in which we all live, the world that is directed to consumers and to consumption, the world that is driven by the marketing imperative, certain things are overrepresented, and others are underrepresented or absent entirely. In a world that is oriented toward consumers and consumption, there basically are no poor people. In our television and in most of our media, we don't see, we don't hear, we don't read, about the lives of lower-income people, unless they get into trouble. Low-income people, we find in our studies, we call the "cultural indicators," are about 1.3 percent of all the characters that animate the daily world of prime-time television drama, which is where most of the action of socializing takes place—1.3 percent of all the characters. And most of them come up into that 1.3 percent when they are in connection with crime, with violence, with drugs, setting up a dreadful polarization in which the target audience that you heard about earlier—essentially, white, middle-class, suburban types—can see the so-called urban problem, namely, people who are different from what they are, mainly in terms of fear, of menace, and connect with that problem in the only politically acceptable way of connecting with that problem, which is to build more jails, to ask for harsher sentences and harder judges, and to support capital punishment, a kind of medieval barbarism that most civilized countries have long abandoned.
Now, the world in which—which is driven by this imperative is, in many ways, a very distorted world. Men outnumber women three to one. So I ask you, when you put that kind of a cast on the stage, how can anything be real? And the kind of stories that are you most likely to tell are stories with a predominantly masculine cast. They are stories of power, stories of conflict, stories of violence. So the issue of violence, among other things that I will come to, is driven by the very casting that represents an extension of white male power, as well as of a kind of consumer or marketing imperative. Young people under 18 are one-third of their true proportion of the population. Older people above 65 are about one-fifth of their true proportion of the population. And this is not only a question of numbers. Nobody really expects to have our world of entertainment and news reproduced a census, although maybe you'd like to make an argument for that. It is more than a question of numbers. It is a question of being born into a world in which you see yourself underrepresented, over-victimized and deprived, unless you are born white and male; in which our children are damaged, and I hope that we, as parents, can overcome that damage, but there is something to overcome, which, with other children, doesn't need to be overcome; and in which you set up an iniquitous situation of—not only of a sense of one's potentials and opportunities in life, you see yourself in this world, into which our children are born, which is in every home seven hours and 41 minutes a day—that's the average time that the television set is on, which is the most powerful socializing influence, so that by the time a child gets to be six years old, five or six years old, which used to be the first time that the child encounters the outside culture, that child is fully integrated, no matter what the family and what the neighborhood is, fully integrated into that world, not necessarily to emulate it, but to use it as a standard for judgment as to what is normal, even if not in their own community, in the outside world. And that is a very powerful modeling influence.
But this is not only a question of representation and of proportions, but it's also a question of what we call in our research "casting and fate." The moral force of entertainment that goes beyond anything that expository, descriptive or news type of storytelling can do is that you know the outcome, you know how different characters end up. So you learn not only what is normal in this world, you know not only what is marginal in this world, and you can place yourself somewhere on that map, but you also know what kind of a fate is in store for different kind of characters. To illustrate, for every 10 characters who perpetrate some violence, which is essentially a demonstration of power, that is violence, symbolic violence, violence in media, is a symbolic demonstration of power. It really teaches, five or six times per hour in prime time, who can get away with what against whom. And for every 10 perpetrators of violence, there are about 10 or 11 victims. But for every 10 women who are written into scripts and given roles to express and project the kind of power that white males project with relative impunity, there are 17 female victims. For every 10 women of color, who are given roles to express that kind of power, there are 22 women of color who become victimized.
So, without knowing, being exposed to this, absorbing this time and again, not once or twice a week or a month, but several times per hour in prime time, we absorb a sense of our potentials, of our opportunities, and of our risks. And what we call the "risk ratio," that is the ratio of victimization compared to the ability to prevail in a conflict, is an inverse relationship to what we call "social standing." In fact, the ultimate consequence of growing up in this is that some of us learn that we have greater risks in life in a conflict situation than others, that we're more vulnerable, women and so-called minorities. We're more vulnerable. We're more likely to be dependent, and we're more likely to lose in a conflict or contested situation, the consequence of which that we feel more vulnerable and more dependent, and this is what makes—I mean, minorities are not born. Minorities are not born. We're all minorities of some kind. As we use the term, "minorities" are culturally made, created. And one of the most powerful ways of creating the sense of dependency and of vulnerability that marks minority behavior is this exercise of exposition of conflict, which is why it is so prevalent. It occurs five times per hour in prime-time scenes of conflict and violence. Three entertaining murders a night is the nightly diet of our children. And in children's programming, cartoons—and, of course, they need a much heavier dose of this, because they're just beginning the indoctrination—it occurs between 20 and 25 times per hour, pretty much the same exercise time and again. And then somebody says, "Well, those are cartoons. They're humor. They don't really count." I would say just the opposite: humor is the sugar coating on the pill that makes the pill easier to swallow and more interesting to digest. And if anything, it can—we can absorb otherwise unpalatable lessons more easily if they're sugar-coated with humor.
What is it that drives this exercise? Clearly, this is not a conscious conspiracy on the part of a handful of people, although it is a handful of people who ultimately determine the kind of series, the kind of formats, the kind of formulas. The conventional answer is that, well, it's ratings, that this is what people want, that it's reflected in the Nielsen ratings and in other indices of popularity. Well, don't believe it. It is simply not true. We have the studies to demonstrate that if you take over a hundred violent programs and compare its average Nielsen rating with over a hundred—and this is a test that we've done for five years in a row, and it's always the same, we basically stopped doing it—the nonviolent sample gets a higher average Nielsen rating than the violent sample. So, don't believe that it's popularity, that it's public demand that drives what you see in the cultural environment.
To be sure, popularity and ratings is one part of the equation. The other part is cost, its cost per thousand. And when you factor cost into it, a new element emerges. When you factor cost into it, the economies of scale enter the picture, so that the larger the market, the more you can reach out, the lower the per-unit cost becomes. So, ultimately, what drives the stereotyping, the imbalanced and inequitable casting, the damaging and inequitable allocation of fate in this mass-produced world of television is—ultimately is global marketing. Let me explain. A producer of television programs and of motion pictures with any reasonable budget—and they're getting to be very expensive—in the United States and in most other countries cannot break even on the domestic market. They have to produce for the world market to break even and make a profit. And even then, it's tough business. It takes several years before the profits begin of circulation and of video sales and so on, before the profits begin to roll in. Now, if you know that you're going to be producing for the world market, and you're going to be producing according to a formula—I'm not talking about individual works of art, I'm talking about most of the run-of-the-mill motion picture and television programming that are essentially formula-driven—you're going to ask yourself, well, what is it that needs no translation? What is it that speaks action in any language? What is it that fits into any culture? And the answer is violence.
AMY GOODMAN: That was George Gerbner, head of the Cultural Environment Movement, an international coalition made up of thousands of people and more than 150 organizations dedicating to increasing gender inequity and diversity in the mass media. He's dean emeritus of Annenberg School of Communication at the University of Pennsylvania.