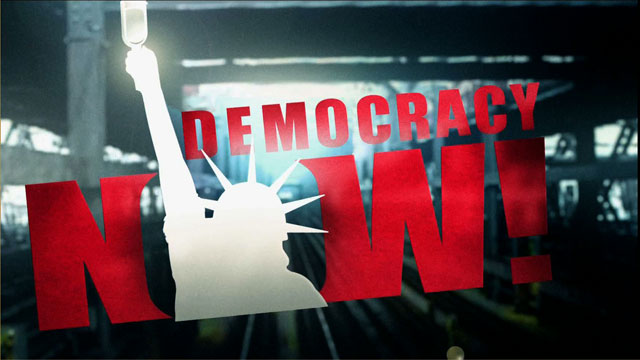 Media Options
Ken Saro-Wiwa, West African author and activist, was executed on November 10, 1995. He led a campaign against the ecological devastation that petroleum giant Shell was causing in his homeland, the oil-rich region of Nigeria called Ogoniland. The protests targeted the company's abusive practices and even caused a partial shutdown of some of its facilities. But the Nigerian military regime, led by General Sani Abacha, launched a wave of fierce repression against the Ogoni, which led to the hanging of Ken Saro-Wiwa and eight other men on November 10, 1995, in the yard of Port Harcourt prison. [includes rush transcript]
Tape:
Interview with Ken Saro-Wiwa, the acclaimed author and Ogoni activist, interviewed on WBAI's Wake Up Call by Amy Goodman.
---
Transcript
This is a rush transcript. Copy may not be in its final form.
AMY GOODMAN: The Niger Delta is on fire. October's explosion of a gas pipeline in Nigeria's oil-producing region has killed more than 700 people. Once again a leaky pipeline leads to tragedy. And is so often the case in Nigeria, the military regime and the transnational oil companies, without presenting any evidence, call it sabotage. The reason is simple. That way, the military dictator, General Abdulsalami Abubakar, rules out compensation for the families of the deceased, as he flies to the scene in a Shell Oil helicopter.

Though Nigeria is Africa's largest oil producer, cranking out more than two million barrels per day, it suffers from massive fuel shortages for its own people. It's no surprise that thousands flocked to the leaky pipeline with cups and cans to scoop up what gas they could, their bodies found charred still holding those cups. But are they thieves and vandals, as the Associated Press called them? The terms might be more appropriate for the past and present leaders of Nigeria, one of the world's greatest oil kleptocracies.

Fuel shortages are merely one part of a larger frustration felt throughout the Niger Delta. Perhaps the most powerful symbol of the Delta is the gas flare, hundreds as high as buildings burning night and day. In some cases, these flares have roared continuously for forty years, since oil was discovered in Nigeria. Ogoni activist Ken Saro-Wiwa spoke often of the irony of children in the Delta growing up without electricity, but who have never known a dark night living in the shadow of the flame.

But now a new fire is burning in the Delta. It is the rage of millions of people kept in desperate poverty, providing power to the most powerful countries in the world while being kept powerless themselves. Three years after the hanging of Ken Saro-Wiwa and eight other minority rights activists, communities from the Delta have shut down a third of the country's oil production through unprecedented acts of resistance, infuriating transnational oil corporations and their Nigerian military business partners. Helicopters, barges and oil-mining facilities belonging to corporations like Shell, Chevron, Mobil and Texaco are being seized in protest of horrid living conditions and environmental devastation.

Today, we will take a look at one of the protests that took place last May in the Niger Delta and the response of one of the transnational corporations, Chevron, the third-largest oil company in Nigeria. But before we go to that documentary, we wanted to play for you an interview done on Pacifica station WBAI four years ago with Ogoni activist Ken Saro-Wiwa. I did it with WBAI producer Bernard White, as Ken Saro-Wiwa came to the United States for the final time to let this country know what transnational corporations were doing in his country, Nigeria. This is Ken Saro-Wiwa in the United States just before he returned, was arrested and executed.

KEN SARO-WIWA: Shell does not want to negotiate with the Ogoni people. Each time they've come under pressure from local people, their want has always been to run to the Nigerian government and to say to the Nigerian government, "Oil is 90 percent of your foreign exchange earning. If anything happens to oil, your economy will be destroyed. Therefore, you must go and deal with these people, these troublemakers." And most times, the government will oblige them and visit local communities of poor, dispossessed people with a lot of violence.


And when these communities then protested and said, "Look. Look at the amount of violence that is being used against us, even though we are only protesting peacefully," then the oil companies will come and say, "Well, there is no way we can determine how much violence a government decides to use against its own people." So, basically, the local communities have no leverage with the oil companies at all.


AMY GOODMAN: Who is the government now of Nigeria?


KEN SARO-WIWA: There is a military government in power at this time. And indeed, military people have been in power in the country for a long time.


AMY GOODMAN: Because they suspended the results of the elections?


KEN SARO-WIWA: Yes, indeed. But for a long time now, Nigeria has been under military dictatorships. And the oil companies like military dictatorships, because basically they can cheat with these dictatorships. The dictatorships are brutal to people, and they can deny the rights of — human rights of individuals and of communities quite easily, without compunction.


AMY GOODMAN: Ken Saro-Wiwa, how does the oil companies — how do Shell and Chevron deal with you as the president of the Movement for the Survival of the Ogoni People?


KEN SARO-WIWA: Well, recently, when the protests started, Shell, they had a meeting. And the operatives of Shell in Nigeria and of those at The Hague in the Netherlands, and in London, held a meeting, and they decided that they would have to keep an eye on me, watch wherever I go to, follow me constantly, to ensure that I do not embarrass Shell. So, as far as I'm concerned, I'm a marked man.
AMY GOODMAN: Ken Saro-Wiwa and eight other Ogoni rights activists were executed by the Nigerian military on November 10th, 1995.