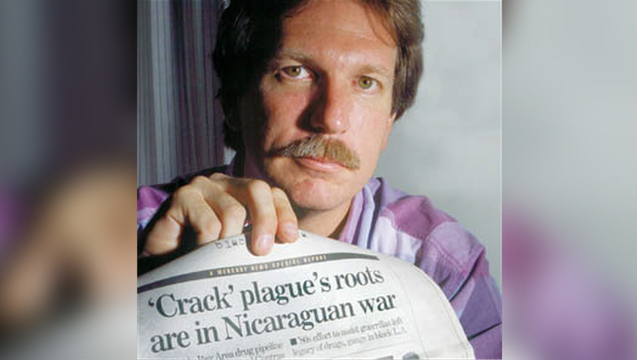 Media Options
---
Guests
Gary Webb

is a Pulitzer Prize-winning journalist, formerly of the San Jose Mercury News, and the author of "Dark Alliance; The CIA, the Contras, and the Crack Cocaine Explosion, published by Seven Stories Press."
In August 1996, Pulitzer Prize-winning journalist Gary Webb stunned the world with a series of articles in the San Jose Mercury News reporting the results of his year-long investigation into the roots of the crack cocaine epidemic in America, specifically in Los Angeles. The series, titled "Dark Alliance," revealed that for the better part of a decade, a Bay Area drug ring sold tons of cocaine to Los Angeles street gangs and funneled millions in drug profits to the CIA-backed Nicaraguan Contras.
"Dark Alliance" is a story that should be fiction, whose characters seem to come straight out of central casting: the international drug lord, Norwin Meneses; the Contra cocaine broker with an MBA in marketing, Danilo Blandon; and the illiterate teenager from the inner city who rises to become the king of crack, Freeway Ricky Ross. Unfortunately, these characters are real and their stories are true.
Now, Gary Webb pushes his investigation even further in his book, "Dark Alliance; The CIA, the Contras, and the Crack Cocaine Explosion," published by Seven Stories Press. Drawing from recently declassified CIA documents, undercover DEA audio and video tapes that have never been publicly released, federal court testimony, and interviews, Webb demonstrates how our government knowingly allowed massive amounts of drugs and money to exchange hands at the expense of our communities. Congressional inquiries into these allegations are ongoing. Results of the internal investigations by both the CIA and the Justice Department are pending.
And Webb's own stranger-than-fiction experience — his denunciation by the mainstream media, his expulsion from the Mercury News — is woven into the book. Webb now works for the California State Legislature Task Force on Government Oversight.
Related links:
---