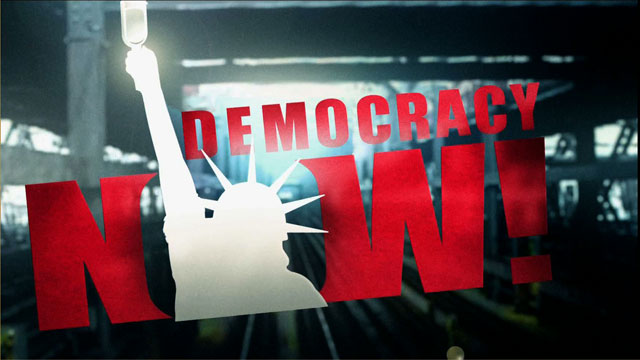 Media Options
From San Francisco to Minneapolis, from Boston to Orlando, Puerto Rican rights activists from all over the country will be gathering in Washington D.C. this weekend to mark the 100th anniversary of the U.S. invasion of Puerto Rico and to mobilize around the issue of the island's status. Just four months ago, the controversial Young Bill was passed by the House of Representatives. Once again, the bill has drawn attention to the debate over statehood, independence, or an advanced form of commonwealth for Puerto Rico. The bill, sponsored by Alaska Republican Don Young, calls for a plebiscite to be held in Puerto Rico later this year to determine the island's future status.
The 'Jornada Nacional Puerto Rico 98' takes place this Saturday. The aims of the demonstration are to denounce the Centennial of the U.S. invasion and colonization of Puerto Rico, to reaffirm the right of Puerto Rico to a process of self-determination and to demand the release of Puerto Rican political prisoners and prisoners of war.
Throughout these discussions about Puerto Rico's political status, however, very little has been said about the presence of the U.S. Armed Forces on the island, and its impact on the land and its people.
Today we bring you the first part of a documentary, "Puerto Rico: Reflections on the Oldest Colony." It is an attempt to make sense of what all these disparate issues mean for the people of Puerto Rico, and for the United States. It includes interviews with many of the most visible leaders in Puerto Rico today, including the pro-Statehood governor, Pedro Rosello, Puerto Rican independence leader Juan Mari Bras, Puerto Rican Congress member Nydia Velasquez, and many others.
Tape:
"Puerto Rico: Reflections On The Oldest Colony." The documentary is also a personal reflection on the part of the producer, Pacifica station WBAI's Public Affairs director and host of the program "Our Americas," Mario Murillo. Murillo will share his thoughts as to what the Puerto Rican Nation means to him as a U.S. born Puerto Rican, and how he views the U.S. role on the island, and what July 25th signifies for Puerto Ricans. Call: (212) 209-2978. Send e-mail.
.
.
.
---