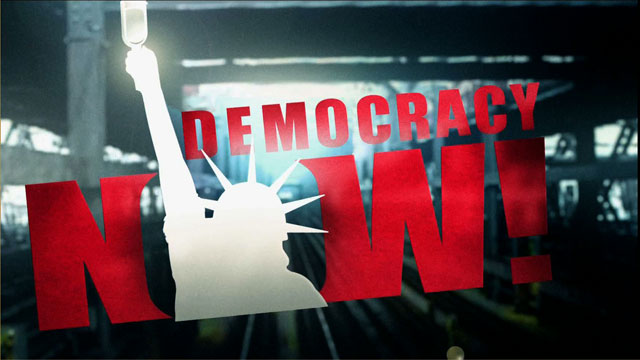 Media Options
The first U.S. casualty of the bombings against Yugoslavia took place thousands of miles from the Balkans, on the small island of Vieques in Puerto Rico. Last week, a U.S. Navy jet training for the war in Kosovo dropped a 500 pound bomb on an observation post, killing a security guard named David Sanes Rodriguez and injuring several others.
The bombing has increased calls from local residents and even from Puerto Rico's pro-military governor Pedro Rosello for an end to over 50 years of bombings and shellings on the island of Vieques.
The U.S. Navy controls 75 percent of the land in Vieques, a community of 10,000 residents where U.S. troops conduct combat exercises there an average of 235 days a year. Last month, Puerto Rico's Senate called for an end to the use of live ammunition, saying that up to 20 bombs and shells explode per minute on the island.
It was Governor Rosello's pro-military lobbying that got the U.S. Army to agree to move its Latin American headquarters to Puerto Rico from Panama this year. But in a letter to President Clinton after Rodriguez's death, Rosello wrote: "Regretfully but emphatically, I must by this means request that you order the immediate and permanent cessation of United States and allied activities that entail the use of weaponry in Vieques."
Guests:
Jorge Rodriguez Beruf, Professor of Political Science at the University of Puerto Rico and expert on U.S. militarism in Puerto Rico.
Roberto Rabin, from the Committee for the Rescue and Development of Vieques, and longtime resident of the island of Vieques.
Dr.Rafael Ribera Castanio, Epidemiologist and resident of Vieques.
Dr. Naftali Garcia, doctor who specializes on the health effects of the U.S. Navy's military exercises in Puerto Rico.
---