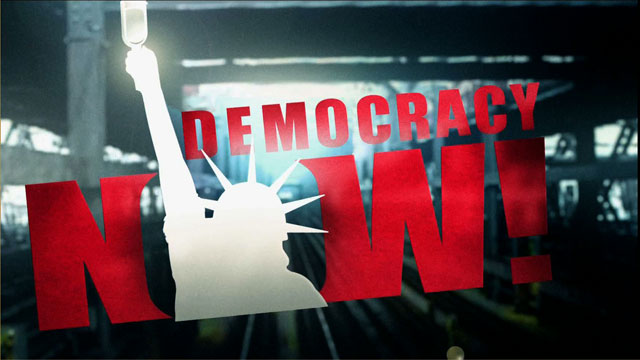 Media Options
The United Nations has decided to postpone its retreat from East Timor, agreeing to leave a skeletal staff at its compound. This came as a result of a battle within the compound, demands that the UN not leave, and the argument that over a thousand refugees in the compound would be killed. The Indonesian military has been turning cell phone lines into the country on and off, so we bring this interview with Allan Nairn taped yesterday. [includes rush transcript]
Guest:
Allan Nairn, taped interview from Dili, East Timor.
---
Transcript
This is a rush transcript. Copy may not be in its final form.
AMY GOODMAN:
As you know, every day we attempt to go live to Dili, East Timor, and today we are going to continue to try to do that. Just a few hours ago, I spoke with journalist Allan Nairn, the last US reporter left in East Timor in the United Nations compound, along with between 1,000 and 2,000 Timorese refugees and a small group of international reporters who are still there.
He described to me a few hours ago about a major battle yesterday, this one not with weapons, this one inside the UN compound, as first, early in the morning — and we heard his report then, live on Democracy Now! — he talked about the UN announcing that they would be withdrawing from East Timor, this after guaranteeing that if the Timorese voted, that they would not be endangered, they were going to abandon the island. But what would happen then to the thousand refugees who had scrambled over razor wire and risked their lives running before the militias and the Indonesian soldiers to get to the UN compound? What would happen to them? Not to mention, what would happen to the Timorese UN workers who were also in the compound?


Well, these were the issues addressed yesterday, as a major protest developed inside the compound of those who told the UN that if they left, they would leave them to be slaughtered. The UN, by the end of the day, backed off a bit, after meetings and confrontations, and said they would put off the withdrawal for twenty-four hours but leave a skeleton crew in East Timor. In this case, skeletons certainly has ominous connotations.


Allan also described what it was like to walk through the streets of Dili. It is a total scorched-earth policy of the Indonesian regime, with all of the major buildings burning throughout Dili, the capital of East Timor.


Right now, we're going to go to a report he actually gave us yesterday on tape. He mentioned it in his expose yesterday, that he delivered through Democracy Now!, reading a piece he had written for The Nation magazine that appeared on the website, starting last night, of The Nation, called "US Complicity in Timor," where he talked about the US relationship, and the US military condoning of the Indonesian regime's policies in East Timor, that right through until most recent times, in the last week, US military were communicating with the Indonesian military and General Wiranto, the head of the armed forces, and were talking about the militias but never demanded that they be shut down, in fact talked about renewing military training and other programs. He got this from secret cables and memos of meetings, minutes that he had gotten a hold of, as well as interviews with Indonesian generals and US military officials. It's groundbreaking, and you should check out The Nation website at www.thenation.com. It's the lead story, "US Complicity in Timor."


But Allan himself has been going through Dili in the last two days, going from abandoned building to burning building, where he would hide and observe the Indonesian soldiers and militia burning and looting. He also described what it was like a few days ago, when he was taken in by the Indonesian-backed militias and saw the direct relationship between the militias and the Indonesian military. This is what he had to say.


ALLAN NAIRN:

Well, yesterday, two plainclothes men came to the house I was at. They looked like militia, one with a .38 pill, the other with a Mauser rifle. The one they called the commander was drunk, pretty threatening. Then, another group appeared at the door behind them, with black Aitarak-style T-shirts, red-and-white headbands, long hair, AK-47s slung over their shoulders. And it was a very ominous situation. It looked like a standard Aitarak hit, but I was able to convince them, or at least make them think, that I was American military. And so, that slowed them down a little.


Someone else there, a friend, was able to get a foreign — some foreign authorities on the line. They called — the Aitarak militiamen called on a radio, and then, within two minutes, this fully uniformed police commander strolls in the door. He apparently had been waiting just around the corner, as these plainclothes men entered our house. This was Colonel Sutanto of the Polri national police, who is, I've since been told by very well-informed officials, actually a military intel man. He works within the police. He runs black operations for the police. He was very annoyed. Apparently, whatever they had planned had been disrupted.


And so, because of that, and because we've been able to make contact with this outside authority, I was just taken to the police station, the main Dili police station. It was packed with thousands, at least 2,000, refugees, many uniformed military, Brimob, Battalion [inaudible]. There were plainclothes Kopassus intel. And also walking around were uniformed Aitarak, in their black Aitarak T-shirts. They were going around questioning individual Timorese. They were herding Timorese onto trucks. Some of them were saluting and shaking hands with military officers. It couldn't have been more clear, right? They're in front of you. You saw it all: the refugees, the uniformed military and the Aitarak.

AMY GOODMAN:

The UN diplomats questioned whether the Indonesian military is behind the militias. So, for people who don't understand the significance of what you're saying, when you were at the police station, can you underscore it?

ALLAN NAIRN:

These Aitarak militia are clearly working in the military. And the people — well-informed UN people here who study this have absolutely no doubt about it. My experience bears it out. These men who appeared to us, perhaps there to kill us, looked like militiamen. These are exactly like the men who were out on the street killing Timorese. Turns out they work for the man who wears national police uniform, was actually army, who runs their covert operations with these Aitarak men are, and they're in the compound. Aitarak were openly working with the uniformed military and uniformed police, questioning Timorese, putting them on trucks and sending them off to where — what they claimed is Atambua and Kupong in West Timor. But we have no idea what they're really doing with the East Timorese.

AMY GOODMAN:

Were there any beatings going on?

ALLAN NAIRN:

No, this was in a huge open public area. I'd see anything like that.

AMY GOODMAN:

How did you get out?

ALLAN NAIRN:

Well, I'll be able to talk about that in the near future, but not yet.

Today, I was in the center of Dili. The central business district of Dili was completely burnt. The buildings were still smoking, and the smoke was hanging in the air. They were charred. They had been looted. The only people on the street were Aitaraks and uniformed Indonesian military and police. And there was an early sunset over Dili, because the sky was just full of the dust, the burning, and there's been heavy, heavy machine gun, automatic weapon fire over the past few days.



And, also, outside a building I was, in recent days, a great deal of silenced pistol fire. Silenced pistols are only used by the intel and by the Kopassus.



I'm going to have to go.



AMY GOODMAN:

Right now, what difference has martial law made?

ALLAN NAIRN:

I wasn't even aware there was martial law. I actually mentioned that to an official, and he kind of laughed. He said he had no clue what martial law means. I mean, Timor has been under martial law since '75. I know the tactic they're using is having the Aitarak running wild in the streets. Under military supervision, nothing has changed. In fact, it's worse. It's much worse today. People who I talked to [inaudible], it's now [inaudible] it was in the late '70s, soon after the invasion. And I have to go.
AMY GOODMAN:
And that was journalist Allan Nairn, last US journalist in East Timor right now, reporting from the UN compound. Now, again, that was a report a day ago, and I spoke to him just a few hours ago. He said that there seemed to be some kind of official stopping — order to stop the shooting, because it was much less at that point.
And to summarize, again, the UN, while the media is playing it as sort of turned around and put off an evacuation, Allan described a major confrontation inside the UN compound, a revolt of people, saying to the United Nations, if they leave, they will leave them to their deaths. And this forced a kind of standoff. and in the end, they backed off and said they would leave a skeletal staff.


We hope to still reach Allan live in Dili. A few hours ago, the Indonesian military, I guess, allowed the cell phone system to go back on. They had taken it down when they declared martial law about twenty-four hours ago, and all phone lines, the landlines to the UN were cut, as well. Food and water access to the United Nations compound were cut, as well.

That is what the new martial law might mean. I told Allan that according to reports, thousands of, or at least hundreds of, perhaps thousands of, Indonesian soldiers were going to be brought in to so-called bring order back. He said he didn't know about that. It's hard to get information inside East Timor, but just saw the evidence of what the Indonesian regime was doing, and that was the burning of East Timor.