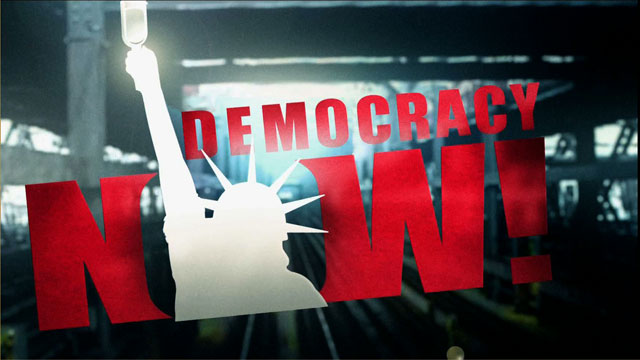 Media Options
Acting Russian President Vladimir Putin got down to work in the Kremlin today, shunning Russia's New Year holiday as fighting rage unabated in the Chechnya region. Putin, who took over on New Year's eve when Boris Yeltsin stepped down in typically dramatic fashion, met Russia's top Chechnya envoy, Nikolai Koshman. [includes rush transcript]
Putin made his first trip as president on Saturday to the Russian-controlled town of Gudermes where he decorated Russian troops. The visit showed that Chechnya remained Putin's number one priority.
Meanwhile, Russian jets and artillery today strafed and bombed a small village in Chechnya's southern mountains, trying to block the path of retreating rebel forces, federal officials said.
The airstrikes on the area of Kharachoi killed 50 militants and wiped out two rebel bunkers, said Maj. Alexander Diordiev, spokesman for the Russian military. The death toll could not be confirmed.
Kharachoi is located in Chechnya's mountains, just south of a key rebel stronghold, Vedeno, which Russian forces were trying to capture. Both settlements were along routes used by rebel forces moving back to the mountains.
The NTV television station said Russian forces continued their bombardment of Grozny and that ground troops were edging in from three sides in hopes of funneling the rebels south toward waiting federal guns. But there was no sign today that the rebels were preparing to leave their defenses in the city. Capturing Grozny would give Russia a major psychological victory. The city has been the target of attacks since fighting began in September.
Meanwhile, Assailants fired four rocket-propelled grenades at the Russian Embassy in Beirut, Lebanon, today, killing two policemen and wounding six, police said. State-run TV aired five minutes of footage of the midday attack, which took place on the busy Corniche Mazraa thoroughfare, in the Muslim sector of Beirut.
There was no immediate claim of responsibility for the attack, but it may be related to Russia's war against Muslim rebels in Chechnya. Lebanese militants opposed to Russia's military campaign against fellow Muslims in the Caucasus have staged protests against Moscow and have been raising money for the Chechens, who are fighting Russian forces trying to reassert Moscow's control over the region. The leaders of the rebel republic demanded independence when the Soviet Union broke up in 1991, but Moscow refused to let the territory secede.
Guest:
Peter Gowan, Professor of International Politics, University of North London.
---
Transcript
This is a rush transcript. Copy may not be in its final form.
AMY GOODMAN: Let's see how the Wall Street Journal put it today. Two Pulitzer Prize-winning reporters who have followed Yeltsin's entire term have a piece called "Life with Boris: Rousing, Infuriating, Always Surprising — Yeltsin the Singular." It's by Andrew Higgins and Steve Liesman. It says, "It makes your neck hurt.
"Boris Yeltsin gave up tennis years ago, but watching him rule Russia for the better part of a decade has left the world with a case of whiplash worthy of Wimbledon.
"Swinging back and forth on political and economic reform, Mr. Yeltsin created a blur of late-night government sackings, capricious presidential degrees, impulsive policy reversals and siren-screeching cavalcades to and from the hospital.
"The score sheet is staggering: seven prime ministers, six national elections, a quintuple heart-bypass operation, four loan agreements with the International Monetary Fund, three ruble crises, two vicious wars in Chechnya, and a stunning grand finale: a millennium-eve resignation."
Well, we're joined right now by Professor Peter Gowan. He's a professor of international studies at the University of North London. We welcome you to Democracy Now!, Professor Gowan.
PETER GOWAN: Good morning.
AMY GOODMAN: Can you first respond to the surprise New Year's Eve resignation of Boris Yeltsin?
PETER GOWAN: Well, I think that the resignation can be explained partly by the fact that Yeltsin was already faced with the task of leaving office later on this year, and he felt that if he could leave office with a guarantee that he would be immune from prosecution on the part of his successor, this would obviously preserve his family and their entourage from the possibility of criminal trials for corruption. So that was one motive for Yeltsin to hand over to his Prime Minister Putin, on the understanding that he would get immunity from prosecution.
I think the second factor is, of course, the fact that Yeltsin has been a deeply unpopular figure in Russian politics, and his unpopularity has only been increasing. And therefore, this way of bowing out — a bowing out that took everybody by surprise — was obviously a good way for him to ease himself out of the political scene.
AMY GOODMAN: Can you explain who the new president for now is until elections supposedly in March, Putin?
PETER GOWAN: Yes, well, Putin came up through the Soviet KGB, the Soviet security and intelligence organization in the '80s. He then proved himself in Russia's second city, Petersburg, as an able administrator, still connected to the intelligence services, but working for the Petersburg administration. He was then picked up by the power elite in Moscow, I think by Anatoly Chubais, the very important advisor to Yeltsin who had been in charge of a thoroughly corrupt privatization process during the 1980s and had then masterminded Yeltsin's 1996 reelection campaign. And Chubais brought Putin to Moscow, where he eventually became the leader of the Russian security service. And I think that what that demonstrated was the fact that for the Yeltsin family, Putin was loyal and reliable, was not going to rock the boat and might even protect them and their interests from public prosecutors, and so on.
Secondly, he's obviously a very efficient operator within the Russian state with good contacts in the security services. But I think, thirdly, at the time when Putin became prime minister, it was very important for the Yeltsin group to appease the military security apparatus of the Russian state, which felt humiliated over the Kosovo war. And Putin's coming into office to launch the war in Chechnya was an important way of giving the military security elites in Moscow their head. And so, all these factors, I think, are important in Putin's rise.
AMY GOODMAN: Professor Gowan, it can't be very promising for the Chechens that Putin has been elevated in this way. One of his first acts outside of pardoning Boris Yeltsin and his family was heading to Chechnya and decorating Russian troops by giving them knives.
PETER GOWAN: Yes. I mean, it's absolutely vital for Putin that he wins in Chechnya. And he will take every possible measure to ensure that this happens, at whatever the cost. And therefore, we can expect, now that he is president, that his chief priority right now must be to take Grozny and to give an impression of full Russian control over Chechnya.
AMY GOODMAN: And what about this news report that's coming out of Newsweek? I read the headline at the top of the show about Boris Yeltsin's link to Swiss bank accounts containing some $15 million. It may also be linked to Bank of New York money-laundering cases, as well. Does this surprise you?
PETER GOWAN: No, it's not in the least surprising. We've known for a long time that Yeltsin's family has stashed away large amounts of money, probably a good deal more than $15 million abroad, and Yeltsin's daughters, one in particular, is known to be at the center of a whole corrupt network, and so although the information about these bank accounts is new, it's something that people have long taken for granted.
AMY GOODMAN: We're also getting news that authorities in Lebanon now say that one police officer was killed in a rocket-propelled grenade attack on the Russian embassy in Beirut. They say one of the attackers was shot and killed by police. We don't have much more on that. What do you know about this?
PETER GOWAN: I know nothing about the actual event itself, but one can expect that the large number of Islamic groups, not only in the Caucasus, but in the Middle East and so on, who are now very strongly focused on taking revenge for the Russian campaign in Chechnya.
AMY GOODMAN: Well, I want to thank you very much for being with us, and we'll continue to follow developments in Russia, as well as Chechnya. Finally, you mentioned Kosovo. Putin, how would he have dealt differently with Kosovo? There was Russian resistance to the NATO bombing, but many in Russia obviously weren't happy with it not being stronger.
PETER GOWAN: Yes, well, one doesn't know what Putin's own personal line was during the Kosovo conflict, but as far as the Russian military leadership was concerned, they would of liked the Russian government to have threatened retaliatory military action, or at least retaliatory military support for the Serbs during that war. One form of such support would have been more effective anti-aircraft defenses. Secondly, the Russian military took the view at the end of the conflict that Russia could have and should have insisted on taking control of the northern part of Kosovo, leading perhaps to the vision of Kosovo, and the Yeltsin government did not, in fact, in the end push for that. And so, there was a general feeling at the end of the Kosovo war that the Yeltsin government had failed in what was seen as its duty to support Serbia in that conflict and had sold out to the West.
AMY GOODMAN: Well, Professor Gowan I want to thank you very much for being with us. Professor Peter Gowan teaches international politics at the University of North London.