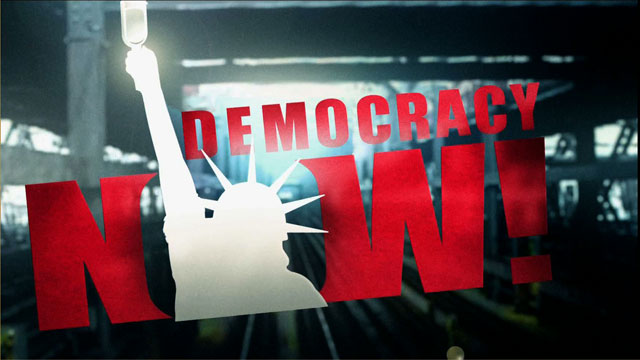 Media Options
This week, Texas governor and presidential hopeful George W. Bush received the endorsement of his former rival for the post, Elizabeth Dole–Dole pulled out of the race in October after raising just $5 million — less than a tenth of what Bush had collected at that time. Bush, who raised $67 in 1999, has pledged to reach the $100 million mark in the next couple of months. [includes rush transcript]
Today we look at part two of "The Buying of the President 2000" a book by Charles Lewis and the Center for Public Integrity that examines special and often secret interests that have heavily invested in the politicians seeking the nation's highest office.
Guest:
Chuck Lewis, Executive Director of the Center for Public Integrity and author of the book The Buying of the President 2000.
---
Transcript
This is a rush transcript. Copy may not be in its final form.
AMY GOODMAN: Right now, we're going to talk about the Republican candidates and the money behind them. We just heard George Bush, Gary Bauer, John McCain, Senator of Arizona, Steve Forbes, Senator Orrin Hatch, a conservative, motivational speaker Alan Keyes facing off about all different issues, gays in the military, Elián González, tax cuts, etc.
But now we want to talk about what they don't like to talk about as much. Clearly, John McCain, a little uncomfortable when confronted about the money he got from Paxton Communications. We're going to talk about the money behind them all. We're joined right now for the second day by Charles Lewis, who is head of the Center for Public Integrity, which has just put out a book, The Buying of the President 2000: The Authoritative Guide to the Big Money Interests Behind this Year's Presidential Candidates, and look at the powers behind them.
I thought it was interesting, after McCain was challenged on pressing the FCC as head of the powerful Commerce Committee for a decision on Paxton Communications buying a TV station in Pittsburgh — Paxton Communications, which has given him major campaign contributions, given him jets to ride in over the last few months — that when George Bush was asked about his answer, he said he was satisfied with it. Is that, Charles Lewis, because George Bush, Jr. is concerned about his own finances?
CHARLES LEWIS: I think he is concerned about his own finances. Here's a fellow who raised $310,000 a day last year. And, you know, one of his comments was, if you're going to talk about campaign finance, you've gotta walk the walk, which was a comment not in the debate, but I think in yesterday or some point during the campaign. What's interesting is, it sounds like he's basically saying if you don't talk about it, you can do whatever you want. It's a laissez-faire situation.
So this is a candidate who has backtracked. When he first was a candidate last spring, he talked about an end to soft money. He has since backtracked on that. And so, he clearly is a defender, fairly unabashedly at this point — I mean, he would prefer not to talk about it at all — but he basically supports the status quo, and I think it's pretty apparent.
AMY GOODMAN: Give us a list of George Bush's top patrons.
CHARLES LEWIS: Sure, his — he's only been in politics six years, but his numbers are higher than anyone's, of course, because of this astounding $70 million year last year. His first — basically he's an oilman. A lot of his support is oil. The first five donors in his life or his career are oil-related. Enron Corporation of Houston is the largest buyer and seller of national gas, and they also do power plants and other stuff, $555,000. The Sanchez family, which has banks, but it all started from oil and gas, $322,000. Sanchez was appointed — this fellow named Tony Sanchez — was appointed to the University of Texas Board of Regents.
There's a pattern also of rewarding business associates and pals, you know, cronyism sort of down there. It's a little bit like Lamar Alexander, and that's a whole other story. Vincent & Elkins, one of the largest law firms in Texas, and, of course, if George Bush does become president, this will become — they'll be in the catbird seat among law firms in America.
AMY GOODMAN: I'm going to stop you there, just because we have stations identify themselves. When we come back, we'll get more of the list of George Bush, then move on to John McCain and talk about some of the other candidates. After that, we'll look at the Attica settlement and finally a debate on Agent Orange. You're listening to Pacifica Radio's Democracy Now!. We'll be back in a minute.
[break]
AMY GOODMAN: You are listening to Pacifica Radio's Democracy Now!, the Exception to the Rulers. I'm Amy Goodman, here with Juan Gonzalez. Our guest is Charles Lewis, head of the Center for Public Integrity, which has just published a major report, a book, on The Buying of the President 2000: The Authoritative Guide to the Big Money Interests Behind this Year's Presidential Candidates.
Charles Lewis, you're going through the list of the major campaign contributors to the George Bush campaign, going from Enron on down.
CHARLES LEWIS: So Enron, Sanchez family, which is an oil interest, Vincent & Elkins, which has a lot of oil clients including Enron. Hicks, Muse, Tate & Furst is a leverage buyout firm, but it's also — Hicks is the fellow — Thomas Hicks is the fellow who bought the Texas Rangers from Bush, where he ended up making $15 million from $500,000. Hicks also was appointed to some things. The Bass family, of course, the Bass brothers and their millions of dollars they made from their granduncle Sid Richardson, you might recall, but a very famous oil family in the U.S. And then a Merchant Bank, the Sterling Group of Houston, MBNA, the credit card folks.
This presidential candidate also has chicken interests. Remember Clinton and Tyson. Now, there's Pilgrim's Pride, which has been fined for pollution violations, and Texas has given him $230,000. He's a big tort reformer, and he gets a lot of money from accounting firms and insurance companies. Number nine on his list is Farmers Insurance, which has given him $228,000. And, of course, he has obliged their interests in terms of legislation. And Sam and Charles Wyly of Dallas, a sprawling empire that has an investment fund in computer software and other kinds of other interests.
But this is a fellow that has — he's number one in virtually every category, because of the sheer volume of money he's raised. But the most important point to make is he has done favors for his patrons, and The Buying the President 2000 shows precisely how that has happened and what he has done in a number of instances, and it looks at his personal finances, which are nothing short of remarkable. No one makes investments that look like they're gone south fast and have them — someone — some friends of his father come in and bail him out repeatedly. It's just a fascinating thing to look at. And, of course, many of those people are perched beautifully, should he become president, to do all kinds of things. And I could go on and on.
But Bush is — there's a lot that has not been said or written still about Bush, some of these dealings. A number of times when he's leaned on regulators, as much criticism as McCain is getting, we have a story in — or chapter about Bush, where someone wanted to regulate a funeral home, the leading death care company in America, he did some pretty shoddy things down there. There's lots of litigation, and the regulator wanted to fine them, and Bush made sure that the commission was packed with, more than statutorily was allowed, people from that company. And the woman who tried to regulate it was basically put on leave, and, of course, they're a big contributor. So there's a lot of these kinds of things. This politician, in the sense of patron and — you know, helping patrons is no different than anyone else.
JUAN GONZALEZ: And what about John McCain, who seems to be his chief competitor at this point, in terms of actually getting any share of the vote in New Hampshire?
CHARLES LEWIS: Well, McCain, you know, has a lot of interest from the Southwest, of course. He is on the Commerce Committee in the Senate, which is an incredibly powerful committee these days, because of the whole telecommunications sort of revolution. But to give you a flavor, his number one patron, U.S. West, gave $107,000. He introduced — McCain introduced the Internet Regulatory Freedom Act, which among other things would allow phone companies like U.S. West to deliver internet services. The same day he introduced the bill, the CEO of the company crowed to reporters that it would bring his company millions of dollars.
His wife, his family owns a beer distributorship, the largest Anheuser-Busch distributorship in the country, second leading donor, $80,000. McCain actually worked there doing PR in the early '80s.
You have AT&T, Viacom, Bell South there, all — Motorola, some other related high-tech or telecom-type firms.
And there's the Del Webb Corporation, which does construction and real estate-type deals. And we have a situation where years ago he put a hold on legislation that would have interfered with a land deal they were working on. They gave $56,000.
But the number one all-time patron for McCain — we have an asterisk, and we didn't count it for various reasons — is Charles Keating of the Keating Five scandal. Charles Keating and his relatives and his employees gave $112,000. And after that scandal almost ended McCain's career, he gave a check to the U.S. Treasury for $112,000, as a symbolic gesture of sort of apology. And so, we didn't quite know what to do about that, so we note it, but it's not one of the people we list on the patron list.
But the point is, this is a politician, this is a mere mortal, despite his pronouncements. And he has been in the belly of the beast of the intersection of politics and commerce, and like anyone else. And, you know, he has made accommodations. And this latest Paxton thing is probably a metaphor for all of them. They do this all the time.
JUAN GONZALEZ: Your book also is fascinating in listing the top fifty contributors to both parties. And the amazing thing, as I was reviewing it, was the number of corporations that are top fifty for both parties and who have — are giving millions to — some of them equally, in almost equal amounts, to both parties.
CHARLES LEWIS: Well, it's true. A lot of companies want to do that. Of course, they want to hedge their bets. Depends who's in control at each end of town, the Congress or the White House. But, you know, the Disneys of the world and the Seagramses of the world and the Goldman Sachses of the world and the Atlantic Richfields of the world, those kinds of companies, I mean, lots of those folks do hedge their bets.
Labor unions, on the other hand, generally, as we all know, support Democrats. And we were kind of intrigued — I guess we should almost have assumed it, but we had sort of forgotten so much corporate money has gone into the Democrat Party in recent years, as they've tried to compete with the Republicans financially. We had sort of — I was slightly surprised to see how much labor money was in soft money in the top since 1991, the first year that we ever knew who gave what soft money in this country. We compiled it and in the top ten patrons to the Democratic Party. Six of them were unions, and that was somewhat interesting to me. But I think, overall, business money is still predominant, as opposed to labor, inside the Democratic Party.
The Republican Party is really fascinating. Of the top twelve patrons to the Republicans, four are tobacco companies. And the number one patron to any party, either party, is Philip Morris, which gave over $6 million since 1991. The reason I think this is very important to note — and I know some people feel they know this, but I'll say it anyway — is in the last five years, the Republican Party and Republican lawmakers have been at the forefront of protecting the tobacco industry from regulation. And so, the fact that they're getting all this money, millions of dollars from — one-third of their top twelve donors are, in fact, tobacco companies, suddenly makes some of these positions a little more understandable, because there's very little other logic that I can ascribe to it.
AMY GOODMAN: Finally, Chuck Lewis, we have Steve Forbes, Alan Keyes, Gary Bauer, to go. Steve Forbes, independently wealthy. Just a very quick hit on Alan Keyes and Gary Bauer, in terms of where they get their money.
CHARLES LEWIS: Well, of course, Forbes has his own money. Keyes, his number one patron — first of all, Keyes and Bauer don't have much money. Let's be honest. The numbers are starkly small.
AMY GOODMAN: And Hatch.
CHARLES LEWIS: Keyes's, I think, top donor is $22,000, and it's the NRA, from basically a Senate race he did in Maryland. So to be honest with you — Bauer's, all of his are families that no one's heard of, to be honest with you. And I think his largest is something like $35,000. But the point is, both of these candidates, there's not much remarkable.
Keyes is an ideological candidate, and he has right to life money also, and things like that. But both of them — you know, think about it. Alan Keyes doesn't get any money, because he's not in power. He can't give out favors. He doesn't have — he doesn't have oversight over any industry. He's never held elective office, so who's going to give him money?
AMY GOODMAN: And Orrin Hatch?
CHARLES LEWIS: Orrin Hatch is a very interesting case of a Washington-entrenched politician who's been around for twenty years. He's got Aflac, which — number one patron, $92,000. They do supplemental health insurance. He has gone to bat for them, of course, a number of times. Marriott, the famous hotel chain. He helped them get tax breaks years ago. They've given him $82,000.
Herbalife, the folks that do herbal weight loss, nutritional and other kinds of products — he basically tried to get the FDA stripped of any authority to regulate Herbalife. He's received $74,000 from them. And Glaxo Wellcome, he's got a lot of pharmaceutical money, because his committee, the Judiciary Committee, does a lot of copyright and other types of patent-type things that relate directly to pharmaceutical products.
AMY GOODMAN: Well, on that note, Chuck Lewis, we do have to wrap this segment up.
CHARLES LEWIS: Sure.
AMY GOODMAN: But I want to thank you very much for being with us and let listeners know that you can find out more information on the money behind the politicians by going to the website of the Center for Public Integrity at www.publicintegrity.org — is it org or com?
CHARLES LEWIS: Yeah, org.
AMY GOODMAN: Org, publicintegrity.org. Charles Lewis, head of the Center for Public Integrity. The book, The Buying of the President 2000.