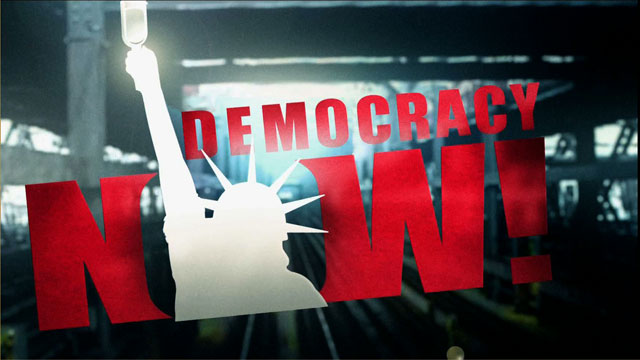 Media Options
When President Clinton called Pacifica's WBAI on Election Day to shore up the vote for Vice President Al Gore and First Lady Hillary Clinton, he did not expect to spend 30 minutes defending his administration's record on the death penalty, the Middle East and racial profiling, among other issues. But that is exactly what happened when he encountered Democracy Now! host Amy Goodman and Gonzalo Aburto, host of WBAI's Alternativa Latina.
From Clinton's decision to fly back to Arkansas to execute mentally retarded prisoner Ricky Ray Rector during the 1992 campaign, to whether he will grant executive clemency to Native American activist Leonard Peltier, to his administration's policies in the Middle East and Latin America, Goodman and Aburto fired off questions that at one point made the President lose his cool and complain that the questions were "hostile" and "combative."
For the first time, Clinton addressed the Peltier issue publicly, saying that he would review the case and make a decision on whether to issue executive clemency before he leaves office in January. He also defended his government's policy of continued sanctions against Iraq, despite the 5,000 children that this policy kills every month. And to a question on whether he would prohibit racial profiling by executive order, he responded that two of his staff had recently been detained and handcuffed in Washington, DC because of this very practice.
Today we bring you an annotated version of this interview, with responses from activists, scholars and others who have been personally involved in some of the issues that Clinton spoke on.
Guests:
President Bill Clinton, in an exclusive interview with Democracy Now! on Election Day 2000.
Cornell West, Professor at Harvard at University and author of "Race Matters" and "The African American Century."
Leonard Peltier, Native American activist imprisoned in Leavenworth Prison, Kansas.
George Kendall, staff attorney for the NAACP Legal Defense Fund.
Erik Gustafson, Gulf War veteran and head of the Education for Peace in Iraq Center (EPIC).
Nassir Aruri, Professor Emeritus at Dartmouth College in Massachusetts.
Jane Franklin, author of "Cuba and the United States: A Chronological History."
Ralph Nader, Green Party presidential candidate and consumer advocate.
---