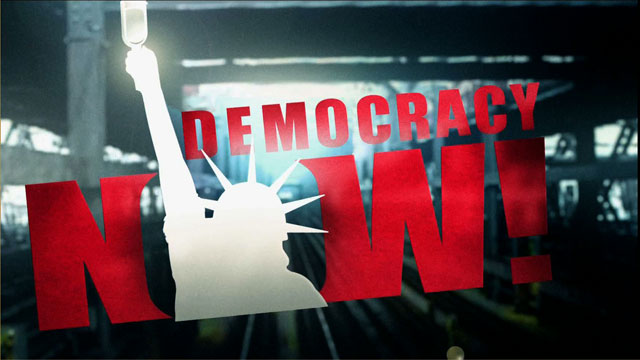 Media Options
He was recognized around the world for his pioneering leadership in protecting the environment and wild places of the Earth. David Brower, first Executive Director of the Sierra Club and founder of Friends of the Earth, died this past Sunday in Berkeley, California, at the age of 88. He also founded the Earth Island Institute. Ralph Nader has called him "the leading environmental activist in the world." [includes rush transcript]
Guest:
Mikhail Davis, Director of the Brower Fund of the Earth Island Institute.
Related link:
---
Transcript
This is a rush transcript. Copy may not be in its final form.
AMY GOODMAN: And finally today, David Brower, recognized around the world for his pioneering leadership in protecting the environment and wild places of the earth, died this past Sunday at his home in Berkeley, California. He was 88 years old, first executive director of the Sierra Club, founder of Friends of the Earth. Ralph Nader has called him the leading environmentalist of the 20th century. He also founded the Earth Island Institute, where we go right now. Mikhail Davis is with us, Director of the Brower Fund of the Earth Island Institute. Welcome to Democracy Now!
MIKHAIL DAVIS: Thank you, Amy.
AMY GOODMAN: Can you give us a brief thumbnail sketch of David Brower's life?
MIKHAIL DAVIS: David Brower's life began rather quietly. His father was a professor at UC Berkeley, who was laid off during the Depression. So it was kind of a hard time growing up, particularly since his mother became blind when he was only eight years old. So his father had to support them on a meager salary with four kids. But when Dave's mother went blind, all of the family, in spite of being poor, had a love of the outdoors. And they would take him out there. And Dave ended up being is mother's tour guide, where he would have to go and be her eyes and describe to her. They would go on hikes together, even though she was blind. She was still pretty sure-footed. And he would have to be her eyes and describe the wonders of nature to her and give her that experience secondhand.
And David spent the rest of his life doing that for the world, giving people the experience of the wonder and magic of nature. And people in numerous obituaries that have been written will describe him as militant or angry. And those of us who know Dave well don't think of him that way. I mean, he —- you know, Dave had his moments of anger. But I think underneath it all, Dave was driven by love. He was driven by the love of the natural world, just as he was as a boy, you know, at eight years old, describing to his mom the view from the top of Grizzly Peak in Berkeley of the entire Bay Area. You can imagine that, you know, very little smog, no Golden Gate Bridge, no Bay Bridge. So when Dave, you know, dropped out of college -—
AMY GOODMAN: We have ten seconds.
MIKHAIL DAVIS: — in 1931, it was, as his wife says, before he had learned what was no longer possible. And that's — Dave spent the rest of his life showing people that what they thought was impossible in the sense of the earth was not impossible.
AMY GOODMAN: Mikhail Davis, thanks for being with us, remembering David Brower.