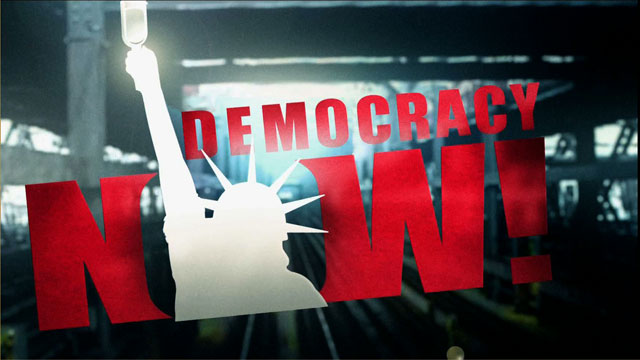 Media Options
This electoral campaign has broken all spending records, with Senate candidates alone raising $334 million, according to a report by Common Cause. Corporate contributions to Al Gore and George Bush have also soared. And a CNN financial poll indicates that corporate America has thrown most of its weight behind Bush — who is heavily supported by the tobacco, pharmaceutical, defense and oil industries — believing that the Republican candidate will best represent their interests. Today, a discussion on money and politics. [includes rush transcript]
Guests:
Thomas Ferguson, Thomas Ferguson, a contributing editor of The Nation, is an Assistant Provost and professor of political science at the University of Massachusetts, Boston. He is the author of the book "Golden Rule: The Investment Theory of Party Competition and the Logic of Money-Driven Political Systems."
Jeff Cronan, representative of Common Cause.
Related link:
---
Transcript
This is a rush transcript. Copy may not be in its final form.
AMY GOODMAN: "It's Money that Matters" by Randy Newman, here on Democracy Now!, as we go to that issue on this Election Day: money in politics. We're joined on the telephone right now by Thomas Ferguson, contributing editor to The Nation magazine and senior associate provost at the University of Massachusetts, Boston. Also joining us in a Washington studio is a representative of Common Cause, which has put out an Election Day tool kit on this Election Day to help people navigate their way through the election. We're joined in the studio in Washington, as well.
Let's start with Tom Ferguson: money in politics on this Election Day?
THOMAS FERGUSON: Well, the question is what about it? Do you see it today? Pull out your New York Times business page. Take a deep breath, because you're going to actually read something there that's a true analysis of the world. Yesterday, they report, people are buying pharmaceutical stocks. They're rising. Why? Because they think Bush has the election. In fact, this will be your best guide to telling what the polls, which are — you know, business groups pay to have these things taken all during the day. A lot of these folks in the stock market will know the results by about 12:00 to 1:00, unless they're really too close to call. And you can just watch by some stocks to sort of see what they know, even if you can't be told there.
And the striking thing, this is an election where — boy, I — if you've ever seen a straight political economy of interest groups at work, this is it. I mean, you can see the tobacco stocks, pharmaceuticals, probably some of the defense firms, too, as well as the for-profit medicals, are going to take a huge gain out of this thing, and apparently started to do it yesterday, you know, if they are lucky enough to be right. I mean, this is telling you — reality is trying to send you a message. It's that an awful lot of money is in this election, because an awful lot of money is going to turn on it.
AMY GOODMAN: We're joined by Jeff Cronan of Common Cause. Senate candidates raised a record, what, $335 million through September 30. What is Common Cause doing about this?
JEFF CRONAN: Well, you're right. Senate candidates have raised that much money. And House candidates have raised another $550 million more. I think what we've seen in this campaign, Campaign 2000, is, (a), a complete disintegration of the campaign finance laws in this country, where the illegal money — money from corporations and unions and wealthy individuals — is threatening to eclipse what we consider to be legal money, the money that falls under the federal regulatory umbrella. I think this election makes a really good case why we need full public financing of elections eventually, because with all of the other issues on the table in the presidential campaign, and indeed many of these House and Senate races, whether it's prescription drug prices or the future of Social Security and the extent to which it might be privatized in the future or patient's bill of rights, all of these issues are really being fought out by these special interests on the airwaves, and it's consumers who are being largely shut out of this debate. So, come February, we want John McCain to keep his promise to bring the Senate to a grinding halt and push for a vote on at least banning the worst of these abuses with the McCain-Feingold bill. And then, you know, there are signs that there's a lot of momentum for full public financing of these campaigns. We're fighting for referenda in Oregon and Missouri, which would call for public financing of state elections. So I think there are some signs of hope on the horizon, too.
AMY GOODMAN: Can you tell us about the tool kit that you've set up on this Election Day?
JEFF CRONAN: Well, we've put out an election night guide to money in politics to let people — to give people kind of a thumbnail sketch of what's happening in Campaign 2000. From our point of view, we're just seeing a kind of campaign finance gluttony in this cycle. All told, Campaign 2000 is going to cost upwards of $3 billion. It represents a kind of corporatization of American politics that's really unprecedented.
And the other thing that our studies show is that the current campaign finance system, really more than anything else, is what protects incumbents and keeps the turnover rates in Congress so low. 89% of House incumbents are either running truly unopposed or virtually unopposed, in that they'll have such a huge financial advantage over their challengers, that their races will be financially uncompetitive. Incumbents are having a four-to-one financial advantage over their challengers. And when it comes to PAC money, money from special interests, incumbents have roughly a seven-to-one advantage. And in the Senate, the ratio is about the same.
So when you look at all of the money that's being spent in Campaign 2000, I don't think it can be just attributed to the rate of inflation. This isn't some kind of spontaneous outburst of philanthropy from corporate America. Come February and January, when the new Congress comes back and a new president, you know, the chips are going to come in and all these donors are going to, you know, who have strings attached to these contributions are going to pull those strings. And it's going to end up costing all of us as taxpayers billions of dollars in the form of corporate welfare and special tax breaks and giveaways, largely to corporate America.
AMY GOODMAN: If people want to get the guidebook, where can they go on the web?
JEFF CRONAN: Go to commoncause.org and you can find our election night kit and other great resources on money and politics. You should also check out the Center for Responsive Politics's excellent website at opensecrets.org on the web.
AMY GOODMAN: And Tom —
JEFF CRONAN: And you can find out who's funding the races in your district.
AMY GOODMAN: Tom Ferguson, finally, who is investing in this election and what implications does this money have for popular movements and third party politics?
THOMAS FERGUSON: Well, I think one implication it has for the popular movements is it's tough to get them organized. You can see that very — in the tremendous imbalance between Nader and the other major candidates, let's say, who are running. I mean, George Bush didn't even bother to take matching funds to run in the primaries, and he still, you know, out-raised everybody's cash.
The other side of this, I think, somewhat more subtle. You know, you got to spend some time, too, not just on campaign finance though. There's nothing more important than fixing the campaign finance system in the United States, because that is the way you can fix everything else. But it's clear you're going to have to do something about the presidential debate system, where it is essentially virtually a wholly owned subsidiary of large firms. And you could see it very vividly this year when they wouldn't let Nader in and sort of wouldn't even let him in to watch the debate when he had a legal ticket. I mean, that systems needs to be the whole presidential selection process, including the sort of nonpartisan — officially nonpartisan parts of it is unfortunately rotten to the core. It's all got to be changed.
AMY GOODMAN: Well, I want to thank you both very much for being with us. Professor Thomas Ferguson, again, a senior associate provost at the University of Massachusetts, Boston, and with us in the studio in Washington is Jeff Cronan of Common Cause.