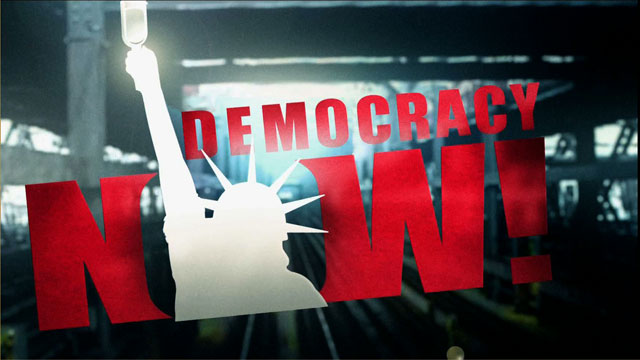 Media Options
As the battle for the White House continues in several Florida courtrooms, both the Gore and the Bush camps are raising millions of dollars to cover the astronomical costs of their legal teams, composed of some of the nation's most powerful attorneys. [includes rush transcript]
In the weeks since Election Day, Bush has raised $7 million, while Gore has raised around $3 million. Bush is also raising money to pay for a transition team that he assembled after the White House refused him access to the official transition offices, saying that they must wait until the legal contest over election results is over.
Bush's donors are many of the same individuals and corporations who gave millions of dollars to his presidential campaign, including the so-called "Pioneers." Much of the money has come from Texas.
Gore is due to make a list of his donors public in the next few days.
Guest:
Steven Weiss, Center for Responsive Politics.
Related link:
---
Transcript
This is a rush transcript. Copy may not be in its final form.
AMY GOODMAN: Well, Juan, how much is the presidency worth? I don't know if you heard, but it was just put up for bid on eBay. With confusion increasing over who will be our forty-third president, the bidding began at one penny. EBay yanked the item — this was the sale of the White House — as it has done with undeliverable or illegal auctions in the past. Other auctions pulled have included 500 pounds of marijuana and a human kidney. Well, item number 497945868 went up for bid around 9:50 Pacific Time on Monday with bids open for ten days. Opening at a penny, the bid for the presidency had rocketed to $100 million by 2:00 p.m. Pacific Standard Time on Monday. Shortly after, eBay closed down the auction.
The auctioneer explained the purpose in the item's description area. He said, "Due to the recent ballot confusion in Florida, the presidential election process has been canceled for this term," the auctioneer wrote. "It has now been granted to the common citizen the chance to be president." In the auction description, the auctioneer said that, "The highest bidder would be sworn in as the forty-third president January 20th and could select the vice president of his or her choice. To qualify, bidders must be thirty-five or older, a U.S. citizen, and have no felony convictions." The auction went on to say, "At the end of the auction, the high bidder will be flown to Washington, D.C. to prepare for inauguration ceremonies and prepped for presidential duty. We feel this is a unique opportunity for Americans and, depending on the results, will consider future governmental positions to be selected in this manner."
Did you put in your bid on Monday?
JUAN GONZALEZ: No, I am not a fan of eBay, so I rarely go on their site.
AMY GOODMAN: Well, speaking of money, we're going to talk now about just how much this contest is costing. Both the Gore and Bush camps are raising millions of dollars to cover the astronomical costs of [inaudible] composed of some of the nation's most powerful attorneys. We turn now to Steven Weiss, who's with the Center for Responsive Politics. We understand — let's see, George Bush, Juan, how much has he raised so far?
JUAN GONZALEZ: Well, an AP report says he's raised more than $6 million, twice his original goal, to finance his legal efforts.
AMY GOODMAN: Steven Weiss, where's this money coming from?
STEVEN WEISS: It's coming from the people who have contributed to the campaign in very large amounts for the past couple of years. Many of Bush's "Pioneers" — those are people who raised above a certain large amount for him, or actually gave him that amount — are continuing to give to his recount committee. Kenneth Lay, who is in charge of Enron, other people who have been very strong Republican donors for a long time, one or two folks from Ernst & Young, executives from MBNA America Bank — these are people who were very strong supporters of George W. Bush all along, saw another opportunity to contribute to him in the form of this recount fund, and did so.
JUAN GONZALEZ: And the Bush campaign has limited the contributions, hasn't it, to $5,000 per individual and has even posted the names of the contributors on the campaign's website?
STEVEN WEISS: That's correct. The law does not require that there be a limit to the contributions. In fact, anyone can give any amount of money to these recount funds. But Bush did limit it to $5,000, and he did put the contributors on his website. In fact, he's been doing so pretty regularly since the recount fund opened, or at least within a few days after that. He didn't have to do that either, in fact. But he chose to do so. And that's why we know so much about who his contributors are.
AMY GOODMAN: Now Gore has just released publicly the people that are giving him money. It sounds like he's raised about half of what Bush has, around $3 million.
STEVEN WEISS: Exactly. And his list is also rife with folks that have been very supportive of him for the — throughout this campaign. You mentioned Jane Fonda. She gave $100,000. S. Daniel Abraham of Slim-Fast gave $100,000. Steven Bing, a screenwriter, gave $200,000. Steven Kirsch of Infoseek.com, an executive — I think he's the executive there — he gave half-a-million dollars to Gore's recount campaign.
JUAN GONZALEZ: Now, what about these contributions, in terms of ethical questions, from your perspective, on the campaign? Are there any at all?
STEVEN WEISS: Well, the meaning of these is the same as it is for any large contributions throughout the campaign. The fact is that money has a very, very important place in American politics. And you're not going to win — in fact, you're not even going to be competitive in wanting to run for Congress or president or really any other office, unless you can raise huge sums of money. What that results in is elected officials having two sets of constituents: one is the voters, but the other is the cash constituents, the people who have contributed to the campaign. And those people contribute, in part, for ideological reasons, but also for business reasons and other reasons. And those people expect something in return for their investment. And that's what the public and organizations like ours, the Center for Responsive Politics, are out there doing.
JUAN GONZALEZ: And for those Americans out there who thought all those lawyers that they were watching on television were volunteering their effort to defend their preferred candidate, do you have any idea what these lawyers are getting paid?
STEVEN WEISS: No, I don't. But, yeah, the lawyers are working way too hard not to get compensation. Certainly the TV time and just the cache of having represented a presidential candidate will do them well in the future, but I doubt their services are for free. But I don't know how much they're getting paid. I'm not sure anyone will ever know how much they're getting paid.
AMY GOODMAN: Steven Weiss, I want to thank you for being with us from the Center for Responsive Politics. If you want to see where the candidates get their money from, you can go to the center's website at opensecrets-dot — is it org?
STEVEN WEISS: Yes, opensecrets.org.
AMY GOODMAN: Opensecrets.org for being with us.