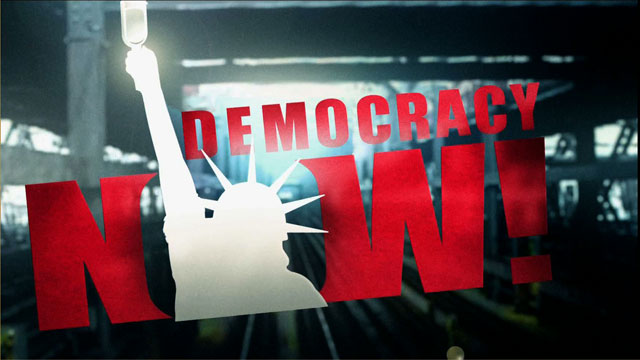 Media Options
Tape: [includes rush transcript]
Speech By Martin Luther King, Jr., "The Drum Major Instinct Sermon," delivered on February 4, 1968, at Ebeneezer Baptist Church in Atlanta, Georgia.
Nina Simone, Singing "Why? (The King of Love is Dead)."
---
Transcript
This is a rush transcript. Copy may not be in its final form.
AMY GOODMAN: And now we go to the man himself: Dr. Martin Luther King.


REV. DR. MARTIN LUTHER KING, JR: From a very familiar passage in the tenth chapter, as recorded by Saint Mark, beginning with the thirty- fifth verse of that chapter, we read these words:



"And James and John, the sons of Zebedee, came unto him saying, Master, we would that thou shouldest do for us whatsoever we shall desire. And he said unto them, what would ye that I should do for you. They said unto him, grant unto us that we may sit one on thy right hand and the other on thy left hand in thy glory. But Jesus said unto them, ye know not what ye ask. Can you drink of the cup that I drink of and be baptized with the baptism that I am baptized with? And they said unto him, we can. And Jesus said unto them, ye shall indeed drink of the cup that I drink of, and with the baptism that I am baptized with all shall ye be baptized. But to sit on my right hand and on my left hand is not mine to give. But it shall be given to them for whom it is prepared."

And then Jesus goes on toward the end of that passage to say:



"But so shall it not be among you, but whosoever will be great among you shall be your servant, and whosoever of you will be the chief shall be servant of all."

The setting is clear. James and John are making a specific request of the master. They had dreamed, as most of the Hebrews dreamed, of a coming king of Israel who would set Jerusalem free and establish his kingdom on Mount Zion and in righteousness rule the world. And they thought of Jesus as this kind of king, and they were thinking of that day when Jesus would reign supreme as this new king of Israel. And they were saying, now when you establish a kingdom, let one of us sit on the right hand and the other on the left hand of your throne.



Now, very quickly, we would automatically condemn James and John, and we would say they were selfish. Why would they make such a selfish request? But before we condemn them too quickly, let us look calmly and honestly at ourselves, and we will discover that we too have those same basic desires for recognition, for importance, that same desire for attention, that same desire to be first.



Of course, the other disciples got mad with James and John, and you could understand why, but we must understand that we have some of the same James and John qualities. And that is deep down within all of us, an instinct. It's a kind of drum major instinct, a desire to be out front, a desire to lead the parade, a desire to be first. And it is something that runs the whole gamut of life. And so, before we condemn them, let us see that we all have the drum major instinct. We all want to be important, to surpass others, to achieve distinction, to lead the parade.



Alfred Adler, the great psychoanalyst, contends that this is the dominant impulse. Sigmund Freud used to contend that sex was the dominant impulse, and Adler came with a new argument, saying that this quest for recognition, this desire for attention, this desire for distinction, is the basic impulse, the basic drive of human life, this drum major instinct.



And, you know, we began early to ask life to put us first. Our first cry as a baby was a bid for attention. And all through childhood, the drum major impulse or instinct is a major obsession. Children ask life to grant them first place. They are a little bundle of ego. They have innately the drum major instinct.



Now, in adult life, we still have it, and we really never get by it. We like to do something good, and you know we like to be praised for it. Now, if you don't believe that, you just go on living life, and you will discover very soon that you like to be praised. Everybody likes it, as a matter of fact.



And somehow this warm glow we feel when we are praised or when our name is in print is something of the vitamin A to our ego. Nobody is unhappy when they are praised, even if they know they don't deserve it, and even if they don't believe it. The only unhappy people about praise is when that praise is going too much toward somebody else. But everybody likes to be praised, because of this real drum major instinct.



Do you know that a lot of the race problem grows out of the drum major instinct, a need that some people have to feel superior, a need that some people have to feel that they are first and to feel that their white skin ordains them to be first? And they have said over and over again, in ways that we see with our own eyes. In fact, not too long ago, a man down in Mississippi said that God was a charter member of the White Citizens' Council. And so, God being the charter member means that everybody who's in that has a kind of divinity, a kind of superiority. And think of what has happened in history as a result of this perverted use of the drum major instinct — has led to the most tragic prejudice, the most tragic expressions of man's inhumanity to man.



And not only does this thing go into the racial struggle, it goes into the struggle between nations. And I would submit to you this morning that what is wrong in the world today is that the nations of the world are engaged in a bitter, colossal contest for supremacy. And if something doesn't happen to stop this trend, I'm sorely afraid that we won't be here to talk about Jesus Christ and about God and about brotherhood too many more years.



If somebody doesn't bring an end to this suicidal thrust that we see in the world today, none of us are going to be around, because somebody's going to make the mistake through our senseless blunderings of dropping a nuclear bomb somewhere, and then another one is going to drop. And don't let anybody fool you. This can happen within a matter of seconds. They have twenty-megaton bombs in Russia right now that can destroy a city as big as New York in three seconds with everybody wiped away and every building. And we can do the same thing to Russia and China. But this is where we have drifted, and we are drifting there, because nations are caught up with the drum major instinct. I must be first! I must be supreme! Our nation must rule the world!



And I am sad to say that the nation in which we live is the supreme culprit. And I'm going to continue to say it to America, because I love this country too much to see the drift that it has taken. God didn't call America to do what she's doing in the world now. God didn't call America to engage in a senseless, unjust war. There's a war in Vietnam, and we are criminals in that war. We have committed more war crimes almost than any nation in the world. And I'm going to continue to say it. We won't stop it, because of our pride and our arrogance as a nation. But God has the priority to put nations in their place. The God that I worship has a way of saying, "Don't play with me!"
AMY GOODMAN:
The Rev. Dr. Martin Luther King, Jr. at the Ebenezer Baptist Church, February 4, 1968, interwoven with the songs of Nina Simone. And that does it for today's program, our special on this first day of African American History Month.