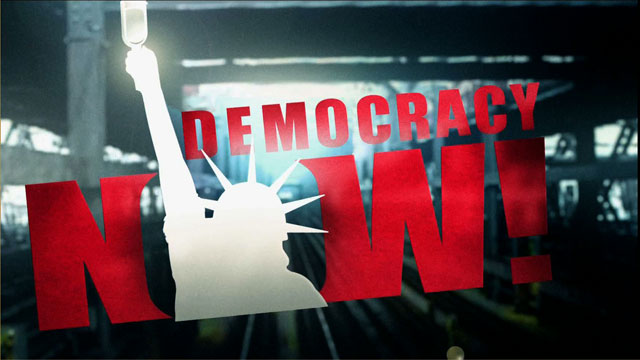 Media Options
On Monday night, Democratic presidential hopefuls Al Gore and Bill Bradley held their last New York debate before the March 7 primaries. They faced off at the historic Apollo Theater in Harlem where Billie Holiday, Ella Fitzgerald and Sarah Vaughan got their start. The CNN-Time sponsored event was kicked off with a question from the Reverend Al Sharpton on police brutality followed by questions on the death penalty, reparations, and other issues from other members of the audience. [includes rush transcript]
Tape:
Excerpts of the Gore versus Bradley debate at the Apollo Theater.
---
Transcript
This is a rush transcript. Copy may not be in its final form.
AMY GOODMAN: In just a few minutes, we're going to go live to the Albany courtroom where four New York City police officers, all white, are charged with second-degree murder in the case of the killing of Amadou Diallo. Today, closing arguments, and we will hear first from the defense.
But before we do that, we're going to Harlem, to a historic —-some called it "hysterical" -— event that took place last night at the Apollo Theater. Well, Ella Fitzgerald was one of the early winners there. Bessie Smith also made her Apollo debut. Billie Holiday graced the Apollo stage and mesmerized her audience.
I don't think anyone pretends that the men who were on the stage last night had that kind of talent. They were the two Democratic presidential candidates, Al Gore and Vice President — Al Gore and former New Jersey Senator Bill Bradley. But what was perhaps most interesting about last night's event at the Apollo Theater, the eighth debate that the two Democrats have had with each other on this — the last time they will face off in New York before the New York primary, what was most interesting about it is that these candidates were being asked questions, not just by journalists, but by members of the audience.
The focus was on race and urban issues, and we're going to play an excerpt of the debate for you. The host of the evening was Bernard Shaw of CNN. But the questioning began with the Reverend Al Sharpton, who had brokered the agreement for these men to debate at the Apollo, the first time presidential candidates had a debate in Harlem.
REV. AL SHARPTON: Tonight we know on March 7th, there will be a primary in New York and California. With the case of police scandal in California, the Diallo case and Louima case in New York, and many cases all between, many in our community have to live in fear of both the cops and the robbers.
We're asking you what concrete steps would you make if you were elected president to deal with police brutality and racial profiling without increasing crime? How would you keep crime down, but at the same time confront the problem of police brutality and racial profiling?
BERNARD SHAW: Senator Bradley.
SEN. BILL BRADLEY: Thank you. Well, first, let me say I'm honored to be here at the Apollo Theater in Black History Month and participate in this path-breaking debate — presidential debate. Reverend Sharpton, when I think of Amadou Diallo, I think of an unarmed man who was fired at forty-one times by the police, who was killed. I think it was an outrage. I feel it. Everybody in this room feels it. I think it was also a tragedy.
But I also think it reflects racial profiling, in the sense of racial profiling that seeps into the mind of someone so that he sees a wallet in the hand of a white man as a wallet, but a wallet in the hand of a black man as a gun. And we have to change that.
I would issue an executive order that would eliminate racial profiling at the federal level. I would try to pass a law to get information gathered at local levels so that we could see how the police departments are acting. I would make sure that the Justice Department was involved, and I would say quite clearly that white Americans can no longer deny the plight of black Americans.
BERNARD SHAW: Vice President Gore.
VICE PRESIDENT AL GORE: I don't disagree with anything that Senator Bradley just said. But let me sharpen it a little bit from my part by saying that if you entrust me with the presidency, the first civil rights act of the twenty-first century will be a national law outlawing racial profiling.
We have to recognize that racial profiling is a problem not only in law enforcement, but also in insurance, in banking, inside schoolrooms, inside people's hearts, and we have to confront it.
The Diallo case and the Louima case and the other cases are just heartbreaking, and they have awakened the conscience of many Americans who had not looked at this problem squarely.
I think that we have to do a lot to get at police misconduct, to measure performance according to the attitudes toward the community. Also, I think that we have to make certain that in this country not only will "driving while black" never be allowed to be a crime, but we just — we have to say that we are going to become one people and prevent these incidents partly by putting as much energy into education as we do into incarceration.
BERNARD SHAW: Thirty seconds. Each of you has thirty seconds.
SEN. BILL BRADLEY: Last month in a debate in Iowa, when Al said the same thing, that he would issue an executive order, I said, "Why doesn't he walk down the hall now and have President Clinton issue the executive order?" Now, Al said that I shouldn't give President Clinton lectures. I am not giving President Clinton lectures. I'm questioning why you haven't done that or why you haven't made this happen in the last seven-and-a-half years?
VICE PRESIDENT AL GORE: First of all, President Clinton has issued a presidential directive under which the information is now being gathered that is necessary for an executive order. Look, we have taken action. But, you know, racial profiling practically began in New Jersey, Senator Bradley. Now, the mayor — the mayor — the African American mayor of the largest city in New Jersey said that he came with a group of African American elected officials or contacted you to see if you would help on this and that you did not. Did you ever call or write or visit with respect to racial profiling when they brought it to your attention?
BERNARD SHAW: Your question, please, for Vice President Gore?
WILLIAM ALLEN: My name is William Allen, I'm a Democratic district leader here in Harlem, where African Americans own less than 6% of the real estate. In spite of Michael Jordan, Spike Lee and Usher, African Americans since American slavery still remain at the bottom of economic opportunity. Do you think that reparations should be considered? If yes, what would you do to implement such a policy?
VICE PRESIDENT AL GORE: I believe the best reparations is a good education and affirmative action, to make available resources, to make available the kind of direct assistance that has brought an empowerment zone here to Harlem, that has created new opportunities. I think that we still need affirmative action in this country. I don't think that it's time for anybody to say, "Look, we have made so much progress." I think that's a ridiculous conclusion.
The average African American family wealth, and also the average Latino family wealth, is less than one-tenth that of the average white family wealth. To me, that justifies making available capital for young entrepreneurs. It justifies making available opportunities for advancement and affirmative action in every sphere.
Now, I personally have supported these measures and here — we have created in the last seven years twenty million new jobs in America and the lowest African American unemployment rate and poverty rate in history. We need to keep on going and make sure nobody is left behind.
BERNARD SHAW: Senator Bradley?
SEN. BILL BRADLEY: The issue of reparations is what you really raised. And it seems to me that what the issue raises is not just the issue of money, but the issue of acknowledging the contributions of African Americans to this country's history over its entire history. I think it is very important to do that.
There are variety of ways to do that. You could establish a commission, which I think has already been proposed in the Congress by Mr. Conyers that would look at the possibility of finding a way to acknowledge those contributions that have been made from the days of slavery to the days today, and also not denying anymore those contributions. Americans — white Americans are in denial of black Americans' contributions through slavery, denial in Jim Crow and continue to deny today the indignities that African Americans suffer. I believe that we can change that with a major new investment in education, in economic development and in beginning to see things a little deeper than skin color.
BERNARD SHAW: Thirty seconds per candidate.
VICE PRESIDENT AL GORE: Well, the question is still about reparations, if I'm not mistaken, and I do believe that what you're getting at is best approached and answered not by an effort to try to have a cash payment. I do not believe that that's going to get through the United States Congress or is the way to go. In certain cases, such as in Oklahoma, where they are debating the specific tragedy there, then that may be definitely a realistic possibility. There may be other such examples where that can be triggered. But for the nation as a whole, we should approach it in the form of, yes, recognition of the special contributions and special suffering and special role, but massive investments in education and economic empowerment are what we need.
BERNARD SHAW: Senator?
SEN. BILL BRADLEY: The Vice President has said that affirmative action is a part of the answer to this problem. And I would simply ask him that when he was in the administration charged with reinventing government, according to George Stephanopoulos, page 208, that he led the effort to end affirmative action at the federal level. That does not sound to me like someone who wants affirmative action to be a part of the solution to this very big problem.
BERNARD SHAW: Your question, please, for the Vice President.
REV. GREGORY COOK: Reverend Gregory Cook, New York City, Union Baptist Church. This past week, Governor Bush was asked in the media what was his opinion in regards to a moratorium on the death penalty in light of the new DNA testing. To Vice President Gore and to Senator Bradley, what will be your policy regarding a national moratorium on the death penalty in light of the fact that new DNA evidence has released an overwhelming amount of convicted criminals, quote/unquote "minority" individuals, and in view of the disproportionate amount of minorities convicted by our so-called "injustice" system?
VICE PRESIDENT AL GORE: I think that the problem of racial profiling that we started with is just the beginning of the problems we have to face within the criminal justice system, including sentencing. The disparities between crack and powder cocaine, for example, as they're currently written are not justified by the scientific evidence. The practices of many law enforcement agencies need to be changed, as we've talked about.
And where the death penalty is concerned, I strongly support the inquiry underway right now in the US Justice Department to see whether or not the racial disparity on the surface of the data justifies action of a kind that they're now exploring. I think that the record that the governor of Illinois confronted was kind of different from what it is nationally so far.
I do support the death penalty, but I — and I do not support a moratorium at this time. Senator Bradley has attacked me for not supporting the death penalty enough, but I think that this inquiry — this inquiry in the Justice Department should be pursued.
BERNARD SHAW: Senator Bradley?
SEN. BILL BRADLEY: The most important thing that we can do now to deal with the disparity in the application of the death penalty with African Americans is to pass the Racial Justice Act, which would indeed reduce that disparity. But to do that, you need a president whose going to stand up and try to tell the American people why that's important. I will be that president. I will push for the Racial Justice Act, I will — I will not at the end of day compromise it. It will either be in a crime bill, or there will not be a crime bill, if I am President of the United States.
AMY GOODMAN: Democratic presidential candidates Al Gore and Bill Bradley facing off at the historic Apollo Theater in Harlem last night.