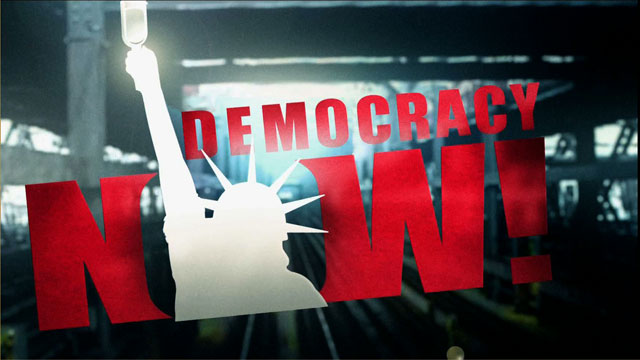 Media Options
What do General Motors, General Electric, Microsoft, Kodak, Boeing and Coca-Cola have in common? They all went with Clinton to India. Violence in Kashmir and nuclear proliferation have dominated the headlines during the President's stay in South Asia. But there is an issue that the media have ignored, one that is an important part of Clinton's meetings this week: trade. Traveling with the Clinton family and U.S. officials are a large contingent of corporate executives — over 50 of them. They are meeting with Indian officials and business representatives, and their goal is to gain more access to Indian markets. Meanwhile, many U.S. corporations have come under fire from Indian activists, whose concerns range from human rights to the environment. Last year, Human Rights Watch implicated the largest foreign investor in India, Enron, in human rights violations. And a lawsuit was recently filed against Union Carbide by the victims of Bhopal, one of the worst industrial disasters in history. [includes rush transcript]
---
Transcript
This is a rush transcript. Copy may not be in its final form.
AMY GOODMAN: What do General Motors, General Electric, Microsoft, Kodak, Boeing, Coca-Cola have in common? Well, they all went with President Clinton to India. Violence in Kashmir and nuclear proliferation have dominated the headlines during the President's stay in South Asia, but there's an issue that the media has ignored, one that's an important part of Clinton's meetings this week, and that's trade. Traveling with the Clinton family and U.S. officials are a large contingent of corporate executives—over 50 of them. They're meeting with Indian officials and business representatives, and their goal is to gain more access to Indian markets.
We're joined on the telephone right now by Amit Srivastava. He is with the Transnational Research and Action Center, known as TRAC, of Corporate Watch based in San Francisco.
Welcome to Democracy Now!
AMIT SRIVASTAVA: Good morning, Amy.
AMY GOODMAN: It's good to have you with us. Well, first of all, how did you find out who was with—who was with Clinton in India?
AMIT SRIVASTAVA: This was actually—it took quite a while to get this information. I was researching and trying to get a list of the corporations, which I knew would be accompanying Clinton, because when he went to Africa last year, we had—we also saw a very sizable corporate delegation accompany him. But, you know, surprisingly, it was very difficult to find this information. I even went ahead and emailed the Secretary of Commerce office and really didn't get anything from there. I'm still waiting. So I just happened to chance upon this, after a lot of research, website. This is sort of like a host committee called the U.S.-India Business Council, which is hosting a lot of the events for the corporate delegation in India. And this organization actually comes out of Washington, D.C. And they had a list and an agenda of the events around the corporate delegation, and that is how I came to this quite an impressive list, I think, as you have alluded.
You have talked about some of the corporations that are going here, that are in India right now with Clinton. And we feel that, I mean, this is definitely very underreported. I'm not sure why it was so difficult to find this information or why it's not so easily accessible. But it definitely speaks to one of the primary purposes of Clinton's trip, and that is to pry open a market in India for U.S. multinational corporations. What is interesting here also is, perhaps for your listeners, that the economic agenda for Clinton and his entourage is the same as it was in Seattle, OK, and that is, to ensure that corporations get their way internationally in global trade.
And also what's very interesting is that the protests that we're seeing in India—and there are widespread protests in India—are also pretty much similar to the protest that we saw in the streets of Seattle, and that is to fight back corporate power, that is, this increased corporate power in all facets of our life. What may be different is that the Indian movements against globalization, against corporate rule, have been at it for quite a while, for at least 10 years or so. And so, in some ways, you know, they are definitely more sophisticated.
I think it's important to mention that this trip is pretty much about free trade, promoting free trade, and that is not a secret. However, you know, this free trade, as defined by the United States and Clinton and his corporate entourage, puts markets above society. It puts profits before people and the environment. And it was good that you mentioned Union Carbide. I think you had Sanjay Mangala Gopal talk about the incident in Bhopal 15 years ago, where there was a gas leak from a Union Carbide plant in Bhopal, India, and over 3,000 people died, and tens of thousands of people were impacted and injured in some way or the other. And still, even today, about 10 to 15 people are actually dying every month. And here we have a situation where this huge—this was one of the world's largest industrial disasters. And this company, with a sales of $5.9 billion last year, is still not claiming responsibility, full responsibility, as has been demanded by the Indian government, the Supreme Court of India. And so we now have a situation where there's a new lawsuit being filed just last year and just a few months ago, accusing—it's a civil—a civil suit accusing Union Carbide and the chairman of Union Carbide at the time, Warren Anderson, for violating various international laws and human rights of the victims and even the survivors. And Warren is absconding. He is nowhere to be found.
AMY GOODMAN: Well, Amit Srivastava, we are actually going to talk about that case, in particular, with the two lawyers who are involved with it—
AMIT SRIVASTAVA: That's great.
AMY GOODMAN: Where is Warren hiding? — in the next segment. So let's talk about some of the other corporations. Also today is the day that the Bhopal survivors are marching to demand attention and that the U.S. produce Warren Anderson, wherever he may be.
AMIT SRIVASTAVA: Yes.
AMY GOODMAN: He was last—the last time the lawyers knew, he was residing in Florida, but were not able to serve him in his home with legal papers and had to do it on his law firm. What about Enron Corporation? Last year Human Rights Watch implicated the largest foreign investor in India, Enron, with human rights violations, because the head of Enron, Kenneth Lay—
AMIT SRIVASTAVA: Ken Lay, yeah.
AMY GOODMAN: —who I believe is a big supporter of George W. Bush, is that right?
AMIT SRIVASTAVA: Very much, Enron actually is—
AMY GOODMAN: Is with Clinton.
AMIT SRIVASTAVA: —one of the primary funders of George Bush Jr.'s campaign and has traditionally been a big funder of the Republican Party in the United States. Enron is the largest natural gas company in the United States and is a really big fast grower in the world. They are becoming increasingly present in a lot of controversial projects, as well, around the world. Enron, in the case of India, is part of this project. It's the single largest investment in India, in the name of Dabhol Power Corporation, DPC. The other partners, incidentally, are General Electric and Bechtel Corporation here in San Francisco. And also a state board in India, the Maharashtra State Electricity Board.
As you said, the Human Rights Watch released a report in January in 1999, and it implicated Enron in human rights violations, specifically to do with the large protests that were conducted against Enron for a lot of different reasons. There was not adequate environmental impact assessments done. There was a lot of charges of corruption in the sense that Enron bribed a lot of the officials in order to get its way. There were a lot of irregularities in the way that Enron's project was approved by the Indian government.
What is very interesting here is this one story about Frank Wisner, who also is accompanying this corporate delegation and actually briefed Clinton prior to the trip. Frank Wisner was—is the former ambassador, U.S. ambassador, to India, and he was the ambassador, the U.S. ambassador to India, while all these protests were taking place and all these human rights violations were taking place. Human rights violations—this is to say that Enron hired security forces that directly beat people up, protesters, working with the state police and the local police.
Anyway, Frank Wisner then, after his term ended as the ambassador, U.S. ambassador to India, a few months later, he ends up on the board of directors of Enron Oil and Gas, which is the subsidiary of Enron. And, you know, this revolving door notion, you know, this business and government working so closely together, is something that actually is very important for a lot of Indians. They saw this, this injustice, you know, and how, when he was ambassador, he might as well have been working for Enron. Obviously there was some communication there. And when he was asked actually about this report, the Human Rights Watch report, he's like, "Well, I have nothing." You know, he's like, "I don't know anything about this, I don't think there was anything going on." But this is of big concern to us. And now Frank Wisner, he briefs Clinton right before his trip to South Asia, and now he's representing one of the largest insurance companies, AIG, which is also—well, it's part of the group, American International Group.
And we think that these kinds of things are not getting enough coverage in the mainstream media in the United States, and they ought to. I think these are very important. They speak to how the government of the United States works with U.S. corporations and their interests to promote this free trade, which, again, puts the interests—puts profits over people and the environment, and puts access to markets over social needs.
India is a country which I think all your listeners know is a very poor country. Globalization policies led by corporations such as Enron are creating very many negative impacts in India. The poor are getting poorer in India. A recent study that I just had access to notes that in the 1990s 56 million more Indians went into poverty. Now, you're talking about a country—or you're talking about a region, South Asia, which is home to more than two-thirds of the world's poor, according to the UNDP human development report. You're talking about a country, India, where most people live under U.S. $2, less than U.S. $2 a day. You're talking about a country where about 40 percent of the population lives below the poverty line. Such kinds of policies which promote corporate interests over people's interests is something that India cannot afford to embark upon. This is basically trading the lives of their people away.
AMY GOODMAN: I read the figure of the number of people in poverty today are more than the number of people in India at the time of independence.
AMIT SRIVASTAVA: Yes, yes. And that is, I mean, you know—and so, and here—so, for many Indian activists, this is this notion that, you know, this is nothing. I mean, it is colonialism still. It's just another form of colonialism, so, globalization being another form of colonialism.
Just another example, there's a corporation, another energy company, called AES, and they are not a part of the delegation, but they are a part of this Indian project called Fesco, where they own 51 percent of this electric distribution project. And in November '99, just very recently, there was this huge cyclones in India, in Orissa, where more than 10,000 people—these are official estimates—10,000 people died. So I think there were more than that who died. There were more than 20 million people who were affected. It was a huge disaster, huge disaster. And this guy, this American multinational and the CEO—his name is Dennis Bakke—he goes to India to asses what happened, and he sees that there were damages done to his plant, or AES plant, and so he has the audacity to demand from the state of Orissa $60 million as compensation for the damage caused by this cyclone—failing which, he makes it very clear, that if that doesn't happen, that he's going to pass on that loss to the consumers, who happen to be these 20 million people who have just been affected by one of the worst disaster, national calamity, ever to experience in their lives. And these are the kinds of examples of—you know, this is an example of the arrogance that sometimes these corporations come with. Union Carbide, I'm glad you will be talking about it more. I think that's a classic example of how corporations can just do whatever they want, given this free trade.
And again, this is something that India cannot afford to embark upon. Some people are talking right now about how India is enjoying a bubble economy. We also have reports right now that there is a person in India, Premji, who is the CEO of an information technology company, who I think has become the third-richest man in the world—and this is coming from India. And this is, again—you juxtapose this with how many more Indians are going into poverty. So this is another trend of globalization, corporate-led globalization: the divide between the rich and the poor are getting wider and wider and wider.
We have a lot of information about such materials. Corporate Watch and the Transnational Resource and Action Center, TRAC, we do a lot of work around these issues. We focus not just on India, but around the world. And their website is www-dot-corpwatch—that's spelled C-O-R-P-W-A-T-C-H—dot-org, O-R-G.
AMY GOODMAN: Well, I want to thank you very much, Amit Srivastava, for joining us from TRAC, the Transnational Resource and Action Center. Again, you can get the list of names of the corporate executives who are on this trip on their website at corpwatch.org. I also see, among those there, Boyd Montgomery of Unocal, Charles Saris of Pfizer Pharmaceuticals. We're going to be talking about Unocal, because it's one of the companies that continues to do business in Burma. The Supreme Court heard a case yesterday, a challenge to a Massachusetts law that says Massachusetts won't do business with businesses doing business in Burma. We're going to talk about that, as well as go a little deeper into the Union Carbide case, where tens of thousands of Bhopal victims continue to suffer. You're listening to Pacifica Radio's Democracy Now! We'll be back in a minute.