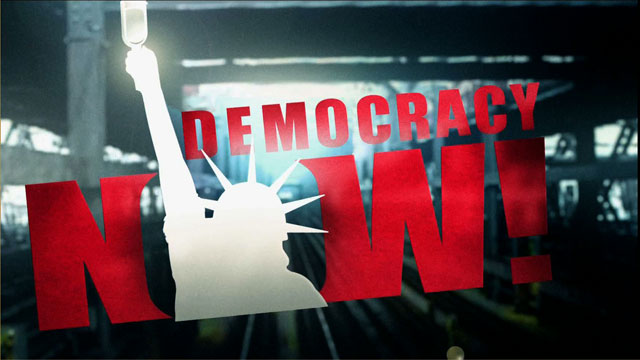 Media Options
Are elections in the U.S. free and fair? This is the question being asked by members of the world community. For the first time ever, prominent international civil society members will come to the United States and monitor the nation's electoral process, in a program sponsored by the San Francisco-based human rights organization Global Exchange. The presence of foreign observers promises to provide new insights and foster new discussions about democracy in the U.S. [includes rush transcript]
The first group of observers are in the U.S. this week, right before the nation's largest primary, which is in California. The group of six is from Mexico. During the general election, observers will come from around the world and visit four states and the District of Columbia. And they plan to question Americans on issues such as campaign finance, voter apathy and the role of third parties.
Guest:
Alberto Olvera, a chief researcher at the Institute of Social History at the University of Veracruz. Since 1996 he has been on the National Coordinating Committee of Alianza Civica.
---
Transcript
This is a rush transcript. Copy may not be in its final form.
AMY GOODMAN: We are going to turn right now to another story, and it is, yes, a national story, and that is the election 2000. We're used to hearing about US officials and citizens going off to other countries to investigate whether elections are free and fair. Well, today we're going to talk to someone who has come to the United States to see whether the Mexican elections are free and fair. For the first time ever —


JUAN GONZALEZ:
You mean the US elections.
AMY GOODMAN:
Whether the US elections are free and fair. For the first time ever, prominent international civil society members are coming to the United States to investigate. This is unprecedented, this election observation mission, beginning this week before the California primary and then continuing later this fall during the general election. The presence of foreign election observers promises to foster new discussions about American democracy and to provide new unbiased and nonpartisan insights on the central debates about US democracy. This is a group that is sponsored by the San Francisco-based group Global Exchange.

And we're joined right now by one of the delegation members. He's Alberto Olvera, chief researcher at the Institute of Social History at the University of Veracruz. Since '96, he has been on the National Coordinating Committee of Alianza Civica and is a member of the leadership of Alianza Civica of Veracruz.
JUAN GONZALEZ:
Alberto Olvera, welcome to Democracy Now! I'd like to start off by asking you, what made you want to come here to observe the United States elections? Of course, here in the United States the people are told that we have the freest and fairest elections in the world. Why would anybody want to observe ours?
ALBERTO OLVERA:
Well, I think that we have two main reasons to do this. One of these is that we think that we, as professional observers, for a long time now in Mexico, have some experience in these kind of issues, and we are able to see the problems that electoral systems have. We think that all democracies have problems all around the world, and the American one is not an exception. So we can help in some way to detect these problems.

On the other hand, we are still building our own democracy in Mexico. It is an incomplete process, and we think that we can learn from you in several ways, from both the problems or the obstacles and the advantages of your system. So we are here in this double process of learning and criticizing in a constructive way.
AMY GOODMAN:
So tell us what you've done so far.
ALBERTO OLVERA:
Well, we've been in San Francisco for one day. We spent the day having interviews with political activists, with people on the street. We have been very active looking at an exchange of ideas with people from all the political spectrum. We have meetings with representatives of the third parties, something very interesting to us, because we didn't know that there were more national parties besides the Democratic and Republican parties. So we are learning all the problems third parties have in order to get some public attention, both in legal and organizational terms, and certainly, so far, we are beginning to understand the problems of representative democracy here.
JUAN GONZALEZ:
Well, of course, when it comes to third parties, Mexico is far more advanced than the United States, because third parties have had a lot of difficulty here even sometimes getting on the ballot in many states, and so that this will be an important observation on your part, to be able to see and to document what some of the obstacles are to their access to the voters. Now, are you going to be also looking particularly at how the Latino population in the United States exercises the voting franchise, or are you going to be doing a general look at all populations throughout the country?
ALBERTO OLVERA:
Well, yes, our purpose is more general, but of course we are very much interested in understanding the specific problems of the Latino population. But indeed, first of all, we want to understand the problem, the general problem. For example, we have in Mexico a system that is house-based and proportional representation, and of course this helps small parties to get a starting point in the political system, so it was very surprising for us to see that it's very difficult here, without this specific system, to have a chance to get public attention, for example.
The issue of soft money, for example, that you all know very well, is also an issue in Mexico. But, however, we have there a system of public financing so this is a different issue. We have the problem of [inaudible] all the citizen efforts of being accountable to the citizenry in matters of a legal financing of the official party. But here the problem is different, it's the open and profound intervention of private interests in the political system. So this is something that we Mexicans are trying to avoid through the system of public financing. Well, issues like this are something that is of great interest to us, and we are expecting to deliver a kind of analysis of this system, something that for sure most of you know very well. However, we want to contrast, to compare these two systems, because maybe through this kind of exercise we will be able to better understand the problems you have here.


AMY GOODMAN:
Can you explain your group? Can you explain what Alianza Civica is, since a number of the observers that you're with are from there?
ALBERTO OLVERA:
Yes. Alianza Civica is a national social movement. We were born in the 1994 elections. Since 1990, there were several regional and state efforts in Mexico in order to force the political system to abide by the law, to respect electoral results. We looked for a way of exerting pressure of the political system, and we decided that observing the elections, meaning being present the day of the election, and the ballots will be a way of — a symbolic way of showing our distrust of the workings of the system. So we went through a process of learning that allows us to define a system of observation that in the 1994 elections allowed us to watch over the entire electoral process since the beginning.
So in this year, we have the participation of over 40,000 citizens all around the country, and we were able to demonstrate that the electoral system has a lot of problems, a lot of holes that allowed the government to intervene and to force in some way the vision of the citizens in terms of for whom or how to vote. For example, we demonstrated that there was a terrible problem in terms of client liaison or what we call the buying of votes, and that that will decide the electoral results in some ways.


Since then, since '94, we have had lots of electoral reforms, both at federal and state level. Some of these reforms have helped us a lot in terms of getting rid of the state intervention in the electoral process, and thanks to this social movement, the Federal Electoral Institute was created or transformed in such a way that now this institute is an independent body. The organization of elections in Mexico now is a process carried out by an independent body whose main directors are citizens without a political party participation.


JUAN GONZALEZ:
Alberto Olvera, I'd like to ask you, in terms of — I know that there's been talk that in the upcoming national elections in Mexico — I think it's this summer, isn't it? The national elections there?
ALBERTO OLVERA:
July.
JUAN GONZALEZ:
That Mexican nationals in the United States will be able to vote for the first time. Is that going to create any more problems, in terms of being able — I'm sure it's going to create more logistical problems, to be able to tally the vote, but do you envision any new problems in terms of possible fraudulent voting as a result of that?
ALBERTO OLVERA:
Actually, Mexicans will not be able to vote, Mexicans who live here in the United States. The legal principle of Mexicans living in the United States being able to vote is already accepted and included in the law. However, we have not defined the ways to do that, so in this election, this is not going to happen. Maybe in the following elections it will be possible to do it.
So, for this election particularly, we will not have that chance. In the future, it will be a very interesting process to see what happens, because, as you know, more and more Mexicans are coming to the United States, and so maybe in a moment, in the near future, we will have up to ten percent of the Mexican citizens with being able of voting living here, so that will force political leaders to campaign in the United States for the Mexican vote. So that will be a very interesting process, and indeed it will change completely the Mexican political panorama.


AMY GOODMAN:
Well, I want to thank you very much, Alberto Olvera, for joining us, chief researcher at the Institute of Social History at the University of Veracruz. He is here in the United States, in California, to observe the US elections and the primary system, issuing a report on whether our elections are free and fair. And it is not only this group from Mexico that's the first group that's going to be doing this, but under the auspices of Global Exchange in San Francisco, there will be groups that will be going around the country and looking at how these elections are carried out.