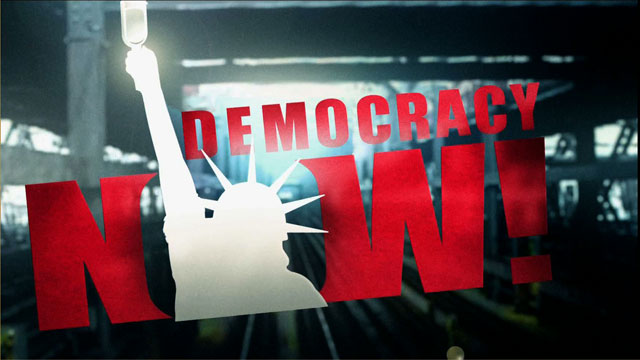 Media Options
President Alberto Fujimori apparently led Peru's elections but it is unclear if he won enough votes to avoid a runoff with a one-time shoeshine boy, who protested possible fraud with a march that turned violent Monday. [includes rush transcript]
Fujimori received 48.7 percent support compared with main rival, Alejandro Toledo's 41.0 percent, according to respected local monitor Transparency which counted about one percent of Sunday's ballot based on a sample of vote centers' tallies.
Election monitors questioned the fairness of the vote and highlighted a host of irregularities by the Fujimori camp, including hounding of candidates.
Guest:
Javier Diaz Conseco, Peruvian Legislator and member of the opposition.
---
Transcript
This is a rush transcript. Copy may not be in its final form.
AMY GOODMAN: And this news from Lima: President Alberto Fujimori apparently leads Peru's elections, but it's unclear if he won enough votes to avoid a runoff with his opponents, who protested possible fraud with a march. Fujimori received 48.7% support, compared with his main rival Alejandro Toledo's 41%.
We're joined on the telephone right now by opposition legislator Javier Diaz Conseco. He's speaking to us from Lima, Peru. Welcome to Democracy Now!
JAVIER DIAZ CONSECO: Thank you very much.
AMY GOODMAN: Well, can you tell us about these election results, which mean Fujimori goes into a runoff election?
JAVIER DIAZ CONSECO: Well, the whole electoral process has been quite fraudulent. On the first hand, Fujimori had no constitutional right to run for a third term. His postulation for a third term is absolutely illegal. On the second term, he controls the whole electoral system. He controls the national budget and uses it in favor of his campaign. He has hostilized the opponents and the opposition candidates, and he has a strict control over the principal mass media, especially the television stations.
All this has brought Peru into a quite fraudulent and obscure electoral process, which finally had its vote yesterday. And then, all the polls, at the first hand, gave Mr. Toledo the lead with around 48% or 48.5% of the votes, but after two or three hours, the polls began to change their position, and they said that Mr. Fujimori was in the lead with around 47.5% or 48%, and Mr. Toledo was around 41%.
This provoked a march of Toledo's and opposition supporters, last night quite late in the night, around midnight, to the presidential palace to protest, and obviously this move should lead to a second round in which the conditions are quite difficult for the opposition and democratic forces, because of all the fraudulent conditions that Fujimori established in the election.
AMY GOODMAN: Opposition congress member Javier Diaz Conseco, speaking to us from Lima, Peru, as police used tear gas earlier today to break up a demonstration at the presidential palace led by a candidate who charged that his early lead in national elections was reversed by government fraud, shouting "Down with the dictatorship!" More than 4,000 protesters were led by Alejandro Toledo.