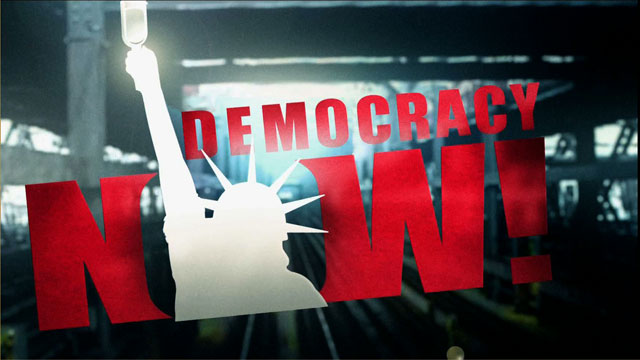 Media Options
A ruling in the Microsoft antitrust case: Yesterday, U.S. District Judge Thomas Penfield Jackson said the Microsoft is a monopoly, and used anti-competitive means to maintain its power. Jackson says Microsoft attempted to monopolize the Web browser market and unlawfully tied Internet Explorer, its Web browser, to its operating system. And Jackson said the software giant could be sued under state anti-competition laws. [includes rush transcript]
The government hailed the ruling as good for consumers, leading to more competition in the high-tech industry.
Guests:
Jim Cullenan, Microsoft spokesman. Contact information:
Bob Lande, Professor, University of Baltimore Law School, and scholar with the American Antitrust Institute in Washington. Call: 301.585.5225.
Related links:
---
Transcript
This is a rush transcript. Copy may not be in its final form.
AMY GOODMAN: The other big story of the day is the story of Microsoft, a ruling in the Microsoft antitrust case. Yesterday US District Judge Thomas Penfield Jackson said that Microsoft is a monopoly and used anti-competitive means to maintain its power. Jackson says Microsoft attempted to monopolize the web browser market and unlawfully tied Internet Explorer, its web browser, to its operating system. Jackson said the software giant could be sued under state anti-competition laws. The government hailed the ruling as good for consumers, leading to more competition in the high-tech industry.


We'll go first to the Attorney General of the United States, Janet Reno's response.


JANET RENO: The court agreed with the department that Microsoft abused its monopoly power, that it violated the antitrust laws and that it harmed consumers. Microsoft has been held accountable for its illegal conduct by a court of law. Throughout their process, our goal has been to give consumers the benefits of competition. With competition comes more innovation, better products, lower prices and more choices. Thanks to this ruling, consumers who have been harmed can now look forward to benefits.
AMY GOODMAN:
We now go to Bill Gates, the head of Microsoft.
BILL GATES: I want to say a few words about today's ruling and how we look at these issues going forward. Today's ruling was not unexpected, given the court's earlier findings, but there are several steps ahead in this case. While we did everything we could to settle this case and will continue to look for new opportunities to resolve it, we believe we have a strong case on appeal. The appeals court has already affirmed Microsoft's right to build internet capabilities into the Windows operating system to benefit consumers.


This ruling turns on its head the reality that consumers know: that our software has helped make PCs more accessible and affordable to millions. We started with just a few simple ideas, and the results have helped bring lower prices, improved productivity and enormous benefits to consumers. As we look ahead to the appeals process, innovation will continue to be the number one priority at Microsoft. Microsoft's past success has been built on innovation and creativity, and our future success depends on that ability to keep innovating in the fastest changing marketplace on earth. We recognize we have a responsibility to provide positive leadership on behalf of consumers and our industry.
AMY GOODMAN:
Microsoft leader, Bill Gates, responding to the judge's decision declaring Microsoft a monopoly. We're joined right now by Jim Cullenan, a Microsoft spokesperson. Jim Cullenan, the headlines today in some of the papers: "Tech Wreck," "Microsoft Ruling Sends NASDAQ into Nosedive," "Microsoft Guilty" — just a few of the headlines. Your response?
JIM CULLENAN:
Well, we've been here before. This was not a ruling that was unexpected, based on the court's previous ruling on findings of fact. So this was certainly anticipated. It's our belief that this is still a long process ahead. We believe we have a great basis for appealing this ruling and think at the end of the day, when you look at what Microsoft has done for this industry and the economy of bringing low prices and great technology to consumers, that in the end Microsoft's legal position will win out.
AMY GOODMAN:
Bob Lande, your response, professor, University of Baltimore Law School and scholar with the American Antitrust Institute in Washington.
BOB LANDE:
I think the decision is a very sound decision. It explains very carefully and unemotionally how Microsoft actions prevented others from innovating. That's the key to this all. No one has ever suggested that Microsoft cannot innovate, but it did activity after activity which had no other purpose than preventing others from innovating, others from giving consumers the products that the marketplace demanded, and that's why the judge condemned them, and that's why I believe ultimately the Supreme Court will uphold this judge's findings.
JIM CULLENAN:
Well, that's a very interesting point of someone saying that the industry isn't innovating and developing new products, because when we're out here with the competitors and all these new companies announcing a new technology and a new product every single day, with millions, almost billions, of dollars of venture capital being thrown at new companies with a new idea, there is no way that any company is prevented from developing products or technology. It's simply an effort of consumers choosing what's the best one. And you look over the history of this industry, even in the past five years, when this case is being discussed about, no one can say that there isn't a huge amount of competition and a huge amount of new technology and innovation in this industry. And if you do that, you simply aren't accepting the reality of the marketplace.
BOB LANDE:
May I respond to that? The judge —
AMY GOODMAN:
Yes. That was by the way, Jim Cullenan, a Microsoft spokesperson. Bob Lande, professor, University of Baltimore Law School.
BOB LANDE:
Thank you. Thank you. The judge specifically found that anyone who innovates in an area that Microsoft covets had the stuffing stomped out of it. Finding after finding by the judge, if you made a browser and Microsoft wanted the browser market, you got stomped. If you made a Java that would allow others to possibly form another operating system, or there are a lot of other purposes for Java, you would get stomped. In short, there's lots of innovation, but it had to be innovation on Microsoft's terms.

Every argument that Jim made was already made to the judge and rejected. We can fight those arguments again, if you like, but the judge found that Microsoft had reduced innovation in this market. If you want to reargue that, you can, Jim, but we're wasting our time.
JIM CULLENAN:
Well, we have an appeals court ruling to go and talk to, and I think they will have a different view on what this court ruled.
BOB LANDE:
With due respect, if you win at the appeals court, you're not going to win on that point, Jim, with due respect. That is, there are some vulnerabilities in the judge's ruling. He might be overturned on the tying issue, for example. I fully concede that. But that Microsoft has a monopoly and did numerous anticompetitive actions to stop others from innovating, I would doubt very, very much that's going to be overturned on appeal.
AMY GOODMAN:
Jim Cullenan, Microsoft spokesperson — and let me ask this question, why the decision was made not to allow arbitration to continue, why the talks broke down, and you feel that you have a better chance in appeals court.
JIM CULLENAN:
Microsoft took the mediation process with Judge Posner very seriously, and then, as Judge Posner said in his statement ending the mediation process, there were twenty successive drafts over a four-month period, and Microsoft believed we made significant concessions, more so than we believe what will be provided by the judicial process, because we thought it was in the best interest of all parties to put this issue behind us.

Unfortunately, we believe that the — we were talking to not just one party on the other side of the table, but two, and there were simply — we weren't talking to a party with one voice. There was very big differences amongst the other — between the states and the DOJ, and those remedies that were being discussed were extreme and radical, and it's very, very difficult to be able to come to some agreement when you have to deal with such extreme and radical remedies.
AMY GOODMAN:
What would happen if Microsoft were broken up? How would it divide?
JIM CULLENAN:
Well, we're simply not going to talk about that, because we don't believe that's something —
BOB LANDE:
I would be delighted to talk about that.
AMY GOODMAN:
Alright. Let's just get Mr. Cullenan's respond.

BOB LANDE: OK.
JIM CULLENAN:
Well, we believe that any idea of breaking up Microsoft is very, very bad for this industry, bad for the economy and bad for Microsoft. When you're talking about a company, a single organic company, which a single organic company has never been broken up before, and it is simply a company that has been developed to create great products.
When you talk about $3 billion in research and development every single day, us developing new technologies that all of our products can benefit from, and when you're talking about great technologies that quickly need to be involved in all of our products, you're talking about a company that works together, and we're not an AT&T or a Standard Oil, where it's pasted together of different companies. This is a single organic company that works together and must innovate to stay competitive.


AMY GOODMAN:
And, Bob Lande, scholar at the American Antitrust Institute in Washington.
BOB LANDE:
I think the best thing for consumers and overall industry innovation would be a breakup of Microsoft. You asked how the breakup could work. There are a number of ways in which it could work. I think the best way would be to take Judge Bork's solution. Judge Bork suggested break Microsoft into three companies, give each of the three companies all of the intellectual property for all of Microsoft. Then they could all make Windows, they could all make whatever Microsoft product, and then instead of one company with 90-plus percent of a bunch of markets, you'd have three companies with 30 percent, and then they could go out and do basically anything they want without fear of the antitrust laws.
I think one reason why you need a structural remedy is, in 1995 Microsoft signed a consent decree and then wiggled out of it, and the government just doesn't trust Microsoft to live up to the terms of its consent order. They proposed a lot of consent orders that, according to the press, because I haven't seen them, were riddled with loopholes. And the government simply said, well, gee Microsoft wriggled out of it in 1995; if we accept one of these consent orders, Microsoft will wriggle out of it again. The only way to make sure that the market is going to be competitive in the future is to remove their base of monopoly power, i.e. break them up.


JIM CULLENAN:
Sorry, Bob. Your view of us wriggling out of something isn't the reality. The appeals court completely supported our view of the consent decree, and we won that unanimously, and the government's contention that we somehow wriggled out, as you claim, is just not the reality, and the appeals court supported us on that.

And the whole point — let me finish — and the whole point is that these whole contention of Bob and other people who are talking about radical and extreme, because they're talking about things of going back to the Unix world, where it was divided and split, which has been bad — which caused higher prices, caused confusion amongst consumers.
This is not a —- what the consumers want is a PC or a software that is easy to use and easy to understand. Microsoft developed a business model that was high volume, low prices and good technology, and consumers embraced that, because Windows is a good product. We develop our technology by spending billions of dollars in research and development and creating great software, and Microsoft has been great for consumers, and any belief -—


AMY GOODMAN:
We just have twenty seconds. I want to give Bob Lande —
JIM CULLENAN:
Sure.
AMY GOODMAN:
— a last response.
BOB LANDE:
My Windows crashes twice a day. I wish there was some competition in the Windows market. Competition is what drives consumer welfare. Consumers are not better off if there's a monopoly who controls the market. And when a monopoly has abused its monopoly power the way the judge has found Microsoft has, the only way to ensure competition in the future is to break up that monopoly power. I think that would be the best solution in this particular case. Microsoft has done a lot of wonderful things. They've also done a lot of anticompetitive things, and I want to make sure that doesn't happen in the future.
AMY GOODMAN:
We have to end this discussion. We want to thank Bob Lande, professor, University of Baltimore Law School, scholar with the American Antitrust Institute in Washington, and get your coordinates. If people want to call the American Antitrust Institute or go on the web, where can they go?
BOB LANDE:
They can just do www.antitrustinstitute.org, or you can just phone me at (301) 585-5229.
AMY GOODMAN:
And Jim Cullenan, I'm sure people won't have much trouble finding Microsoft, but where can they go on the web?
JIM CULLENAN:
You can go up on the web at www.microsoft.com, and for further information or to look at the ruling from the court or anything, just go to www.microsoft.com/presspass, one word, and all the information is up there.
AMY GOODMAN:
I want to thank you both very much for being with us.