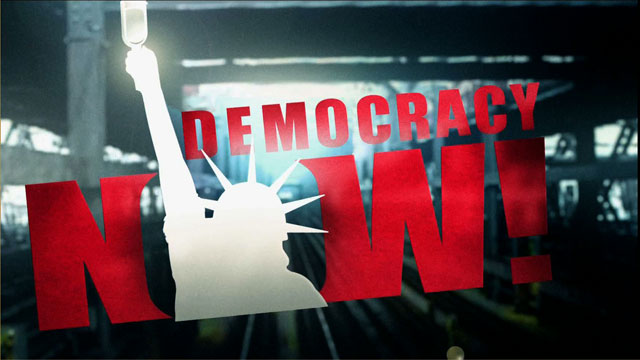 Media Options
The raid of the home of the distant Miami relatives who were holding young Elian Gonzalez a few weeks ago has brought the Immigration and Naturalization Service under fire from many Republican politicians and right wing pundits. Ironically, it is often these very politicians and pundits that call for the INS to act more forcefully in places like Texas and Arizona, in other words, border states.
Today we are going to look at the developments in one place where immigration opponents have been accelerating their calls for a crackdown on undocumented immigrants — southern Arizona.
Increasingly, ranchers and other land owners are detaining people themselves — sometimes at the barrel of a gun.
In the last few weeks, there has been an uproar in the immigrant rights community in Arizona over a brochure of unclear origin, titled "Neighborhood Ranch Watch." It invites volunteers to come to ranches along the border "and help keep trespassers from destroying private property. Be a part of the American Way Team."
Rights groups have called the brochure's appeal "an outright invitation to form hunting posses against workers and families coming across the border in search for jobs."
Ranchers and other landowners say undocumented immigrants trespass on their property, litter, steal and in some cases release their cattle.
Guest:
Isabel Garcia, is an immigrant rights attorney in Southern Arizona. She is also a co-founder of the Coalicion de Derechos Humanos in Tucson, Arizona. Call: 520.770.1373.
---
Transcript
This is a rush transcript. Copy may not be in its final form.
AMY GOODMAN:
I'm going to read an article that just appeared about two weeks ago in the Arizona Daily Star. It's by Ignacio Ibarra. It's says, "Looking for a unique vacation? A brochure being circulated around southeastern Arizona has a novel suggestion: fun in the sun, as a volunteer for a Neighborhood Ranch Watch Program."
According to the brochure, a copy of which arrived at the Douglas City Hall yesterday, volunteers would stay as guests on ranches in the Southwest and, quote, "help keep trespassers from destroying private property." Prospective volunteers are urged to become, quote, "part of the American Way team."


The brochure describes a program where volunteers can set up their RVs at lookout points on the ranches and serve as spotters, reporting trespassing illegal aliens through the Neighborhood Watch Program run by the, quote, "local sheriff's department." All they have to do is provide their own radios, spotlights, signal flares, sirens, infrared scopes, video cameras and trip wires for flare launchers that will be set up on pads used by, quote, "law-breaking trespassers."


No one knows who's distributing the brochure or whether it's a joke. The envelope in which it arrived contained no identification or return address, except for a Tucson postmark and a zip code. The brochure provides email accounts under — at yahoo.com under the names "afreeman2000" and "areyouafreeman." Email sent to the addresses were not answered.


Well, we're going to go to Tucson right now to Isabel Garcia, an immigrant rights activist and attorney in southern Arizona. She's also co-founder of the Coalicion de Derechos Humanos in Tucson, a Coalition of Human Rights. What's going on on the border, Isabel?


ISABEL GARCIA:
Well, we've got a very dangerous and volatile situation at the border. For the past year and a couple of months, a group of about twenty-seven ranchers — that they call themselves ranchers — have organized and have decided to basically violate the civil and human rights of unknown Mexicans crossing through their border.
A year ago, in March, they sent a proclamation to governmental authorities threatening that if the federal government didn't take care of the, quote, "problem," which is, you know, undocumented people crossing through the border, that they would take the matter into their own hands, and, in their words, "blood would be shed." Since then, they have engaged in a pattern of illegal activity, of criminal assaults on people crossing through their ranches. They've even gone to the extent of stopping people on the public highways, all fully armed in camouflage fatigues, using a badge saying that they're called "Ranch Patrol."


And so, they have engaged in this campaign for the past year, with really very little to no governmental action to stop them, and so they're upping the ante. They saw that they have a green light to go ahead, and so they've upped the ante. And what they're doing is distributing this flyer or brochure across the country, and they have received responses, according to the Barnett brothers, who are basically the heads of the Concerned Citizens of Cochise County, which is what they call themselves now.


A reporter yesterday indicated to me that, through the Mexican government, that they found that it was in fact the Concerned Cochise County residents, this group, that authored this particular brochure. I don't have evidence of that yet, but surely the Barnett brothers have acknowledged it, and they are planning some kind of action. We're fearful that they're attempting to engage in some kind of confrontation with the federal government.


JUAN GONZALEZ:
Well, if you know the names of the some of ranchers that are involved, surely the local law enforcement do. Why has there been so little reaction by the local sheriff or the state police or the state attorney general?
ISABEL GARCIA:
Well, actually, that is our question, but we do feel — obviously, we have felt in many other cases, abuse-type of cases, not just these — that there is a conflict of interest in regards to these particular cases of Mexican immigrants coming through and being abused, whether by law enforcement or by some of these private individuals.
In these small rural communities, they all know each other. Not only do they know each other, but each one of these groups is playing for each other. They're engaged in a game to help each other. By this, I mean last year Doris Meissner went to the well of the Congress, exactly in March of last year, and begged, basically, the Congress not to make her hire a thousand new agents per year. She cited the recruiting problems —


AMY GOODMAN:
Meissner is head of the INS.
ISABEL GARCIA:
Yes, head of the INS. She cited the — not only the recruitment problems that they were encountering, but also spoke of the dangerous situation when you have a high number of inexperienced agents versus the very low number of experienced agents.
It's very coincidental that two weeks after that, they staged this particular situation down in Douglas. Not only did they issue the proclamation, but INS, as well as Senator Kyl, Congressman Kolbe here, began going to the border with the press in hand and started to create this very hot, basically, situation at the border. The ranchers began to engage in their activity, and so I think they're helping each other. In other words, the rancher situation has created pressures so that Doris Meissner has to be ignored, and therefore new agents have to be hired, and, in fact, that's what's going on.


Last week, as we were staging in Tucson a press conference in front of the US attorney's office to demand a stop to this activity, at the very same time in Washington, D.C., Governor Jane Hull was being promised 180 new agents just for the Douglas area.


And so, they are playing a dangerous game. The INS has engaged in a strategy of pushing people from one end of the country or the border to another, with some very tragic results. People are dying in record numbers of the heat and the elements, and now they're encountering, you know, gun-toting vigilantes.


JUAN GONZALEZ:
Now, I wanted to ask you about that. This Roger Barnett, one of these ranchers who's leading this, now, he's a former INS — is he a former Border Patrol agent himself?
AMY GOODMAN:
No, but a number of them are. In fact, the guest we were going to have on this morning, who is another rancher — unfortunately he's bagged out on us, but our producer did speak with Roger Barnett. Roger Barnett has been quoted in USA Today as saying, "I'm prepared to take a life, if I have to." And in one weekend, he boasted about capturing 174 illegal migrants, who he says he turned over to the Border Patrol.
ISABEL GARCIA:
He has boasted on the local TV as capturing between 1,000 to 2,000 people. And he has been quoted as saying that if they don't like it, that they shouldn't come into the country. So he's quoted in very callous kind of words in the past, and he is one of — he's the spearhead, I believe, of this particular movement at the border.
JUAN GONZALEZ:
Now, I wanted to ask you what you mentioned about INS policy. The Arizona border has never been focused on as sort of a major transit point for undocumented workers, because, obviously, people prefer to cross closer to the biggest cities, and so you often hear about San Diego or the El Paso/Juarez area or Matamoros and Brownsville. Have the INS policies basically, because of the strict dragnets in those areas, forced more people to go into isolated areas like the Arizona border?
ISABEL GARCIA:
Absolutely. That's been their strategy. It's been their stated strategy. When Doris Meissner was at a press conference in San Ysidro in San Diego area after the triple-wire fence had been installed, she proclaimed that strategy of closing up all major areas of entry, all areas where there can be human contact and human assistance, and making individuals go out to the further outer limits of human contact, basically, and that's what we're seeing.
We're seeing the closing down of one area to another, until it builds up. We are seeing Douglas being built up. They built it up, until now the ranchers have exploded on the scene. INS has been holding press conferences nonstop since last year, having the local or federal congressional politicians come down on the border and express concern. And the local sheriff, as well as the US attorney, have done absolutely nothing to stop them. The local sheriff has really turned a blind eye to this situation —


AMY GOODMAN:
I understand Pat Buchanan also went down to join Roger Barnett and the other ranchers on the border.
ISABEL GARCIA:
Yes, he did. He joined Roger Barnett and some of these other anti-immigrant folk, together with the ex-Tucson Border Patrol sector, who immediately joined their forces —
AMY GOODMAN:
Isabel Garcia, we have to end the show. Do you have a phone number or a website people can contact?
ISABEL GARCIA:
Yes. It's Derechos Humanos Coalicion, we're at (520) 770-1373.
AMY GOODMAN:
That's (520) 770-…
ISABEL GARCIA:
1373.
AMY GOODMAN:
1373. And we'll have all this information on our website at www.democracynow.org. Thanks for being with us, Isabel Garcia, from Tucson, the Coalition of Human Rights.