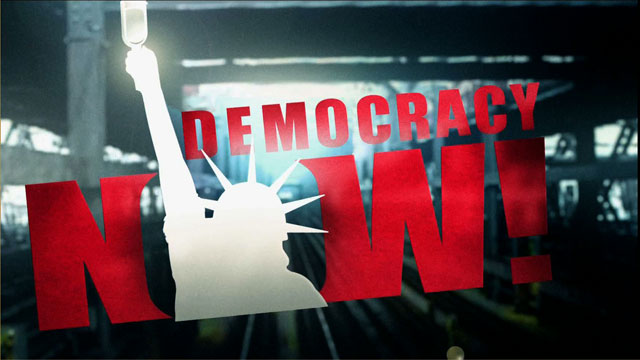 This is viewer supported news. Please do your part today.
Donate
We now turn to an issue that is not exactly at the forefront of this year's presidential race. And that is the enormous gap in the pay of CEOs and workers in this country. Perhaps one of the reasons that this is not a big issue is that Dick Cheney is on the Republican ticket as George Bush's vice presidential candidate. Cheney received compensation worth an estimated $38 million, including future stock options, when he retired recently as chairman of oil services firm Halliburton, the nation's fifth largest military contractor.
A new study put out by United for a Fair Economy and the Institute for Policy Studies reveals growing pay gaps between workers and CEOs and between CEOs and government officials. The report says these factors are increasing inequality and undermining democracy. The study says CEO pay jumped 535% in the 1990s, dwarfing the 116% rise in corporate profits and 32% increase in average worker pay. Meanwhile, the pay gap between CEOs and the President of the United States has grown from 2:1 to 62:1 since 1960. If the minimum wage had risen as fast as CEO pay, it would now be $24.13 an hour, instead of $5.15.
Guest:
Chuck Collins, co-director of United for a Fair Economy and author of Economic Apartheid in America. Call: (617) 423-2148 EXT. 11
Related Link:
---