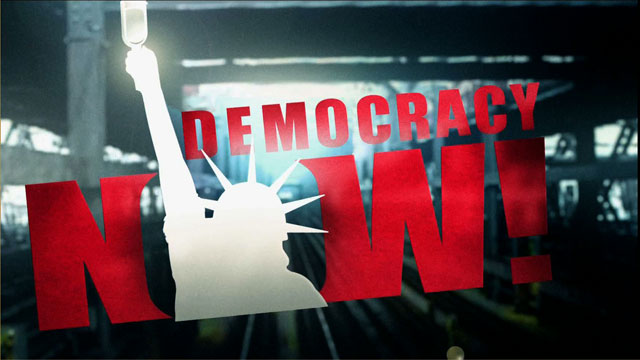 Media Options
Italy has just elected its richest man as prime minister. He now owns or controls the five largest television stations in Italy.
We are joined on the telephone by Rory Carroll, a journalist for the British newspaper The Guardian. One of his articles, published days before the election, reads:
"Five minutes before 7pm the commercials fade and the show begins. Cymbals clash, drums roll and light floods the screen. A yellow 4 looms into focus. Trumpets resound as the music swells into a crescendo of urgency. It is the sound of battle.
"Graphics dissolve to reveal a man gazing into the camera. He wears a double-breasted suit and tight smile. Before the jingle has died he begins to talk, quickly, for there is much to say.
"Today a great leader has shared his wisdom with the people. He has come among the poor, the jobless, the fearful, to offer hope. A sunlit upland awaits and he knows how to get there.
"But the presenter looks sad. Something else happened today. Some idiots–there is no other word attacked the leader. They hurled abuse and lies and threats. They massacred his character, invented stories and even had the cheek to steal his ideas. No, today the news is not good.
"And this is the news, six nights a week, on Retequattro, a national television network in Italy. It is the domain of Emilio Fede, the anchor and editor-in-chief. He punctuates broadcasts with sweeps of an arm, purrs of approval and gasps of horror. No story is complete without comment.
"Mr. Fede veers from apoplexy to euphoria. 'Those communists never change,' is one of his favorite expressions, referring to Italy's center-left. 'There they go again.'
"Mr. Fede has a hero. He calls him The Knight (Cavaliere) and says 'he is my Bible'. The hero is Silvio Berlusconi, 64, Italy's richest man, founder of the Forza Italia party, head of the center-right opposition and favorite to win next Sunday's general election. He is also Mr. Fede's boss.
"Retequattro is just one part of a vast media empire which gives Mr. Berlusconi unrivaled influence over public opinion. His Mediaset company also runs Italy's two other private television networks, Canale 5 and Italia 1. His family also owns a newspaper, Il Giornale, and Italy's biggest publishing group, Mondadori.
The billionaire is eight days away from spawning the biggest conflict of interest in any western democracy. Polls suggest his coalition will beat the government on May 13 despite an international uproar branding him unfit for office."
In Sunday's election, Berlusconi defeated the center-left coalition which has ruled Italy for the past five years.
Guest:
Rory Carroll, journalist for the British newspaper The Guardian in Rome
Related link:
---