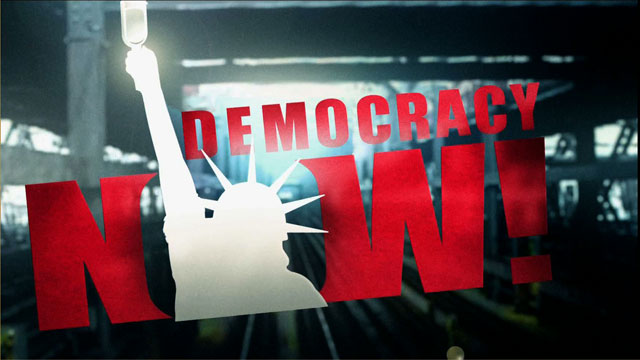 Amy Goodman and Frank Gaffney in debate on Withdrawal of American Troops from Iraq
TRANSCRIPT:
CHRIS MATTHEWS: Welcome back to HARDBALL. As troops overseas prepare to celebrate Thanksgiving away from their families, a "Washington Post" report today says there are tentative plans to greatly reduce the number of troops in Iraq as early as next year. Is this a reality?
Amy Goodman is the host of Democracy Now, on Pacifica Radio. And Frank Gaffney is not on Pacifica Radio, he's as former Defense Department official who now heads the Center for Security Policy. His new book, by the way, is called "War Footing: Ten Steps America Must Take to Prevail in the War for the Free World," and it hits stores tomorrow—pub date tomorrow.
Congratulations I'll be reading that with my turkey.
FRANK GAFFNEY, CENTER FOR SECURITY POLICY: Happy Thanksgiving.
MATTHEWS: Thank you. Let me ask you, Frank: Big report today. I was kind of stunned by it, because we've been following this every night. All of a sudden, word comes out, we're talking about a reduction below 100,000 troops by next year. Is it real?
GAFFNEY: I don't know that it is real. I think what they're doing is a planning exercise against the possibility that we may be able to make that kind of reduction. I hope, as has been said repeatedly by the administration, they still mean what they have said, which is, it isn't going to happen unless the conditions are right for doing that.
MATTHEWS: What's the main condition to get our troops reduced?
GAFFNEY: I think prevailing is the main condition. I think clearly getting the Iraqis into a condition to enable them to help stabilize the situation, secure the situation and take charge of the situation is what needs to be done in order to prevail and in order to make that kind of withdrawal.
MATTHEWS: Let's go to Amy Goodman. I wondered what your reaction would be to this staged withdrawal proposal that's out there?
AMY GOODMAN, RADIO TALK SHOW HOST: My reaction is, people in this country are demanding that there be a change. President Bush is at an all-time low in approval ratings and he has got to do something right now. So they are responding to public pressure. The question is, how far up that public pressure will be amped. I don't think people can rely on the Democrats. In fact, Congressmember Murtha, who has very bravely spoken out — many of the Democrats—Democratic leadership in the Senate and the House, are really keeping a distance from him. I think this is coming from grassroots pressure in this country. And—
MATTHEWS: Let me ask you, Amy—
GOODMAN: — for President Bush, it's coming from his Republican allies.
MATTHEWS: I just want to check you on this assertion. You said he has to. He's commander-in-chief. He's got three more years of his constitutional term as president. He controls the Congress. What does he have to do he doesn't think is right? If he thinks we need troops in there, as Frank says, for another year or two or five more years or until the end of his term, what's to stop him from keeping them there?
GOODMAN: Well, Chris, remember when President Bush was in China and he finished speaking and couldn't make it outside the door because it was locked? President Bush's problem is he doesn't have an exit strategy, whether when he's trying to leave the stage or with Iraq.
But it has been exposed in this country. And people—Republicans as well as Democrats—and that's what's key here, it's actually Republican allies who are terrified for their own jobs when they run in 2006, whether or not President Bush has a few years longer. He is getting a lot of pressure from the Republican leadership to come up with some kind of plan. Now, you have Vice President Cheney saying—and you've got Secretary of Defense Rumsfeld saying they are going to stay the course, if not keep troops there, up the number. But you see how the American people are responding. And so they are shifting course. The question is, of course, will they be forced to pull out now, which is the only answer.
MATTHEWS: Okay. Great. I'm looking for a period if not a comma here.
Let me go right now to Frank.
GAFFNEY: Or even a breath.
GOODMAN: That's an exclamation point, not a question mark.
MATTHEWS: Thank you for that. It's an interruption at least. Let me ask you about the president.
GAFFNEY: Can I respond to at least half of that?
MATTHEWS: I want you to upgrade this by saying—there's obviously some things the president could be saying more effectively than he's saying, and the vice president, to maintain this "Stay the course" theme, other than just asking for it.
GAFFNEY: Look, I agree with only one thing that Amy just said, and that is, the president does need to do something else. It's not just a case of having to choose between cutting and running—which is surrendering, which weakens our allies, demoralizes them both in Iraq and beyond, emboldens our enemies, both in Iraq and beyond, and results in more Americans killed, both in Iraq and beyond.
The alternative to that is not just muddling along, or staying the course. The thing that I would argue, and do this book, "War Footing" is that we need to go to the American people and explain that the theater of Iraq is just one part of a truly global war on terror.
You know, I had a very interesting experience last week. I was on Larson's syndicated radio program, and lo and behold, he interviewed Chris Matthews. And Chris Matthews is on that program talking, I thought pretty much sensibly, in some points about the need to go after these terrorists.
The terrorists who are out there are not just in Iraq. They're taking certain sustenance from what happens in Iraq and nothing more than if we surrender, as I think Amy is suggesting we do. We need to be fighting, what I think are Islam-o-fascists, a political ideology worldwide, staying the course, mobilizing the American people, winning a war for the free world, is the right approach, not cutting and running.
MATTHEWS: We've only got a few minutes, but you've opened up a debate here, and that is how do you deal with terrorism? How do you deal with the hatred behind the terrorism that leads people to become terrorists? You track them, I mean, Golda Meir had a great strategy. Track them down one at a time, kill them, and if you make a few mistakes, that's not the end of the world.
But the other problem you have is, it's not an ethnic group, terrorism. It's people who choose at the age of 18 or 19 to become suicidal terrorists. Aren't you impressed by the fact that that woman in Fallujah went to Amman in Jordan and tried to blow up the hotel with her husband? Because we had gone into her community and she probably felt like a victim from her point of view. Aren't we creating these terrorists?
GAFFNEY: There are all kinds of motivations. What we're finding are people who are sending their kids to these Islamist training schools, madrases, at age three, are not doing it because they are getting some sort of grievance.
MATTHEWS: But that wasn't the particular problem in Iraq.
GAFFNEY: In this particular woman's case it's not the particular problem, but it is the problem worldwide, where we're seeing these guys cultivated and rewarded for being terrorists by state sponsors of terrorist.
MATTHEWS: How did we, by our idealism, or Wilsonian efforts to try to democratize Iraq, united, those Baathist secular people, who really had not much truck with the Islamists, and now they're working together against us.
GAFFNEY: I think they were working together before. They're working together now and they will be at each others throats.
MATTHEWS: OK, we're going to come back, I'll give you more chance, Amy, when we get back. We'll be back with Frank Gaffney and Amy Goodman.
And later, Christopher Kennedy Lawford' amazing of life with a "Rat Pack" father and a Kennedy mother. You're watching HARDBALL on MSNBC.
(COMMERCIAL BREAK)
MATTHEWS: Back with former Assistant Secretary of Defense Frank Gaffney, the name of his book is "War Footing: 10 steps America must take to prevail in the war for the free world."
Now, Amy Goodman, of course, radio talk show host on Pacifica. Amy, your response, you don't think it's worth another two or three years if it's necessary, at least, to try to build up a strong security force in Iraq that can defend democracy. You don't think that's worth the effort?
GOODMAN: The question is what is fueling the terror, and I think it is white phosphorus in Fallujah, I think it is torture, I think it is the killing of families who drive in a car, as recently happened in Baquba.
The U.S. is the main irritant in Iraq right now. You have a whole community, a whole country that is resisting this occupation. If the U.S. were to pull out right now, the Iraqis could sort this out.
It is a terrible mess. It is horrifying picture right now in Iraq. And it does go back to the whole issue of the lie that this invasion was based on. The whole putting forward of the allegations of weapons of mass destruction, when it's becoming increasingly clear that this was a clear pretext.
You have people like Colonel Lawrence Wilkerson, who's now come forward, the former chief of staff of former Secretary of State Colin Powell, talking about a cabal that is running this country. He was talking about Rumsfeld…
MATTHEWS: … it was a little late, isn't it, Amy? A little late, isn't he?
GOODMAN: Yes.
MATTHEWS: A little late. I mean, I wish these guys had the big mouths they have now, back then when it mattered. I'm so tired of these Monday morning quarterbacks who were in the game, and they didn't have anything to say.
GOODMAN: But right now we're still in Iraq and what matters right now is what we're going to do.
MATTHEWS: I'd like to see resignations from people, like General Powell. If he disagreed with this policy, he should have quit and told the world he disagreed with it, instead of slinking off.
GOODMAN: I absolutely agree with you.
MATTHEWS: I am so angry about this kind of talk.
GOODMAN: And most importantly, what about the Democrats? Most importantly, what about the people like Kerry, what about Hillary Rodham Clinton?
MATTHEWS: I'm going to ask you, Frank. I want a response from Frank to the suggestion that we leave. Paint the picture now. We pull out within the next since months, whatever, we just say we're getting out. What happens in Iraq the day after we leave?
GAFFNEY: What starts happening the moment we say we're pulling out is the thing comes unraveled. You have a lot of people right now who are on the fence, trying to figure out how's this going to sort out? Are they going to be at risk if they are continuing to work for democracy? Or are they going to be at risk if they align themselves with the terrorists?
GOODMAN: Frank, I'm…
GAFFNEY: … excuse me, Amy, come on. Let me finish.
Amy's got a program about democracy. I don't know how you get democracy in places like Iraq, if you don't help these people prevail. And where we are right now is, we have the opportunity, I think, to put this over the top. We have the opportunity to assure that it craters. When people like Amy…
MATTHEWS: Can you do it in the time that the American people will permit it to happen? Can you do it in two years or so?
GAFFNEY: Absolutely. I think as long as the American people understand what is really at stake here, which is what we're talking about in the book, the war for the free world, not just some guys in Baghdad or its outskirts.
MATTHEWS: So you say it's at least two years. OK, but we've got a political situation in this country. We can last through the next presidential election.
GAFFNEY: I think we can with the proper context and leadership.
MATTHEWS: Amy, you say the Democrats will win the next congressional elections if the Republicans keep us in the war.
GOODMAN: I didn't say Democrats give us any—hold out any great hope. It's about time that some Democrats came forward and actually united as a block and said, "get out now." But they're too afraid. It's hard to tell the difference between the Democrats and the Republicans right now.
GAFFNEY: That's the problem.
MATTHEWS: Amy, you have very great wisdom when it comes to critiquing the Democrats. Thank you very much. Amy Goodman of Pacifica Radio and thank you Frank Gaffney.
Up next, with the Pentagon planning to bring some troops home, at least according to the report in "The Washington Post" today, will the war dominate next year's mid-term elections? And will Republicans manage to keep control of Congress? That's what we've been talking to.
Let's take it to fruition.
And on Friday, a special edition of HARDBALL with former FBI director Louis Freeh, Bill Maher and you'll love this, my interview with the great Jerry Lewis. One of the great moments around here. He was sitting in that chair.
You're watching HARDBALL on MSNBC.
---