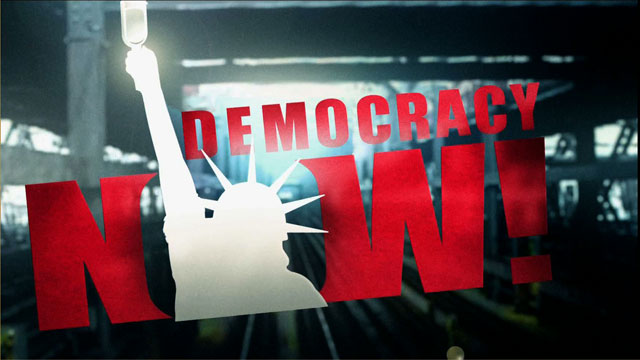 TRANSCRIPT:
CHRIS MATTHEWS: Welcome back to HARDBALL. Does this foiled terrorism plot out of London help Republicans by refocusing the country on national security issues? Or will Democrats hammer home that the Bush administration's policy over in Iraq is encouraging hatred and terrorism? Our HARDBALLers tonight are here to answer those questions. Amy Goodman is the host of Democracy Now on the radio and it's on Pacifica, and on television, also the author of "Static Government: Liars, Media Cheerleaders and the People Who Fight Back" and Heidi Harris is a radio talk show host with no book out right now. Heidi you start, who wins this discussion as to the object lesson of catching those bad guys over in Britain?
HEIDI HARRIS, RADIO TALK SHOW HOST: I think the Republicans do, and frankly I think it's a good thing some people have not forgotten about our national security, thanks to MI5, working in conjunction with America, we were able to catch these people before thousands of innocent people were killed.
MATTHEWS: Who has forgotten about our national security?
HARRIS: There are a lot of people who have, like those who want to see us pull out of Iraq instantly. They have forgotten about the fact that we've still go the terrorists on the run and that's the objective. You're not going to make people like us, but ultimately we can keep them on the run and keep them off-balance and try to protect ourselves.
MATTHEWS: So Iraq is making us safer?
HARRIS: Well I think it is because we've got them on the run. We've caught people like Zarqawi. They hated us before we went there so the argument they only dislike Americans because of George Bush and because of we're over if Iraq, that's a lie. They attacked us. We weren't in Iraq.
MATTHEWS: OK, we were in Saudi Arabia however when bin Laden actually from Saudi Arabia decided he hated us, we were in Lebanon when we got blown up last time. There is a connection between our location and the anger that it causes, isn't there?
HARRIS: Well there's a connection between our location and where they can below us up. You don't see them blowing us up here since 9-11, because they would to come over here, but we have to be vigilant. So they blow us up in Lebanon because it's easier than trying to come over here, that's why we have to be vigilant and stay on top of them. They're not going to like us no matter what we do.
MATTHEWS: Who's they?
HARRIS: The terrorists. The Islamic Fascists that President Bush is talking about and I'm glad he's finally saying that, because he's trying to say that Islam is a religion of peace, which is not true.
MATTHEWS: OK, good. We're getting a lot on the record there. Let's go back to Amy Goodman, do you want to respond to that?
AMY GOODMAN, HOST "DEMOCRACY NOW": To smear a whole religion is racist and it's disgusting and I think Muslims around this country are very insulted, and not only Muslims, but people who care about equality. There are a lot of Muslims who are standing up right now and saying that they don't believe in violence, as many other people are.
We have to stop terrorism, whether it's in Britain to bring down planes that are coming here, or whether it's unfortunately the U.S. military in Iraq, that has been involved in what the military is admitting are some terrible crimes from Haditha to Mahmoudiyah.
Killing civilians is absolutely unacceptable, and to smear an entire religion—I just would like to know if Heidi smeared Christians when Timothy McVeigh blew up the Oklahoma City building? Of course not. That would be ridiculous to pick up every white man in America because he's white man or he's a Christian.
MATTHEWS: OK. You really think that's what she's saying, Amy? Are you really saying that she's saying that?
GOODMAN: Well, I'm absolutely saying that when she says that Islam is not a religion of peace, it's ignorant and it's unacceptable.
MATTHEWS: OK. Except that Islam is used as a rationale by these people to commit suicide in attacking us. It's obviously part of their motive. They're killing themselves because of their religious belief. And you're saying that religion is not relevant.
GOODMAN: How people use a religion or an ideology is not an indication of what that entire religion represents.
MATTHEWS: OK, I think Heidi can handle this. Go ahead, Heidi. I'm sorry.
HARRIS: Listen, nobody has ever said that every person who is a Muslim is a terrorist. Nobody is asserting that. But the fact of the matter is, these people are committing these crimes against innocent people in the name of Islam, and not only that, the planes that were going to be flying out of Heathrow could have had people from all religions on them. They don't care who they kill. They're going after non-combatants, and anybody who goes after non-combatants is a terrorist. And if they do it in the name of Allah, sorry, they're not doing it in the name of Christ. I'm not saying that Christians have never committed crimes—and by the way, I am a Christian—not saying that, but the point is, we see the same terrorism over and over again committed by the same people who claim to have the same ideology.
MATTHEWS: I want to come back to this chicken and egg problem, and I want you each to answer it. Who started the fight in the Middle East? Was it our actions over there whether in support of Israel, or in fact our engagement in places like Lebanon? The deal we have—I would call it a somewhat sordid deal—with the Saudi Arabian government to get the oil out of that country at the expense of democracy? Our deal with Mubarak, where we give him a couple of billion a year to keep peace over there? Or our deal with all those countries and our troops in those countries—
10,000 troops in Saudi Arabia for those 10 years? Were those actions contributory to the anger of the Islamic world against us, or did they start hating us and killing us, and then we simply put troops in? Get the history straight. I need your help.
Amy Goodman, Heidi Harris, I want the chicken and egg problem solved when we get back. You're watching HARDBALL on MSNBC.
MATTHEWS: We're back with radio talk show hosts Amy Goodman and Heidi Harris. Heidi, who started this war between us and the east?
HARRIS: You're talking about recently?
MATTHEWS: Well, no, this has been going on—Bobby Kennedy was killed by a Palestinian because he supported Israel in the '68 debate. We had the hostage taking and we had the Beirut bombing, we had the barracks blown up, we had Khobar Towers. The things seemed to have started in the '60s or '70s. Who started it? Was it our exploitation of oil in that part of the world? Our support of Israel? What triggered all this hatred of us?
HARRIS: It started a few years actually after Mohammed died, if you want to get real specific. I mean, this has been going on a long time. The crusades were nothing but an answer to Islamic aggression.
I have no problem with people who are Muslims. You want to come to America? You want to be free to worship in your mosque? Fine. There is no freedom in Islamic countries, and people who are Islamic fascists, as President Bush describes them, want to take my freedom away. And that is something I'm not going to stand for, and we as a nation have to stand against us.
They hated us before Israel was a nation again in 1948. Come on, this has been going on, you know, like I said, started after Mohammed died. And it's just going to continue.
We can't stop people from hating us, but we can try to stop them at the gates and try to protect our nation and keep the freedom that we so much appreciate.
MATTHEWS: Amy Goodman, give me the same kind of narrative, if we can.
GOODMAN: People don't like to be occupied, whether it's Americans throwing out the British in the American Revolution. Palestinians don't want their lands occupied. The Lebanese don't want their land occupied right now by Israel. And the Iraqis don't want the Americans in Iraq right now.
And I think that that's what we have to look at, if we're talking about peace. There's not going to be peace until the Palestine-Israel conflict is resolved. There is not going to be peace in Lebanon until Israel stops bombing Lebanon right now, and the latest breaking news is the possibility that Ehud Olmert, the Israeli prime minister, may be accepting the cease-fire, no word yet from Lebanon, but it an extremely significant move forward, because I think we're talking about at this point in Lebanon about 1,000 people, overwhelmingly civilian, who have been killed. This is what breeds national insecurity in this country, when the U.S. is involved in supporting that kind—that level of killing of civilians.
MATTHEWS: Do any of these approaches—the hardline approach that you mentioned there, Heidi, the sort of the hawkish view and the more dovish view, do either one of them promises us deliverance from this growing hatred of us, that leads to suicidal behavior? People who want to kill themselves over the Atlantic, so they can kill a bunch of us. What would stop that growth in recruitment? Would anything stop the recruitment?
HARRIS: I don't know if anything will stop the recruitment, but ultimately, we've got to stop them. You're not going to stop them from hating us. All we can do is try to show them that freedom is the way to live. That's why so many Muslims come here from all over the country so they can have the freedom that we have, freedom to worship.
MATTHEWS: But what about these Muslims—but the problem with that -
and I love that argument. I love to think that if they saw how we lived, they'd say these guys are pretty good, we want to live like them. These are Muslims living in London. From the looks of the houses they were living in, they were not impoverished. They probably lived in better houses than the cops who caught them. And yet they want to kill.
HARRIS: And that's exactly right. But here's the thing, their first allegiance is to Islam, not to their nation. And they will tell you that.
GOODMAN: I'm thinking right now about Sergeant Ricky Klausing (ph), who is a young American soldier, who is an Army interrogator, who is right now turning himself in at Fort Lewis. He has been AWOL, on the run, for a year, because he believed what's happening in Iraq does not represent the best of America.
MATTHEWS: OK, thank you very much, Amy Goodman. Thank you, Heidi Harris. Play HARDBALL with us again next week. It will be 12 weeks and counting until election day. Right now, it's time for "TUCKER."
---