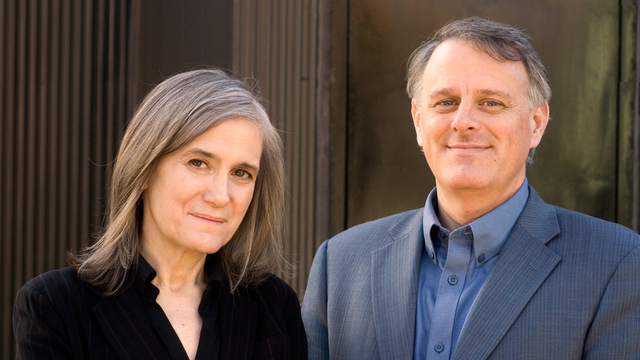 U.S. Marine Lance Cpl. Jeffrey Lucey is not counted among the Iraq war dead. But he did die, when he came home. He committed suicide. His parents are suing the Department of Veterans Affairs and R. James Nicholson, the secretary of veterans affairs, for wrongful death, medical malpractice and other damages.
Kevin and Joyce Lucey saw their son's rapid descent after he returned from combat in Iraq in June 2003. Kevin said: "Hallucinations started with the visual, the audio, tactile. He would talk about hearing camel spiders in his room at night, and he actually had a flashlight under his bed, which he could use to search for the camel spiders. His whole life was falling apart."
Jeffrey told his family that he was ordered to execute two Iraqi prisoners of war. After he killed the two men, Jeffrey took their dog tags and wore them until Christmas Eve 2003, when he threw them at his sister, calling himself a murderer. A military investigation concluded the story is without merit, but Kevin Lucey says: "An agency investigating itself, I have a lot of problems with that. We fully believe our son." Joyce Lucey added: "It really, to us, didn't make a difference what caused Jeffrey's PTSD [post-traumatic stress disorder]. We know that he came back different, so something happened to him over there."
Jeffrey got worse, secluding himself in his room, watching TV and drinking heavily. Jeffrey was reluctant to seek care, fearing the stigma that he felt accompanied mental-health treatment. Finally, on May 28, 2004, the Luceys had Jeffrey involuntarily committed. The Veterans Affairs hospital released him after three days.
On June 5, 2004, Jeffrey had deteriorated significantly. His sisters and grandfather brought him back to the VA. Joyce said the VA "decided that he wasn't saying what he needed to say to get involuntarily committed. Later we were to find out that they never called a psychiatrist or anybody that could have evaluated him. And they have this all on the record. It said that the grandfather was pleading for his grandson to be admitted."
The Luceys later learned from staff notes that Jeffrey talked about three ways to commit suicide. His father explained: "He told them that he would suffocate himself, he would overdose or he would hang himself. He also shared with the psychiatrist how he had bought a hose. And, of course, on June 5, when we tried to admit him the second time and the VA declined, Joyce and I went through the house, we took everything that he could hurt himself with, but we never thought of a hose."
Turned back by the Veterans Affairs Medical Center, Jeffrey spent his last two weeks alive at home. Kevin Lucey describes the night before his son killed himself: "It was about 11:30 at night, and I was exhausted, Jeff was exhausted. He asked me if he would be able to sit in my lap. And so for 45 minutes we rocked in silence, and the therapist told us after Jeff died that that was no doubt his last place of refuge, his last safe harbor that he felt that he could go to."
The next evening, after returning home from work, Kevin raced inside: "I went to his bedroom, and the one thing I noted was that his dog tags were laying on his bed." He made his way to the cellar, where he found his son Jeffrey dead, a hose double-looped around his neck.
Three years later, his parents have filed suit. They are not alone. A separate class-action suit was filed by Veterans for Common Sense and Veterans United for Truth on behalf of hundreds of thousands of veterans who have been denied medical benefits.
Jeffrey Lucey's suicide note begins, "Dear Mom and Dad, I cannot express my apologies in words for the pain I have caused you but I beg for your forgiveness. I want you to know that I loved you both and still do but the pain of life was too much for me to deal with."
Supporting the troops means taking care of them when they return home.
---