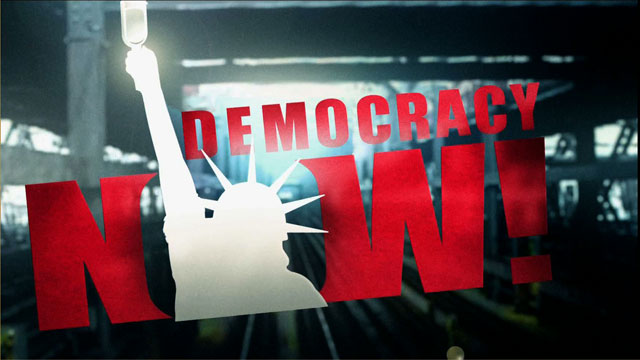 Tucker Carlson's Unfiltered, PBS
Friday, November 12, 2004
Carlson: Amy Goodman, thanks for joining us.
Goodman: It's good to be with you.
Carlson: Now, part of your thesis is that in return for access, journalists essentially suspend disbelief and refuse really — in essence refuse to report on the people they are supposed to keeping honest.
Goodman: Right. Well, in the book we call it the "access of evil." Trading truth for access. And that's unforgivable. I mean, I really think the media has reached an all-time low in this country. In covering the invasion and covering the occupation. All of the networks. I mean, it's easy to attack FOX. But I mean all of them. CBS, NBC, ABC, CNN. Fairness and Accuracy in Reporting, the media watch group, did a study of the week before and after Colin Powell gave his push for war at the U.N., that was February 5, 2003, right before the invasion. Of the four major nightly newscasts, and that's CBS, NBC, ABC, and PBS, there were 393 interviews done around war. Only three were with anti-war representatives. That's three of almost 400. That's not even mainstream media anymore. That is an extreme media that's beating the drums for war.
Carlson: Wait a second. In defense of the press, though, the anti-war movement such as it was before the war, was relatively small. Because the Democratic Party, which you would expect and did become the anti-war party after the war, was concluded, basically took a pass on it.
Goodman: Wait a second. I'm not talking about the Democratic Party. There I completely agree with you. I'm talking about the anti-war movement. They are two entirely different things. Occasionally they cross over. But that is, I think, part of John Kerry's problem is that he didn't follow the lead of the anti-war movement. That was more powerful than when you look at the beginning of the Vietnam war, certainly let's remember February 15, that was the day that 30 million people around the globe rocked it for peace. And a lot of those people were right here in the United States. Those were massive protests. And then you take the day before the Republican Convention in New York, outside Madison Square Garden. Half a million people marched for peace. And I would say that was republicans, democrats, greens, progressives, independents. I didn't see a lot of John Kerry signs there. But they were opposed to war. And I think that that movement is considerable. And unfortunately the corporate media in this country has simply iced out dissent.
Carlson: Well wait, wait, wait. First of all, those demonstrations were big. I was there. There were a lot of reporters. I thought they were pretty well covered. But don't journalists as a more general matter have a natural incentive to challenge those in power, because when do you challenge those in in power and embarrass them, you get rich and famous? And so journalists always have a motive to bring down those who run the government, don't they?
Goodman: I only wish that the media was expressing the — providing a forum for dissent in this country, because that's what would make this country a lot safer. Unfortunately, it's not true. You may have been there, but when it comes to who is invited into the corporate network studios, invited to have discussions as opposed to the occasional flash to a photograph of a demonstration, which most people in this country don't identify with — I mean, you don't — most people don't identify with 10,000 or 100,000 people screaming in the streets. But when it comes to having a civilized one-on-one discussion, the people who are out in the streets are not those that are in the studios. They are not invited in to most any of the networks. Polls show. We need a media that provides a forum for everyone. Because I really do think — I mean, I don't buy these things right, left, liberal, conservative, any of these labels. I think they are all breaking down. I interviewed a conservative republican from Orange County who had flown in for the protest before the Republican Convention. And he said, "war crimes are not a conservative value."
Carlson: Back to the press for just one second. You mentioned an independent media. I'm not sure what that means. Your book is published by a big publishing house. I think part of Disney. Your show is funded by CPB, the Corporation for Public Broadcasting, and taxpayers. I mean, you're part of — you're as mainstream, it seems to me, as anybody. What do you mean by "independent?" What exactly does that mean?
Goodman: Pacifica Radio was founded 55 years ago. We have expanded to TV now. But it was founded 55 years ago by a conscientious objecter in World War II named Lou Hill, out in Berkley, California. When he came out of the detention camps he said, "there's got to be a media outlet, that's not run by corporations that profit from war, but run by journalists and artists." And that's how Pacifica was born.
Carlson: Again, I'll go back to your book, published by big media, by a big corporation. When I read your book I assume that the words in it are your words, the sentiments are your sentiments, and I think I can judge them on their own terms. I don't think Disney's telling you what to think. I assume they are not. Isn't it a little unfair to assume that all big media, all journalists are, sort of, marionettes controlled by their corporate masters? That's not fair, is it?
Goodman: I think what's important to point out when we talk about independent media, and we compare it to the corporate media, we just look at the record, a very sad record when it came to the invasion and the occupation of Iraq, the coverage. I mean, there was a simple icing out of a — of dissent. And that is the greatest disservice in this country to the service men and women of this country. I go back to — we write about in The Exception to the Rulers, and by the way, that title, The Exception to the Rulers should be what all media is. Not just the motto of "Democracy Now!". We should be the exception to the rulers. There is a reason why our profession, journalism, is the only one that's explicitly protected by the U.S. constitution. We are supposed to be the check and balance on government. We are not supposed to be a megaphone for those in power. Um, but during the Persian Gulf War, 10 years ago, that's when the media landscape —- let's see, NBC was owned by General Electric, it still is. CBS was owned by Westinghouse. General Electric and Westinghouse, two of the major nuclear weapons manufacturers in the world, making most of the parts for most of the weapons in the Persian Gulf War, I don't think it was any accident what we watched on television was a military hardware show. But even during that time I did have the opportunity -—
Carlson: They also make medical equipment, just for the record.
Goodman: And it was very rare that — I had the opportunity to go on the Sally Jesse Rafael show. At the end of that program, though it almost didn't air, they had three women for and against the war. Six women for and against the war. The other five were military, some for and against. Ultimately it did air, and the most interesting response I got was from women on southern military bases who called to say, we have never heard this view on television before. And we agree with you. Here were women who were being sent to war or their loved ones were, to kill or be killed, I don't know which is worse, and they were saying they can't have these debates on military bases. They rely on us, in civilian society, to have the most important discussions. I see the media as a huge kitchen table that stretches across this country. That we all sit around and debate and discuss the most important issues of the day — War and peace, life and death. And anything less than that is a disservice to the service men and women of this country. Anything less than that is a disservice to a democratic society. The media's got to change.
Carlson: Amy Goodman, thank you.
Goodman: Thank you.
© 2004 Greater Washington Telecommunications Association. All Rights Reserved.
Fair Use Notice
This site contains copyrighted material the use of which has not always been specifically authorized by the copyright owner. We are making such material for educational purposes. We believe this constitutes a 'fair use' of any such copyrighted material as provided for in section 107 of the US Copyright Law. In accordance with Title 17 U.S.C. Section 107, the material on this site is distributed without profit to those who have expressed a prior interest in receiving the included information for research and educational purposes. For more information go to: http://www.law.cornell.edu/uscode/17/107.shtml. If you wish to use copyrighted material from this site for purposes of your own that go beyond 'fair use', you must obtain permission from the copyright owner.
---