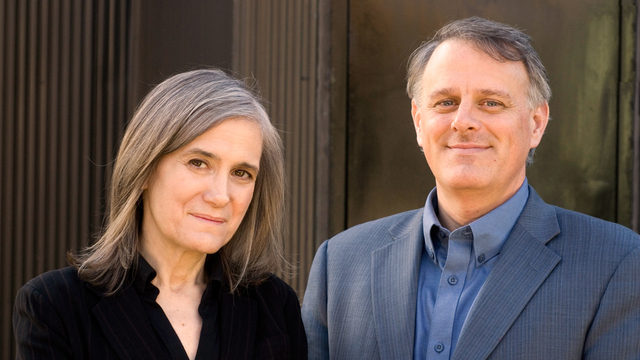 By Amy Goodman
As the U.S. presidential race continues, so does the arms race worldwide. People—civilians, children—are being killed and maimed, on a daily basis, by unexploded cluster bombs and land mines. Thousands of nuclear missiles remain at hair-trigger alert. The U.S. government rattles its saber at Iran, alleging a nuclear-weapons program, while at the same time offering uranium to Saudi Arabia. And with the war in Iraq well into its sixth year, one of its architects, Douglas J. Feith, the former undersecretary of defense for policy under Donald Rumsfeld, has predictably penned a revisionist history of the war and the decisions behind it.
Feith said this week: "So while it was a terrible mistake for the administration to rely on the erroneous intelligence about WMD—and, I mean, it was catastrophic to our credibility—first of all, it was an honest error and not a lie. But even if you correct it for that error, what we found in Iraq was a serious WMD threat. Even though Saddam Hussein had chosen to not maintain the stockpiles, he had put himself in a position where he could have regenerated those stockpiles in three to five weeks."
In an interview I asked Hans Blix about Feith's comments. He was the United Nations' chief weapons inspector, in charge of the WMD search. Reflecting back five years, he said: "To prove that there is nothing is almost impossible. I think that if we had been in Iraq for a couple of months more, it would have been enough to make it extremely clear to everybody that the chances were real that there were no weapons of mass destruction." Instead of waiting for the inspections, the Pentagon was busy trying to discredit Blix. I asked him about the allegations that the U.S. was bugging his office and home. He said, "I wish to heaven that they had listened a little better to what I had to say, if they did listen."
Blix describes the current state of the world as a "Cold Peace": "It is hard to avoid the impression that—almost 20 years after the end of the Cold War—military calculations still dominate the long-term thinking about major global relations. Terrorism is formally made the chief enemy, but precautions are taken against the growing power of China and Russia." President Bush's nuclear-cooperation pact with India, Barack Obama's stated willingness to unilaterally strike nuclear-armed U.S. ally Pakistan, Hillary Clinton's promise to Iran to "totally obliterate" the nation of 70 million (should it attack Israel), and John McCain's hard-line position on Russia, including the deployment of a missile defense in eastern Europe, all point to a reliance on military solutions that Blix sees as a path to conflict and war.
In a remarkable demonstration of hypocrisy, the Bush administration has pledged to deliver enriched uranium to Saudi Arabia. Anti-nuclear activist Harvey Wasserman said: "The idea of giving enriched uranium to the Saudis while threatening war with the Iranians for enriching uranium is astonishing. The idea that the Saudis are going to somehow lower the price of oil on the basis of possibly getting nuclear reactors in the future is just almost staggering to think about."
I asked Blix what is the single most important thing the U.S. could do to support world peace. Sign the Comprehensive Test Ban Treaty, he said: "Then I think it's very likely that the Chinese, who have not ratified, will follow. If China does it, maybe India does. If India does, Pakistan does, etc. And the treaty would enter into force. It would be a great thing if we outlawed any nuclear-weapons tests in the future."
Nuclear weapons are not the only weapons of mass destruction. As I spoke to Blix, hundreds of people were meeting in Dublin, Ireland, to craft an anti-cluster-bomb treaty, the cause Princess Diana championed in the last years of her life. The Dublin Diplomatic Conference on Cluster Munitions is dedicated "to negotiate a new instrument of international humanitarian law banning cluster munitions that cause unacceptable harm to civilians."
The conference in Dublin has 128 participating nations. Absent is the leading producer of cluster munitions, the United States. Russia and China are also not there.
From nuclear proliferation to the use of cluster bombs—coverage of the presidential campaign should focus more on the arms race, less on the horse race.
---