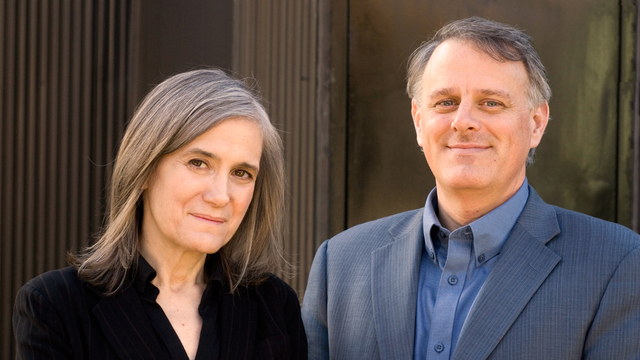 By Amy Goodman with Denis Moynihan
Thanksgiving is around the corner, and families will be gathering to share a meal and, perhaps, enjoy another annual telecast of "The Wizard of Oz." The 70-year-old film classic bears close watching this year, perhaps more than in any other, for the message woven into the lyrics, written during the Great Depression by Oscar-winning lyricist E.Y. "Yip" Harburg. There's more to the Scarecrow and the Tin Man than meets the eye, and Harburg's message has renewed resonance today in the midst of the greatest financial collapse since the Depression.
Harburg grew up in New York's Lower East Side. In high school, he was seated alphabetically next to Ira Gershwin, and the two began a friendship that lasted a lifetime and helped shape 20th-century American song and culture. Ernie Harburg, Yip's son and co-author of the biography "Who Put the Rainbow in The Wizard of Oz?," told me, "Yip knew poverty deeply … it was the basis of Yip's understanding of life as struggle."
Harburg was deep in debt after the 1929 Wall Street crash. Gershwin suggested that Harburg write song lyrics. Before long, he wrote the song that captured the essence of the Great Depression, "Brother, Can You Spare a Dime?" Ernie said of the music industry then: "They only wanted love songs or escape songs, so that in 1929 you had 'Happy Days Are Here Again.' … There wasn't one song that addressed the Depression, in which we were all living."
"Brother, Can You Spare a Dime?" became a national hit and remains a kind of anthem for hard times, corporate greed and the dignity of working people:
Once I built a railroad, I made it run, made it race against time.
Once I built a railroad; now it's done. Brother, can you spare a dime?
In the 1930s, Harburg became the lyricist for "The Wizard of Oz." He also added the rainbow to the story, which doesn't appear in L. Frank Baum's original 1900 book, "The Wonderful Wizard of Oz." This led Harburg to write the famous song "Over the Rainbow," sung by the then-unknown Judy Garland.
While academic debate persists over whether Baum intended the story as a political allegory about the rise of industrial monopolists like John D. Rockefeller and the subsequent populist backlash, there is no doubt that Harburg's influence made the 1939 film version more political.
The film, says Ernie Harburg, is about common people confronting and defeating seemingly insurmountable and violent oppression: The Scarecrow represented farmers, the Tin Man stood for the factory workers, and the Munchkins of the "Lollipop Guild" were the union members. Ernie recalled: "There was at least 30 percent unemployment at those times. And among blacks and minorities, it was 50, 60 percent. And there were bread lines, and the rich kept living their lifestyle."
"The Wizard of Oz" was to be "MGM's answer to [Disney's] 'Snow White and the Seven Dwarfs,' " Ernie recounts. It was initially a critical success, but a commercial flop. Yip Harburg went on to write "Finian's Rainbow" for Broadway. It addresses racial bigotry, hatred of immigrants, easy credit and mortgage foreclosures. In 1947, "Finian's Rainbow" was the first Broadway musical with an integrated cast. It was a hit, running for a year and a half. When Harburg's unabashed political expression made him a target during the McCarthy era, he was blacklisted, and was banned from TV and film work from 1951 to 1962. Ironically, in the middle of his blacklist period, CBS broadcast "The Wizard of Oz" on television. It broke all viewership records, and has been airing since, gaining global renown and adulation.
This October, "Finian's Rainbow" began its first full Broadway revival—the first since it was originally produced six decades ago—to rave reviews. Yip Harburg would be especially proud, no doubt, to know that one of the actors, Terri White, who plays a black sharecropper in "Finian's Rainbow," is back on Broadway despite having recently been homeless. From sleeping on park benches to starring on Broadway once again, this is just the kind of tale that inspired Harburg.
In response to his blacklisting, Harburg wrote a satiric poem, which reads in part:
Lives of great men all remind us
Greatness takes no easy way,
All the heroes of tomorrow
Are the heretics of today.
…
Why do great men all remind us
We can write our names on high
And departing leave behind us
Thumbprints in the FBI.
Let's give thanks to Yip Harburg and all heretical artists, past and present, who have withstood censorship and banishment just for talking turkey.
Amy Goodman is the host of "Democracy Now!," an independent, daily global TV/radio news hour airing on more than 950 stations in the United States and around the world. She is the author of "Breaking the Sound Barrier," recently released in paperback and now a New York Times best-seller.
© 2011 Amy Goodman
---