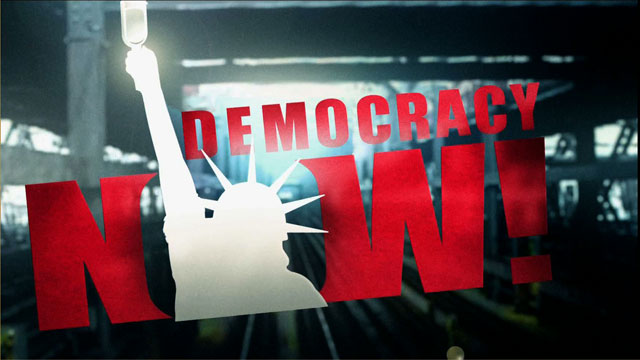 On Tuesday night, New York City Police Commissioner Ray Kelly was confronted with images of his officers assaulting supporters of the Occupy Wall Street protest movement as he spoke to a class at Columbia University.
The commissioner had been invited to speak by former New York City mayor and Columbia Professor David Dinkins, who teaches in the School of International and Public Affairs. Kelly was joined by other prominent New York law enforcement figures, including federal Judge George Daniels, Manhattan District Attorney Cyrus Vance and former judge Milton Mollen.
As Kelly detailed elements of the department's approach to counterterrorism to a class of over 50 students, a statement was projected on the wall behind him that read, "In the spirit of academic discourse, we would like to offer an alternative presentation."
The projection continued uninterrupted, noting, "In the past two months the police have been documented assaulting peaceful protesters, council members & reporters."
A video followed, displaying images of NYPD officers punching Occupy demonstrators, kneeling on the neck of a protester clutching the American flag and pepper-spraying young women confined in police netting. The display ended with the question, "What do you have to say for yourself, Commissioner?"
Kelly appeared unfazed or oblivious to the demonstration. After he sat down, Occupy Wall Street organizer Alexandre Carvalho addressed the commissioner, saying, "Let's have a conversation."
"Why don't you resign?" Carvalho asked. When it became apparent that Carvalho – a graduate of New York University – was not registered in the class, Dinkins requested that he leave. Carvalho asked if he would be arrested—for an apparent third time in recent months—for what he described as "free speech on this land."
As Carvalho exited the room, he said, "Are you serious, Commissioner Kelly? Please resign. The people are asking for that."
Students in the class argued the demonstration was disrespectful and hindered a unique learning opportunity. Dinkins offered his support for public protest, describing his arrest for participating in civil disobedience following the 1999 NYPD killing of Amadou Diallo, "I'm not opposed to people expressing their views."
"But," he added, "it seems to me to come into this class and disrupt it in that fashion is unfair to the rest of us."
Filed by Democracy Now! reporter Ryan Devereaux
---