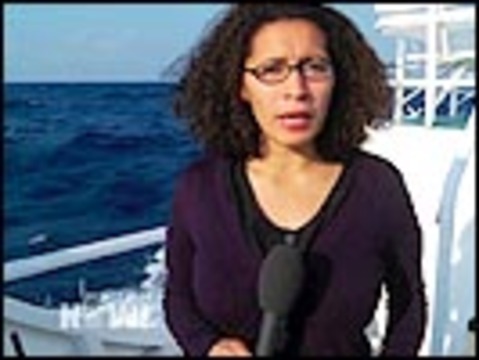 UPDATE
November 7: Democracy Now correspondent Jihan Hafiz remains in Israel custody as of 10 a.m. EST.
November 4: Democracy Now! has just learned Israel has detained our correspondent Jihan Hafiz while on assignment. She was on board the Canadian ship, the Tahrir, covering the "Freedom Waves to Gaza" flotilla. Hafiz has been filing daily video reports this week from aboard the Tahrir. The reports have aired on Democracy Now! and distributed internationally by the Reuters news agency.
We lost contact with Jihan Hafiz earlier today shortly before the Israeli Navy intercepted the Tahrir and the Irish ship Saoirse. Both ships had left Turkey on Wednesday bound for Gaza.
Hafiz is a U.S. citizen born in California. Her family lives in Arlington, Virginia.
We urge Democracy Now! viewers and listeners to call your Senators and Representatives to encourage them to help secure the immediate release of journalist Jihan Hafiz along with her equipment and footage.
Numbers for U.S. Senators can be found here
Numbers for U.S. Representatives can be found here
Watch/Listen to Jihan Hafiz's two video reports from the flotilla here and here
ABOUT DEMOCRACY NOW!:
An independent, global, daily public TV/radio news hour, Democracy Now! is hosted by award-winning journalists Amy Goodman and Juan Gonzalez. Democracy Now! is broadcast in English and in Spanish on more than 950 public television and radio stations around the world. For more information, visit democracynow.org
---