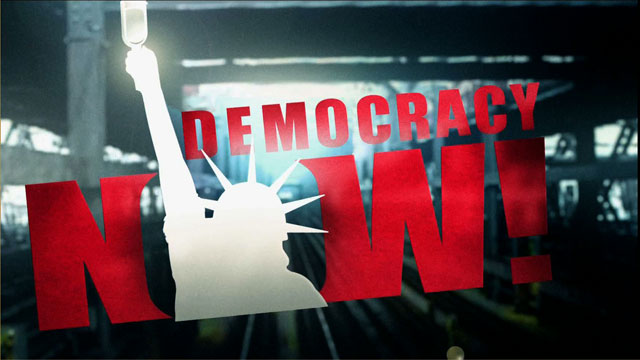 Media Options
Democracy Now! correspondent Anjali Kamat reports about 5,000 people filled with "a mixture of rage and sadness" marched from Tahrir Square to the Egyptian state television building after Pres. Hosni Mubarak's address. "The state television building is emblematic of the power of the state against the people and the way it's been using this power to paint the people in Tahrir in a negative light," says Kamat. Earlier in the day about 50 state television employees protested in front of the building. Last week, reporter Shahira Amin resigned her position at Nile TV, saying it "is being used as a propaganda machine."
AMY GOODMAN: We're joined by Democracy Now! correspondent Anjali Kamat. She was in Tahrir when the President, Mubarak, gave his speech saying he will not step down. Anjali, you're walking out of the square. Tell us who you're following.
ANJALI KAMAT: Well, there's a giant crowd of people that seems to be walking towards the TV building, which is a center of state power and which is where a lot of the state propaganda has come from in the past two weeks during the uprising against the protesters. So, there seems to be a march headed that way. I'm walking, following that march, trying to see what's going on. We're still a good ways away, want to see what's happening there.
Inside Tahrir, people were just furious. Such a mixture of rage and sadness. Saw many, many people in tears, many, many people being very angry. You know, nothing erupted, but people are calling for everyone to come out tomorrow back to the square and to show their anger and to show that they're not satisfied with Mubarak's piecemeal concessions. It's no longer a time for that. And it seems unbelievable, really, that after two weeks of unprecedented protest the President still hasn't gotten the message.
AMY GOODMAN: They're marching to the state TV. Suleiman, the vice president, the military intelligence chief, said, after Mubarak, that people should not follow foreign satellites. And, of course, Mubarak, in his speech, said that this is the result of foreign pressure and he will not give in to foreign pressure. That was just before the similar statements being made before journalists were attacked. But what about that?
ANJALI KAMAT: Yeah, absolutely. I mean, part of the whole state propaganda against the protest has been — one of the tactics has been to accuse it of being directed by foreign elements, whether those be Iranian or Palestinian or Israeli. The story changes, but it's always about having foreign elements or being driven by foreign interests or Islamist interests. This has been proven to be patently false. When you're in the square, when you speak to protesters, everyone has an Egyptian flag, talks about how much they love Egypt, and it's a, you know, incredibly secular movement.
And right now I'm nearing the TV building. Three, just four giant tanks blocking the way. Let's see if I get through. I'm not sure if they're going to ask for ID, but there is a giant crowd outside the TV building, chanting, "Leave! Leave! Leave!" to Mubarak, and chanting, "The people want the regime to fall. People want the ouster of the regime." So, just walking in, I might have to show my ID here. We'll see. Hopefully I'll get in. They seem to be letting people in. Let's see.
Alright, they just said foreigners shouldn't enter, but I managed to sneak in alright. So there's a giant crowd here with the Egyptian flag waving, people saying they want the regime to fall. People are incensed. I'm sure you can hear the shouting through my phone. Everyone's shouting, "Fall, fall, Hosni Mubarak!" "Yaskot, yaskot, Hosni Mubarak!" is the chant.
There's a number of army stationed on the first floor of the TV building looking out onto the protesters. And the area is surrounded by tanks. We're right on the banks of the Nile. There's military everywhere. The people are getting more and more angry.
AMY GOODMAN: How many people are there, Anjali?
ANJALI KAMAT: It looks like there's about — I would say about five to eight thousand people, maybe, but the crowd is growing bigger. There's more people coming in. It's a lot of the same chants that we heard in Tahrir. But seems to be a new target for people to direct their anger at, because inside Tahrir there was really no symbol of the government there, besides the big bureaucratic Mogama, but it's a place that people have held. And here there's a crowd that's getting more and more angry. And the usual chant of "We won't leave! He has to leave!" is back. "Mish hanemshi, hua yemshi!" "We aren't going to leave! He has to leave!"
I mean, Amy, I don't know if this has — I mean, I assume this has gotten a lot of coverage in the U.S. right now, but Mubarak's speech was just a complete disappointment to everyone. I mean, he basically just said he's transferring power to Omar Suleiman, but didn't really say he's stepping down, and just offered to change six articles in the constitution. This is not what people have been here for. They've given up their lives for the past two weeks for the hope of seeing a new Egypt, and they're really disappointed and furious.
AMY GOODMAN: Actually, it's not even clear he said he was giving up responsibilities to Suleiman. He basically said he would stay there until he died. He would stay until the elections, that they are —
ANJALI KAMAT: Yeah, right. He just said, "Should something happen, Suleiman would be the person to take over," which basically he has already said before.
AMY GOODMAN: Talk more about why these thousands of people have gone to state television, its significance.
ANJALI KAMAT: Until earlier this week, state television was where — was the sort of last remaining tool of the government to try and influence public opinion against the protesters and to try and paint what was happening in Tahrir as a fringe movement influenced by outsiders, as people who are trying to disrupt the stability that this regime has so carefully maintained, and as something that's sort of disrupting all of that and making their lives miserable. I mean, you have to understand, Tahrir is in the middle of the city, and the fact that the protesters have taken over this area does make it difficult for, you know, traffic through the city to continue. But the real reason for all the disruptions, of course, is not the protesters; it's because of state-imposed curfew, which means it's been very difficult for any sort of public transportation, for any offices to function, for banks to function, and also because the state unleashed a group of thugs, the baltaguia, that terrorized a vast number of people, not just the protesters, which is why people had been in lockdown mode.
But the state television propaganda did seem to work for a while, and for a few days it seemed like public opinion was turning against the protesters. The crowds were thinning out. People's patience seemed to be wearing thin. But on Monday night, there was a big shift in public opinion, because Wael Ghonim came on a TV show called 10 P.M., that's very widely watched in Egypt. It's not state television, but it's on Egyptian satellite TV. And the host of the program, Mona El-Shazly, had Wael Ghonim on, who's the marketing head of Google for the Middle East and North Africa and also the administrator of the "We Are All Khaled Said" Facebook page. And he was one of the people who started the call for the January 25th uprising. He had been in detention for 12 days and just released. And his appearance on that program was incredibly moving and articulate, and it really moved public opinion and shifted it in favor of the protesters. And the next day you basically saw an upsurge in the number of middle-class people coming out to the protest. It was incredible to see people who hadn't even been moved by the previous two weeks suddenly come out in very large numbers, you know, sort of really for the first time wondering whether what they've been seeing on state TV might have just been propaganda.
So that's why the state television building is emblematic of the power of the state against the people and the way it's been using this power to paint the people in Tahrir in a negative light. In fact, the night I spent in Tahrir, two television presenters came to the square, possibly in an attempt to show solidarity, but they were booed out of the square because just the previous week they had been on state TV making fun of the protesters and having all — making all kinds of wild accusations about why they were there. So, you know, the state TV building is very symbolic.
There's just one more thing I want to add about, you know, the symbolism of the protest outside the TV building. Today in Tahrir Square there were about 50 people who all work within state TV who were protesting state television, which is very important. We've heard of the one famous presenter who had quit state television in protest, and there's more of them coming out and quitting. But, you know, there are reports of them getting severe intimidation from the regime. It was very significant and moving to meet a lot of the people, a lot of the lower-level employees within state TV, coming out in solidarity with these sort of well-known presenters, protesting what the regime is doing and very critical of the way the television company that they work for are portraying the protesters.
AMY GOODMAN: Are you concerned about the military? I mean, you just had to show your ID. There's tanks all around state TV. They're inside the TV headquarters.
ANJALI KAMAT: I mean, this is something that's very tricky here, because, on the one hand, you have a lot of people who look to the military as somewhat — as a force that might take their side against the hated Mubarak regime, and typically the military isn't the most hated part of the regime. It's always been the state police and the state internal security. So there's this kind of attempt to build solidarity between soldiers and the protesters. And, you know, one of the most commonly heard chants is "The people and the military work with one hand, are one hand." But on the other hand, you know, there is a lot of concern that should there be a coup by the military, which seemed likely for a brief few hours this afternoon, there's a great concern that this might be a military coup, and people do not want to live under a military government. And just today, there was a report in The Guardian about the role of the military and military police in arresting and detaining and torturing hundreds, perhaps thousands, of people, disappearing them off the streets of Cairo since the uprising began. And this is being done by the very same military that, at one level, people do have some degree of faith in. So, it remains to be seen what game the military is playing here and whose side they'll ultimately take.
AMY GOODMAN: Thank you, Anjali. And be safe.
ANJALI KAMAT: Thanks, Amy.
---