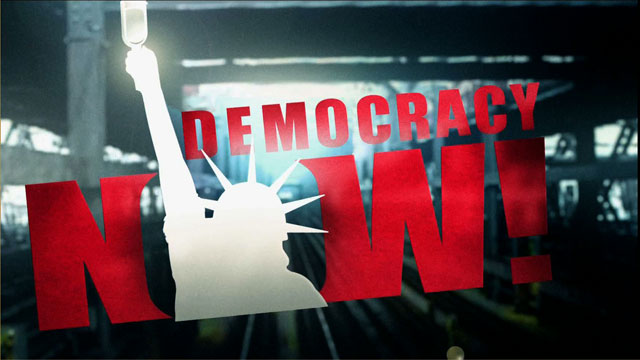 On Saturday, Feb. 5, Democracy Now! aired a two-hour "Uprising in Egypt." Watch/listen/download the show here
Highlights included:
Live Reports from Cairo with Democracy Now! senior producer Sharif Abdel Kouddous and Democracy Now! correspondent Anjali Kamat.
Egyptian novelist Ahdaf Soueif on how how life in Tahrir Square "is truly democracy in action."
Columbia professor Rashid Khalidi on the the impact of the Egyptian and Tunisian uprisings on the Middle East.
Mohamed Abdel Dayem of the Committee to Protect Journalists on the continued attacks on journalists by supporters of the Mubarak regime.
Khaled Fahmy, professor at the American University in Cairo, on reports that Hosni Mubarak has resigned as head of the ruling NDP party.
University of California-Santa Barbara professor Paul Amar on the military's role in a post-Mubarak Egypt.
Stanford Professor Joel Beinin on the Egyptian labor movement and the historical roots of the Jan. 25 uprising.
Egyptian-American activist Mostafa Omar on the role of the Egyptian youth in the protests.
And we play the "video that started the revolution"–Asmaa Mahfouz's Jan. 18th message calling for protests in Tahrir Square on Jan. 25.
---