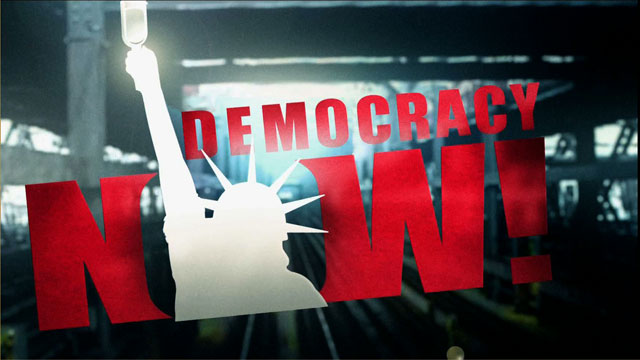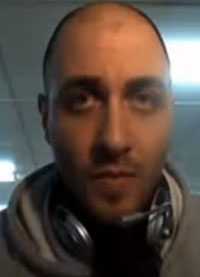 Democracy Now! regrets to report that Mohammed Nabbous, a Libyan citizen journalist in Benghazi who founded Libya AlHurra TV to broadcast live online on Gaddafi violence, was shot and killed Saturday morning.
Click to hear Democracy Now! correspondent Anjali Kamat's Feb. 26 interview with Mohammed Nabbous while she was on assignment Benghazi.
Nabbous describes how he got past the Libyan regime's internet blockade and set up a satellite internet connection in order to begin streaming live video feeds from Libya to the rest of the world. It was his 28th birthday, a few days after Gaddafi's forces had been routed from Benghazi, and Nabbous, like everyone else, was very upbeat. Since then, he founded "Free Libya TV" (Libya AlHurra TV) streaming live over the internet at http://www.livestream.com/libya17feb.
Click to see Nabbous's final report.
MOHAMMED NABBOUS: I am Mohammed Mustafa Nabbous from Benghazi, Libya.
ANJALI KAMAT: Mohammed, describe what your role has been in this revolution.
MOHAMMED NABBOUS: I don't know exactly, but I think what was important, I have done, was on the first day, on the 17th, when we had — or the 18th, I don't remember anymore — on the corniche, on the opposite side of the court, we had a setup like this one but with a minimum, you know, equipment, that we just tried to deliver our voices to the outside world, when I talked to the CNN live.
ANJALI KAMAT: Well, talk about how you're getting information out. I'm hearing that you have set up a two way internet system. How do you get through Gaddafi's internet blocking?
MOHAMMED NABBOUS: It's not through internet of the Gaddafi. It's actually a separate, independent internet that is connected to the satellite. And from the satellite, it's on the dish, and from the dish to the satellite, it's immediately to the outside world
ANJALI KAMAT: And have you had experience doing this before?
MOHAMMED NABBOUS: Yes, I worked as an ISP, internet service provider, for about three, four years before, and that's how I got my experience to set up everything in here. But I have got help even from other people who are trying to help by anyhow they can, by equipment, by — you know, by services. I mean, they opened the service from the outside, from the inside
ANJALI KAMAT: This is a two-part question, alright? One, did you expect this to happen so quickly — right? — the fall of Benghazi, to be free of Gaddafi's forces? And what —- you know, what did you do leading up to February 17th, to participate in the initial call for the demonstration, and leading up to that? What were the different -—
MOHAMMED NABBOUS: Let's start, question by question.
ANJALI KAMAT: Yeah.
MOHAMMED NABBOUS: The first question was about if it's going to fall sooner or later. It was falling every day. And it was obvious that it was falling every day, because we never stopped. At night, people would just go out and keep pressure on the army, the private forces and everybody. And in the morning, all, everyone would, you know, protest against the system. People were dying, yes, but they were dying for a good cause, and they will never be forgotten. And if you look outside of here, you will see a picture of everyone that has actually been killed in these protests.
So, the second question you have asked, how — how did I…?
ANJALI KAMAT: How did you get involved? Like, talk about putting the call out for February 17th. And you said you were involved even before that, right?
MOHAMMED NABBOUS: Yes, on the Facebook and on other websites, like Twitter, like — you know, I was just trying to send as many information as I can to encourage people to go on the 17th. But, fortunately, it happened even before the 17th. It happened on the 15th, and I was so happy to go on the streets. I was trying to find these protesters, but the first day we couldn't find anyone. So, the second day, we found some people, and we started protesting, but it wasn't that serious. The third day, it was really serious, and the fourth day it was really serious. And then, we just, you know, joined our brothers and sisters down here in front of the court, and we started getting united and just, you know, telling people what we want, telling what we had to say. We started chanting and writing signs and just doing all of what we can do.
ANJALI KAMAT: What inspired you to get involved with the 17th demonstration?
MOHAMMED NABBOUS: The system. I mean, me, myself, I wasn't actually damaged by the system that much, but other peoples are really suffering from this system, so it's not fair. Not because I am — I am happily, I mean, living a normal life, that means everybody else is. I mean, even some people were telling me, "Why are you on the streets? Why are you demonstrating? You have nothing to complain. You have everything. Why are you here?" I was like, "It doesn't matter. I mean, there are other people that I can see they are suffering, and they need more. And if my country is better, I'm going to be even better." So that's how it was.
ANJALI KAMAT: Who put out the initial call for the 17th? Where did that come from, that Facebook page for the 17th?
MOHAMMED NABBOUS: I don't know. I wish — I would love to know these people. I would love to shake their hands, because they helped us.
ANJALI KAMAT: How are you using the internet to distribute videos? This has become a collection point for videos from all across Benghazi.
MOHAMMED NABBOUS: No, I changed the point from here, because we were trying to send videos from this point, but it didn't work well, because the connection was really slow. So we moved it to the other office that you have [inaudible], and there's another admin there. His name is Shehi phon., I think. Ahmed or Mohammed Shehi.
ANJALI KAMAT: [inaudible]
MOHAMMED NABBOUS: And I was just there now. I opened an account for them to be interacting with us on the live feed. So, we don't deal with videos here anymore. We just deal with live, and with live interviews and with everything.
ANJALI KAMAT: So you have a live streaming — live stream coming out of here.
MOHAMMED NABBOUS: Nine cameras.
ANJALI KAMAT: Nine cameras, 24 hours a day.
MOHAMMED NABBOUS: Twenty-four hours a day.
ANJALI KAMAT: How can the outside world access this? What's the URL?
MOHAMMED NABBOUS: It is that one. It's www.livestream.com/libya17feb. The 17 is one-seven as numbers. And the "Feb" is the February, it's F-E-B.
ANJALI KAMAT: And who do you do interviews with? Just people on the streets? Some of the organizers? People from the coalition of the revolution? Who are the [inaudible] —
MOHAMMED NABBOUS: Everybody, everybody, like people who were actually in command of the
army. The consolation of Chad, when they came, they were trying to just get their word out, so they won't be accused of what other people are saying, about Chadian people are attacking Libyans. We have interviewed — we had too many interviews, you can actually find later on, on the studio of the website that I just gave you. You can access them and watch most of them.
ANJALI KAMAT: And, what — is all of this coming out of Benghazi? Are you doing — are you connected to other cities as well, or is it just from Benghazi?
MOHAMMED NABBOUS: Sometimes — sometimes they talk to me from Tripoli, and they give me feedback. So, yeah.
ANJALI KAMAT: Are there similar operations —
MOHAMMED NABBOUS: And Marj and Kufra, they have been contacting me all day long, yesterday and today, and they have been sending me guys with CDs with files on them, so we can broadcast them live. These CDs, they say that they are with us, and the army of these regions has been actually joining the 17th revolution of February, and it's safe, and the rumors that Gaddafi has been saying about they are not with us and there are possibility of a civil war, that's not true.
ANJALI KAMAT: What role do you see that the internet and communication and media plays in this uprising and revolution that's taking place, not just in Libya, but across the Arab world?
MOHAMMED NABBOUS: It's obvious that it took a really important place, because if that video of the CNN didn't come out the first day, that was, you know, asking for — I don't know if you have seen it or not — the pressure on Gaddafi and our human rights and a free Libya, you know, I don't know what would have happened, because no one was here — no reporters, no internet, nothing. I mean, we were alone on that side of the street, and people in these buildings, they were with Kalashnikovs and snipers, and they could have shot us anytime. But we were just there, I mean, waiting. We were waiting either to die or just to be heard. But thank God that we were heard before getting killed.
ANJALI KAMAT: And the role of the internet? You're breaking the barrier of internet blackout.
MOHAMMED NABBOUS: Yes.
ANJALI KAMAT: What role does the internet play?
MOHAMMED NABBOUS: A big role, because everything I'm doing, it's a live streaming to all the channels, to all the channels. They can come in and see what we have. And once we finish this interview, I will show you, step by step, how it is all being done, and you can see how the technology has become somehow very important in this issue, you know, very important.
And these are pictures just coming to me from the sky of Tripoli, and what we have, and these are still coming from Tripoli, still coming. Yeah, this is Rhim phon., she's from Tripoli. She's sending me — three helicopters now from Mitiga to west. It is — turn back to Mitiga now. They went from Mitiga to west, and then they turned to Mitiga.
ANJALI KAMAT: So you get information via Skype, and then do you put those conversations or that information out on Twitter, or what do you do with it?
MOHAMMED NABBOUS: I don't. I don't. No, no, I don't put them immediately. I have to have many resources to make sure that the news are right. That's why we have been — everyone want to come here and see what's happening, because it's true, it's live, it's not edited, it's spontaneous, and they hear me, actually, when I say, "I'm not going to put that on." Guys here, they are like, "Just put it on. We want to hear what's going on." I'm like, "OK, something happened, and it's blah, blah, blah. It's not confirmed. So, until we confirm it, it's not true, it's not on our channel, it's just quoted, you know?" So, we have actually denied a lot of news from the BBC, from Al Jazeera, from the Hurra, about the planes who were going to come and bomb here, they said, and about the ships. It wasn't true. Nothing of that was true.
ANJALI KAMAT: And what's this whole operation in this room here now? How would you describe it?
MOHAMMED NABBOUS: Now it's more advanced. It's [inaudible]. It's a broadcasting live stream thing, as you can see. I have cameras everywhere.
ANJALI KAMAT: And you've got nine cameras all over this area.
MOHAMMED NABBOUS: Seven is a cameraman. When he comes, he's down with the crowd, and he's giving us live feed from down there. Nine is the interview camera here.
ANJALI KAMAT: That's amazing. Wow.
MOHAMMED NABBOUS: And three is, when I'm on the radio talking to them or something, if they want to see who's sitting next to me, like CNN, they were sitting earlier. I didn't have a cameraman, so I just set it up myself.
ANJALI KAMAT: So, anybody in the world can watch these nine images.
MOHAMMED NABBOUS: Yeah, anybody, anywhere.
---